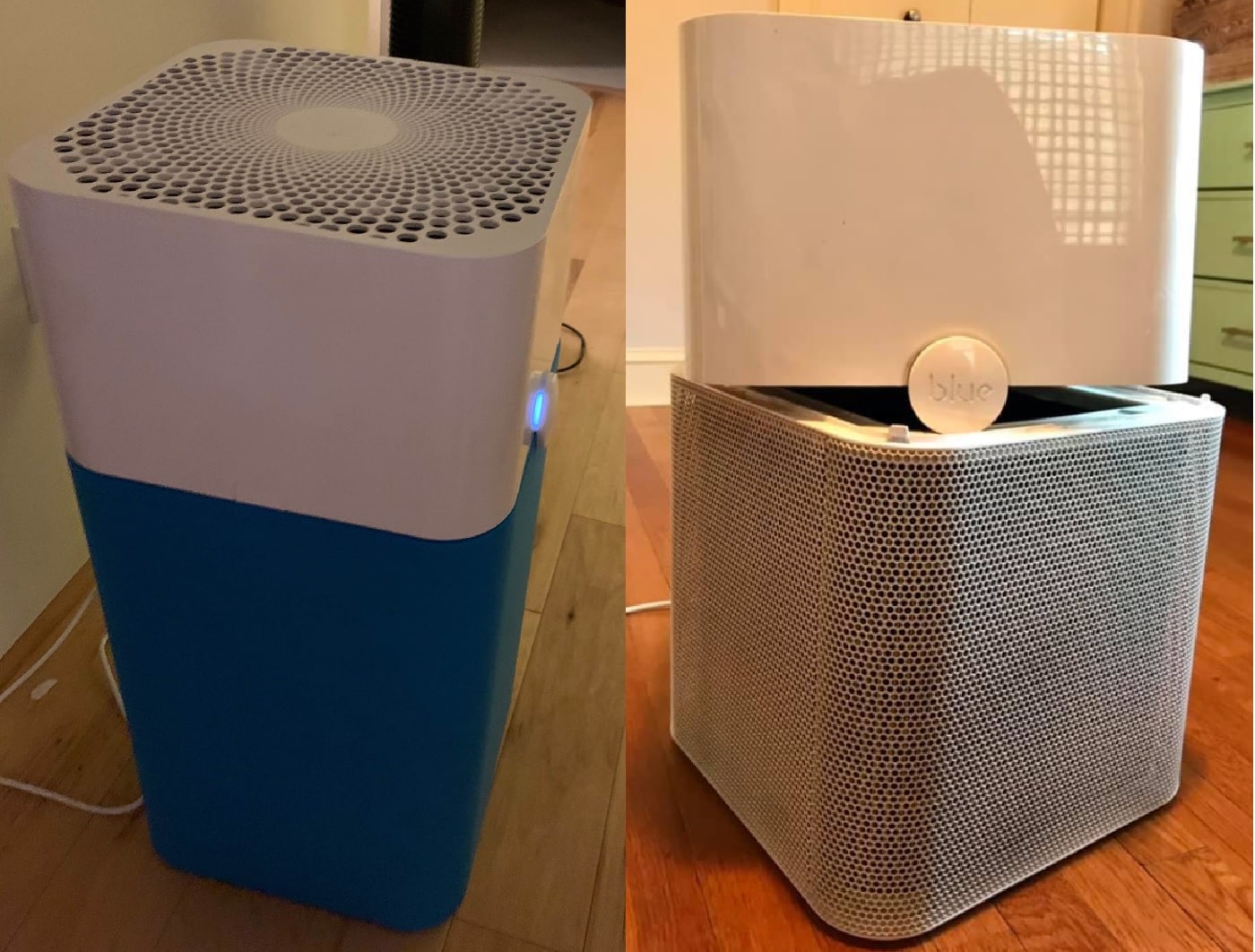 You know what? Since the day COVID-19 has started, most of us are trapped in our own house, which leads to fresh air insufficient in the lungs.  Blueair 121 vs 121+ are the best two models that can ease your living condition just by being present in one corner of your house.
Customers highly recommend both models due to their extensive coverage and advanced filter technology. In this article, we'll go through 4 aspects: design, capacity, filter system, and noise. 
Image
Delivery rate of clean air
Image
Delivery rate of clean air
Image
Delivery rate of clean air
Differences Between Blueair 121 vs 211+
Design
On the first look, both air purifiers share the same box-like design with an identical width and depth of 13". However, users would feel like model 121 seems slimmer and more compact due to its height. Blueair 211+ is only 20.3' tall while 121-model's height is 28'. Due to this reason, the 121 air purifier is heavier than its competitive model but still portable.
Blueair 211+ vs 121 all have washable pre-filter, which is available in 5 popular colors. Blueair company doesn't want its product just to be a regular air purifier but a home decor that fits every modern, contemporary house. Unlike other models that use voice recognition or an in-app to control the machine, our air purifiers are regulated by only one friendly-button. 
I have to say that I'm more to the Blueair 211+ side. Putting the air purifier less than 10 cm below any object will disrupt the airflow of the unit. Therefore, I prefer to own the shorter version.
Let me give those who have trypophobia a warning. It would be best if you look for other units since the airflow design is covered with holes.
Coverage
The coverage of the two models is a little bit different from each other. Both of the air purifiers can filter very big-size rooms, even up to 700 square feet. With the three-speed control options, the AHAM rate for the 121 model is 620 square feet, while the Blueair 211+ model is only 540 square feet. 
As for the CADR ratio, the 211+ machine can clean 350 cubic feet per minute of pollen, smoke, and dust, while the clean air delivery rate of the Blueair 121 model is higher. It takes one minute to wipe away all the harmful particles for a room of 400 square feet.
Understandably, 121 air purifier is better for a bigger house that requires faster speed. You can choose the one that suits your home most, but for me, I believe the Blueair 121 is the winner.
Filter System
By applying HEPASilent Technology to the works, both models come with two layers of particle filters and a layer of activated carbon that trap smoke and odor-causing elements. The Blueair 121 vs 211+ machines use Electrostatic Precipitation, making pollutants and particles stickier and easily trapped in the filter. Due to this reason, Blueair machines are quiet and energy-efficient.
Whether you choose one of these two models, it will work perfectly for your house. For this reason, my choice for this round is even. What? They're both great!
Noise and Energy Consumption
You might wonder how loud will these two devices make and how much energy they consume. Surprisingly, the ratios of both models are the same. They consume between 30-61 watts and 31-56 dB, varying on the speed mode it's running. 
To be honest, this surprises me very much since I believe the Blueair 121 (the bigger-size model) will consume more energy and run louder. This model can pump more units and cover a large area but can still keep its consumption and noise features to the lowest. Even though they have the same ratios in this round, I'm totally on the Blueair 121 side now!
Quick Rundown of Blueair 211+
Pros:
Elegant and smart construction

Very functional and quiet

Cheaper option
Cons:
The power button light is disturbing

No timer
>> Read Customer Reviews: Here <<
Quick Rundown of Blueair 121
Pros:
Clean up to 700 square feet room

High CADR 

Energy efficient
Cons:
Very pricey

No remote control
>> Read Customer Reviews: Here <<
The Bottom Line
That's how our review article of Blueair 121 vs 211+ has come to the finish. I hope after reading this article, you'll be able to purchase a more suitable option for yourself. In my opinion, if your house is big and you have many pets, it's wiser to choose model 121. It cleans air smoothly, fast, and saves a sufficient amount of energy. However, you can switch to the 211+ device for a more budget option.
Hot Topics You May Love: