Breville BES840XL vs BES870XL: which one is the winner?
This is a tricky question. Since the 840 and 870 come from the same brand, they have a lot of features in common.
But as you have reached this page, there is no need to worry. Scroll down to read my comparison, and you will be fine.
Differences Between Breville BES840XL Vs BES870XL
Design and Convenience
The BES840XL measures 13.7 x 11.5 x 13.2 inches and weighs 17 pounds. Meanwhile, its competitor has a dimension of 13.25 x 12.5 x 14.5 inches with a weight of 23 pounds.
You can see that although the dimensions are roughly the same, the BES870XL is heavier than the 840XL. But weight is not an important criterion to evaluate an espresso machine, so I will not give the nod to the BES870XL right away.
Instead, let's take a look at the design.
The most noticeable difference must be the bean hopper. With the 870 model, the bean hopper is placed right at the top, whereas it is integrated into the body of the 840 to keep the machine appealingly neat. Nonetheless, when it comes to convenience, the visible bean hopper seems to have an advantage.
All things considered, the BES870XL wins this round between Breville BES840XL Vs BES870XL.
Capacity
Moving on to capacity, the Breville 870XL model takes the upper hand once again. Although the two have the same capacity, the 870 model comes with a slightly larger water reservoir, about 67 oz. Its competitor boasts a 61 oz tank – which means less coffee to satisfy your caffeine craving.
Features and Accessories
Between BES870XL vs BES840XL, which one has a better set of features?
Let's see.
Both coffee makers have a PID system to deliver water at the right temp for optimal espresso extraction. In fact, this is a feature found in almost all Breville coffee makers regardless of series.
Likewise, both the 840 and 870 are equipped with a steam wand, which allows you to hand texture microfoam milk that improves flavor and creates latte art with ease.
Also, you can choose to make one or two shots via the flexible shot control.
If you look close enough, you can see that the BES870XL coffee maker has more buttons and volumes on the control panel. There are extra features that the 840 does not have, namely dose control grinding and grind size dial. These two allow you to control the size and amount of ground coffee beans, which offers great convenience.
What makes it the favorite choice of many baristas is the built-in burr grinder that grinds on demand to deliver freshly ground coffee into the portafilter for your preferred taste. On the other hand, the BES840XL has no grinder. To make up, it provides a pre-infusion function that gently expands grinds to ensure even extraction. Still, having a built-in grinder is much more convenient. That is not to mention it saves you time and money on seeking and buying a separate grinder.
What about accessories? The package of BES870XL includes a trimming tool, stainless steel milk jug, a cleaning kit, as well as an anti-slide base. Meanwhile, the 840XL comes with a special coffee scoop, single and dual wall filter baskets.
All things considered, the Breville BES870XL wins due to the built-in grinder and grinding options.
Quick Rundown of Breville BES840XL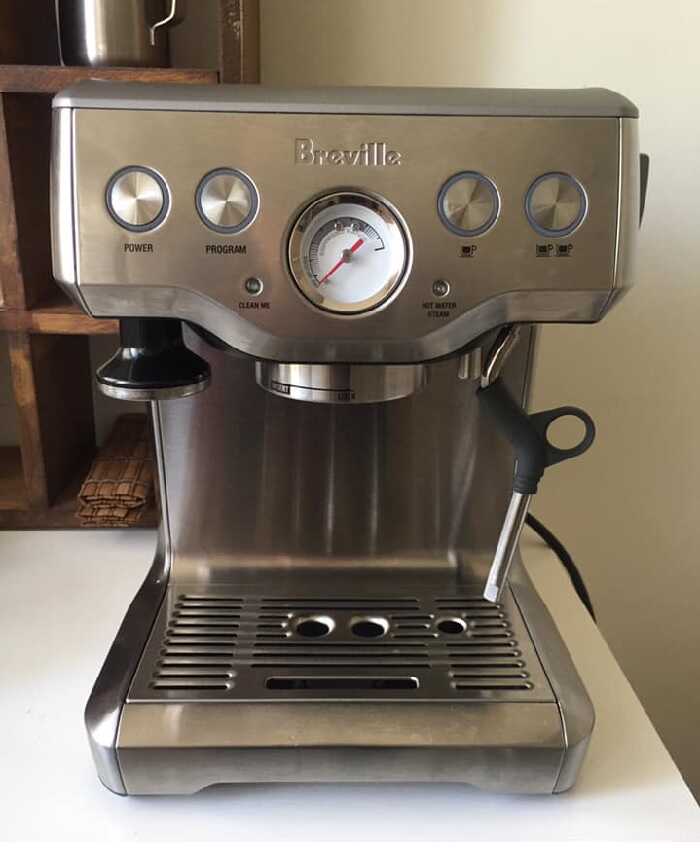 Pros
Sleek and stylish overall design

Built-in burr grinder

Auto shut-off function
Cons
>> Read Customer Reviews: Here <<
Quick Rundown of Breville BES870XL
Pros
Compact footprint

Digital temp control

Steam wand for milk texturing
Cons
>> Read Customer Reviews: Here <<
The Bottom Line
This is the end of my comparison between Breville BES840XL vs BES870XL. The BES870XL wins three rounds, making it the ultimate winner. I also choose it since I want to have a built-in grinder. Of course, that is not to say the BES840XL is of low quality. If you like the pre-infusion mode, you can go for it.
You can find and read more of my comparison between different coffee makers here.
Thanks for reading. Please like and share for your friends.
Hot Topics You May Love: