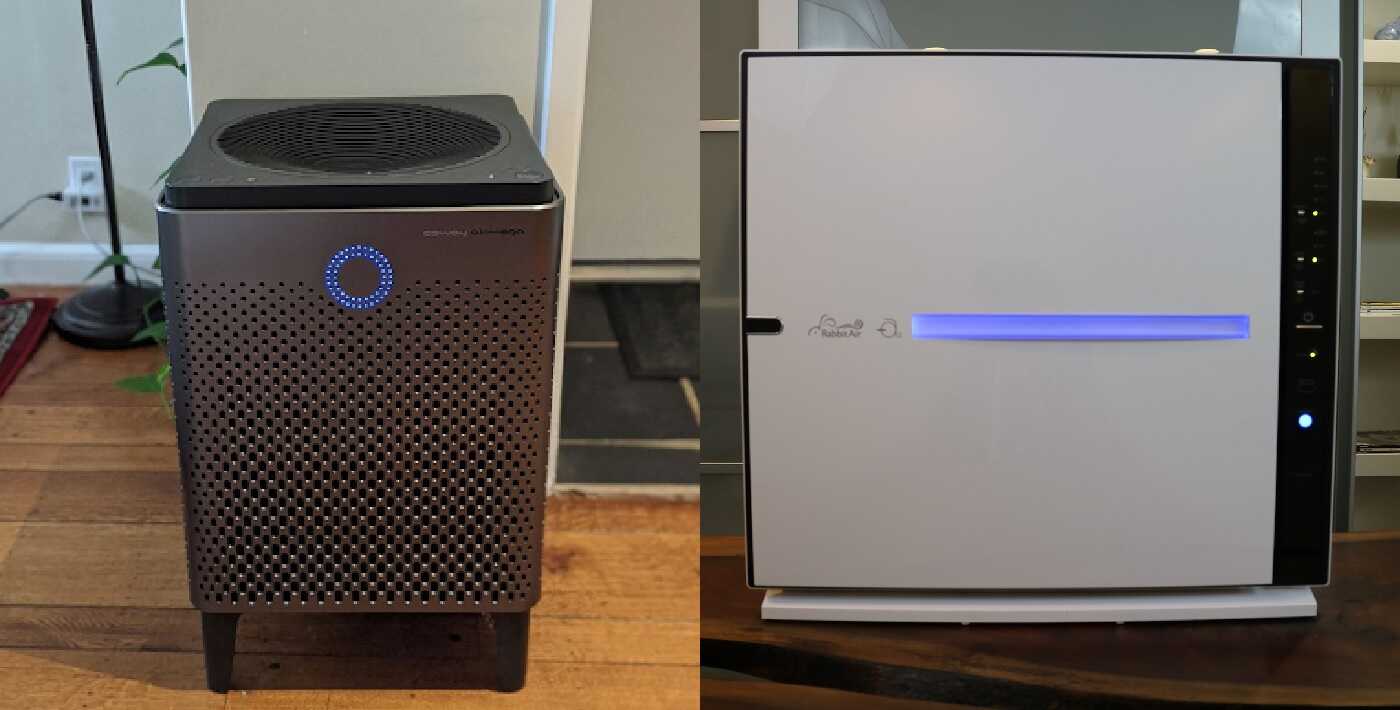 Are you having a hard time choosing between Coway Airmega 400 Vs Rabbit Air Minusa2?
This is a really common struggle. Since air pollution is becoming more and more serious recently, many people want to buy a high-quality air purifier. But the considerable number of choices simply gives them more difficulties in making a decision
Do not worry; I will guide you to the right option in this article. Read on.
Differences Between Coway Airmega 400 Vs Rabbit Air Minusa2
Design and Convenience
Though advertised as portable air purifiers, these two products are not exactly portable. Both of them are on the heavy side and take up a lot of space. The Coway Airmega 400 is a bit larger, measuring about 22 x 14.8 x 14.8 inches while weighing 24.7 lbs. Its competitor has a dimension of 20 x 21.4 x 7 inches with a weight of 19.4 lbs.
But the thing is, the Rabbit model comes with a wall mount kit, allowing you to mount the machine to the wall to save space. With the Coway Airmega, you can only move it from room to room.
Anyway, I will leave the design there since it is a matter of personal preference. Simply choose what best suits your taste.
Filtration System
Like most Coway purifiers, the Airmega uses a 3-stage filtration system, which consists of a pre-filter, a true HEPA filter, and an activated carbon filter. Note that the HEPA and carbon filter comes in a combination called Max2 filter.
This is a popular system that removes 99.97% of harmful particles up to 0.3 micrometers in size. But with particles less than 0.3 micrometers such as bacteria, it is not as effective.
The Rabbit purifier boasts a unique 6-stage filtration system, including 5 different filters and an ionizer. These filters are pre-filter, medium filter, BIOGS HEPA filter, carbon activated filter, and custom filter, which you can choose among Germ Defense, Pet Allergy, Odor Remover, and Toxin Absorber. The custom filter is what makes this cleaning method unique and flexible.
Without a doubt, the Rabbit Air Minusa2 owns a better filtration system compared to its competitor. 
Coverage Area
Now it is the time for Coway Airmega 400 to turn the tables. The machine is able to cover 1,560 sq ft with 2 ACH (air changes per hour), which is a lot. For rooms of half the size, the ACH rating is 4. The large fans and impressive power are what allow the Coway to cover such a large area.
Meanwhile, the Minusa2 can cover about 700 – 815 sq ft, depending on the version you choose. To be specific, the SPA-700A covers 700 sq ft, while the SPA-780A and SPA-780N covers 815 sq ft. The default ACH value is 2, but it can go up to 4.
Features and Accessories
Both Coway Airmega 400 Vs Rabbit Air Minusa2 come with an impressive set of features.
For example, the Coway model stands out with its highest-quality sensors that guarantees accurate real-time air quality reports. The best smart feature must be the eco mode, since it optimizes power consumption and saves energy.
On the other hand, the Rabbit Air Minusa2 boasts an extra air ionizer, a light and odor sensor, and ion control + mood light. What truly gives it an advantage is the Wi-fi function as well as an app, allowing you to connect and control the purifier remotely. However, this app is not compatible with Android, which can be annoying to some.
Quick Rundown on Coway Airmega 400
Pros
Highest-quality sensors

Smart eco mode

Large coverage area of 1560 sq ft
Cons
>> Read Customer Reviews: Here <<
Quick Rundown on Rabbit Air Minusa2
Pros
Unique 6-stage filtration system

Wi-fi connectivity

Light and odor sensors
Cons
>> Read Customer Reviews: Here <<
The Bottom Line
In the end, Coway Airmega 400 Vs Rabbit Air Minusa2 are two impressive mid-range air purifiers. Each has its own edge over the competitor. While the Rabbit offers the best unique cleaning system, the Coway shines with its efficient energy use.
For everything else, I prefer the Rabbit Air Minusa2 over the Coway Airmega 400. At the end of the day, air quality is the number one priority.
Thanks a lot for reading. Do not forget to like and share this article for your friends.
The Related Article
Comparison Article