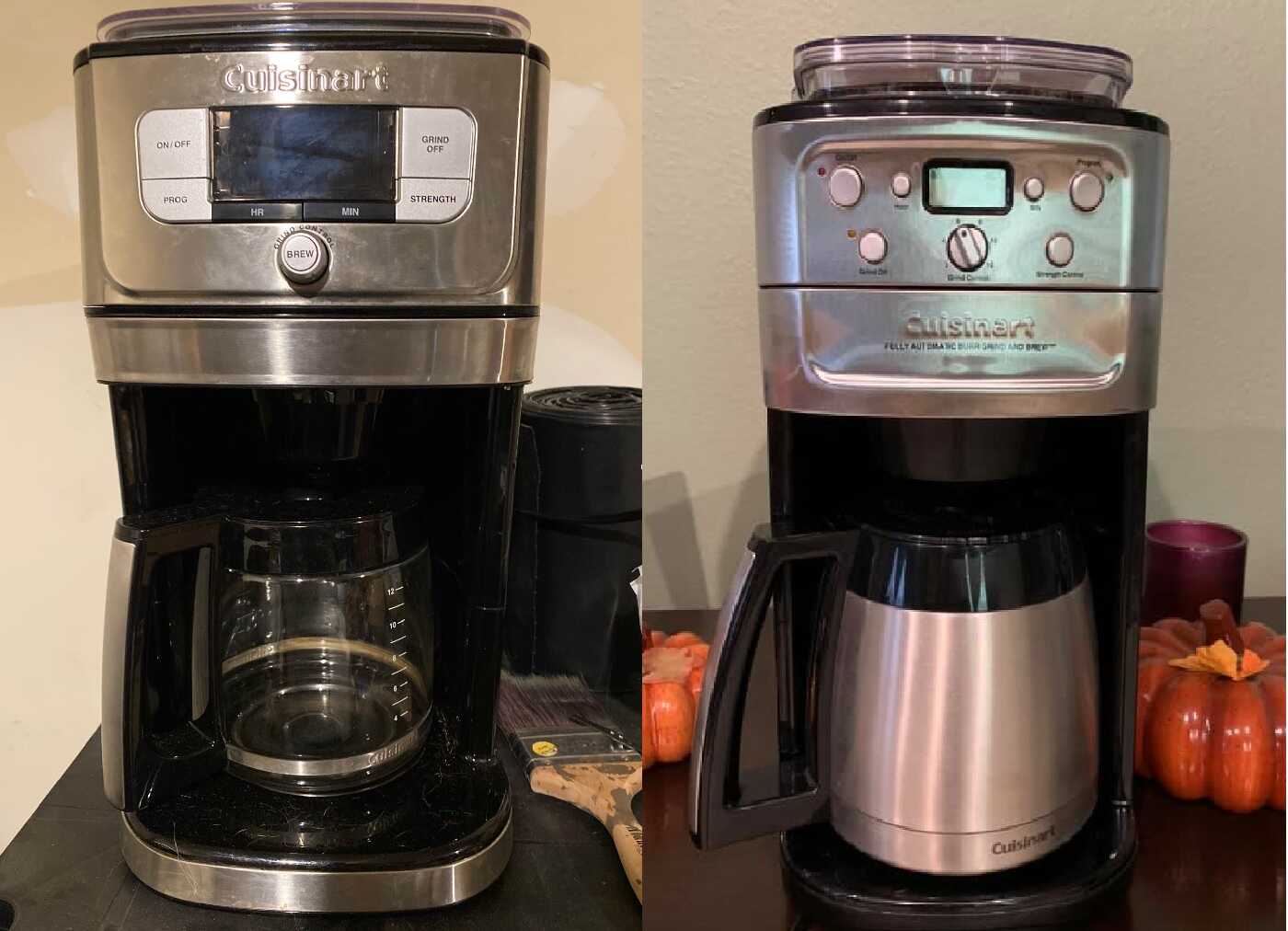 It is challenging to choose between Cuisinart DGB 800 vs 900. This is because the two are similar in most ways. One may have a hard time telling them apart at first sight, let alone picking up one of them.
Do not worry; I have written this detailed comparison to help you.
Read on.
Image
Best for
Direct Flow and Auto Rinse feature
Image
Image
Best for
Direct Flow and Auto Rinse feature
A good coffee machine itself can't make a perfect shot if you don't have the faintest idea about espresso. Click here to get to know all its ins and outs.
Differences Between Cuisinart DGB 800 Vs 900
Design and Convenience
At first sight, both products look nice in a stainless steel design. There are three visible parts, namely the bean hopper, the control panel, and the carafe. Other features slide inside to keep the construction neat and sleek on the outside.
Have a close look at the dimensions.
The DGB 800 has a dimension of 10.8 x 14.3 x 20 inches with a weight of 15 pounds.
Meanwhile, the 900 model measures 13.1 x 10 x 18.1 inches and weighs 13 pounds.
Weight is not a really important criterion when buying an espresso machine since you do not often carry it from places to places.
The main difference between  Cuisinart DGB 800 vs 90 lies in the control panel. While the 800 boasts a large digital screen with settings, its competitor features a small LCD display and four buttons for making adjustments.
Having a large LCD screen is of course more convenient. Do you agree?
Thus, the DGB 800 hands down wins this round.
Capacity
The DGB 900 and 800 cannot be compared based on capacity since they have the same volume. To be specific, each coffee maker is available in two sizes, namely 10 cups and 12 cups. In addition, there is a half-pound bean hopper with a sealed lid on top of each unit. Also, you can choose between glass carafe and thermal carafe.
If you may not know, thermal carafe is the one that keeps your coffee deliciously warm several hours after brewing. Coffee addicts should consider buying the thermal version.
Features and Accessories
The two coffee makers have a lot of features in common, but there are also unique features to each product that the other does not offer.
I will start with the shared features first.
Both Cuisinart products have a built-in burr grinder that automatically grinds beans before brewing for uniform consistency. Nonetheless, the 800 model goes so far to include Direct Flow grind assembly and Auto Rinse feature, which make sure all the ground coffee goes directly into the brew basket.
The amount of coffee you want to grind is adjustable too. But while the 900 model offers a range of 2 to 12 cups, its competitor allows you to choose from 4 to 12 cups.
You can also use pre-ground coffee thanks to the grind off feature that Cuisinart equipped in both machines.
The two coffee makers allow you to choose the coffee strength as you want out of three settings, namely regular, bold, extra bold with DGB 800 and strong, medium, mild with the 900 model.
Other shared features include auto shut off function, which comes in handy for those who are a bit absent-minded. On top of that, both DGB 800 and 900 come with a commercial-style permanent filter and charcoal filter to remove impurities.
One feature unique to the 900 coffee maker is the Brew Pause, which lets you enjoy a cup of coffee even before brewing is finished. Great!
I find the Brew Pause feature extremely convenient, not to mention the wide range of 2 to 12 cups. Therefore, the Cuisinart DGB 900 is the winner in this round.
Quick Rundown of Cuisinart DGB 800
Pros
Direct Flow and Auto Rinse feature

Adjustable coffee strength and amount

Auto shut-off function
Cons
Expensive

A bit hard to clean
>> Read Customer Reviews: Here <<
Quick Rundown of Cuisinart DGB 900
Sale
Cuisinart DGB-900BC Grind-and-Brew 12-Cup Automatic Coffeemakers
Cuisinart Grind & BrewTM 12-Cup Automatic Coffee Maker delivers convenient bean-to-cup brewing functionality so that you can enjoy the true flavor of your favorite coffee
Strength selector allows you to choose coffee strength: strong, medium or mild
Sealable, 8 oz. capacity bean hopper holds up to a half-pound of coffee beans
Brew PauseTM lets you enjoy a cup before brewing is finished
Integrated burr grinder automatically grinds coffee beans before brewing for maximum freshness, flavor and aroma
Pros
Durable built-in grinder

Double wall insulated thermal carafe

Convenient Brew Pause feature
Cons
>> Read Customer Reviews: Here <<
The Bottom Line
This is the end to my comparison of the Cuisinart DGB 800 vs 900. While the 800 wins regarding design, the 900 is the winner when it comes to features. You should be able to choose the right pick now. As for me, I choose the 800 model since I find the large LCD screen convenient to use.
Thanks for reading.
Hot Topics You May Love: