Gaggia Classic Vs Breville Infuser: how are they different? Check out the following article to find out the answer to your question. Skip, and you'll miss it.
Gaggia Classic Vs Breville Infuser are signature products of Gaggia and Breville – two of the most well-known brands in the industry. 
There must be something that makes the Classic and Infuser best-selling coffee makers on the market. Discover everything about them here and more importantly, check out my comparison to know which one wins.
Scroll down.
Image
Dimension
12.5 x 10.25 x 13.25 inches
Color
Black sesame, brushed stainless steel, cranberry red
Classic blue, industrial grey, polar white, cherry red, thunder black
Image
Dimension
12.5 x 10.25 x 13.25 inches
Color
Black sesame, brushed stainless steel, cranberry red
Image
Color
Classic blue, industrial grey, polar white, cherry red, thunder black
Differences Between Gaggia Classic Vs Breville Infuser
Design and Convenience
Gaggia and Brevilla are two of the best brands when it comes to coffee makers, and the Classic and Infuser do not let me down. At first sight, they both look attractive and stylish in a brushed stainless steel finish, which will make a nice addition to your kitchen countertop.
The Gaggia Classic looks more user-friendly with only three big buttons on the front, while the Breville Infuser has an array of buttons, which seem intimidating to beginners.
You may want to know the exact dimensions of each coffee maker to see whether it fits your countertop or not, right?
Well, the Breville Infuser measures at 12.5 x 10.25 x 13.25 inches and weighs 17 pounds. You can tell that it is pretty lightweight and compact. The Gaggia Classic has roughly the same specifications with a dimension of 9.5 x 8 x 14.5 inches and a weight of 20 pounds.
Capacity
Between Gaggia Classic Vs Breville Infuser, the Gaggia has an edge with a 72-ounce water tank. Meanwhile, its competitor's tank is designed to hold up to 61 oz of water only. A larger reservoir saves you much hassle out of refilling, so take it into consideration.
Features and Accessories
The two semi-auto coffee makers have many features in common, for example, a 3-way solenoid valve for dry puck extraction. It means the machine dries the ground coffee inside the portafilter for effortless extraction.
Another shared feature is the steam wand. Nonetheless, there are certain differences.
The wand of the Gaggia Classic features a hole for milk frothing, which makes it a breeze to add the milk. Also, it dispenses hot water from the side knob so that you can make tea and americano in a blink of an eye.
Meanwhile, the Breville Infuser boasts a commercial style steam wand that offers more control over making the froth. The machine has a dedicated spout for on-demand hot water.
Some convenience features that the Breville offers but its competitor comes up short are temp regulators, automatic indicators, and a water filter. 
I will explain what each feature does for you.
First, Breville uses PID technology for temp regulation, thereby ensuring the optimal flavor extraction. In addition, the reminders are designed to tell you when it is about time to clean parts of your espresso machine. Another nice feature is the water filter, which works to filter the water that runs through the machine.
The Gaggia Classic does include some features with the same function, but they are not as effective. For example, it has a brass grouphead along with a portafilter to help you regulate the temp.
One feature that makes the Gaggia superior is the portafilter. While it uses the standard 58mm portafilter, its competitor comes with a 54mm unit that is quite hard to find.
Note that both Breville Infuser vs Gaggia Classic do not come with a grinder, so you have to buy one separately if you want to brew ground whole beans.
It is obvious that the Breville Infuser wins this round. It manages to offer a variety of convenience features.
Quick Rundown of Gaggia Classic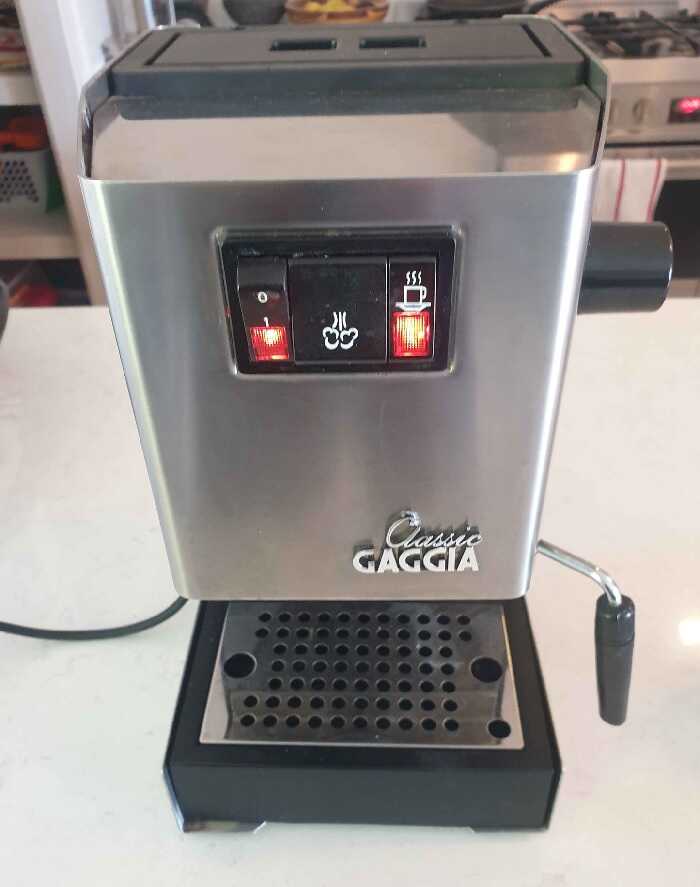 Pros
Easy navigation with three buttons

Large 72 oz water reservoir

Industry standard 58mm portafilter
Cons
No automatic reminder

No water filter
>> Read Customer Reviews: Here <<
Quick Rundown of Breville Infuser
Breville BES840XL Infuser Espresso Machine, Brushed Stainless Steel
The Breville Infuser delivers optimal flavor in every cup creating third wave specialty coffee at home using the 4 keys formula, ensuring the right dose of beans, optimal water pressure, precise temperature control and microfoam milk for latte art
VOLUMETRIC AND SHOT CONTROL: Control the volume of each pour at the touch of a button and choose 1 shot, 2 shot or manually control over how much espresso ends up in your cup for the perfect dose every time
OPTIMAL WATER PRESSURE: Low pressure pre-infusion gradually increases pressure at the start and helps ensure all the flavors are drawn out evenly during the extraction for a balanced tasting cup
PRECISE ESPRESSO EXTRACTION: Maximize flavor potential with low pressure pre-infusion, digital PID temperature control, adjustable in 4 ⁰F increments complete with pressure gauge that guides you to the right extraction every time
MANUAL MICROFOAM MILK TEXTURING: High power 1650W element for high pressure steam wand and faster heat-up to create the microfoam necessary for a third wave specialty taste and essential for creating latte art at home
Pros
Commercial style steam wand

PID system for optimum flavor extraction

Convenient automatic indicators
Cons
>> Read Customer Reviews: Here <<
The Bottom Line
The Breville Infuser is the winner in this competition of Gaggia Classic Vs Breville Infuser. I love that it manages to incorporate many useful features in a stylish and compact design. That is not to say Gaggia Classic is a bad option. In fact, it still offers nice features as well as a large water reservoir, so make sure you check it out too.
You can read my post about Gaggia Classic Pro Vs Breville Barista Express here.
Thank you for reading, and do not forget to like and share my post for your coffee addict fellows.
The Related Article
Comparison Articles