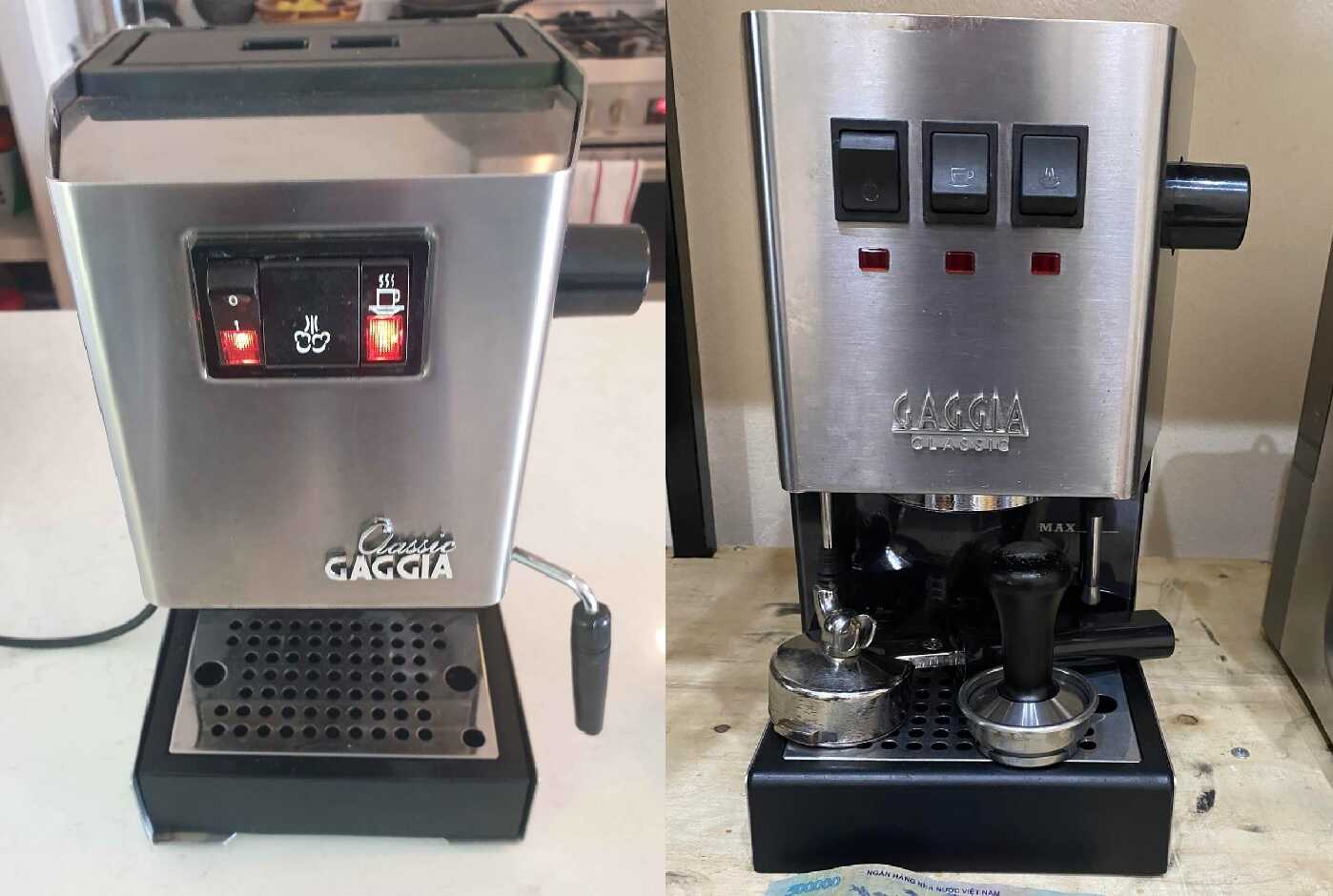 The Gaggia Classic vs Pro matchup marks the moment a 30-year-old Italian semi-automatic espresso machine lineage regains its glory. Let's see how the Pro brings back the class.
Debuted in 1991, the Classic took the heart of coffee lovers. But the 2015 version of it has left a sour taste on many loyal users. It had a mechanical valve, its boiler wasn't aluminum, and its switches turned into buttons.
Now, this reputable espresso machine brand has come back stronger than ever with the Classic Pro. It has proven itself to be a faithful and better version of the original pre-2015 model.
Gaggia Classic Vs Pro – Differences
It brings back many adored features of the original pre-2015 model but with some more. You will find the reappearance of an aluminum boiler, a 3-way solenoid valve, reliable rocker switches, and metal coffee splitters.
The Gaggia Pro also has a few valuable upgrades. It is now quieter with new pump bushings and equipped with a commercial-style steam wand and five more vibrant colorways.
Meanwhile, the original stainless steel Classic still stays true to its name. If you can find a pre-2015 version, it will be a great and more affordable addition to your kitchen.
In this side-to-side comparison, the Pro has made its predecessor proud with a 2-1 win.
Image
Coffee
Coffee ground and coffee pods
Coffee ground and coffee pods
Filters
1 single/pod filter 1 double 1 removable pressurized basket
1 single/pod filter 1 double 1 removable pressurized basket
Image
Coffee
Coffee ground and coffee pods
Filters
1 single/pod filter 1 double 1 removable pressurized basket
Image
Coffee
Coffee ground and coffee pods
Filters
1 single/pod filter 1 double 1 removable pressurized basket
Coffee Brewing Quality
The Winner: It is a tie
They share the same boiler, pumping system, and filters, so there is next to zero difference in their espresso brewing quality.
Their aluminum single boilers conduct heat very efficiently, even better than stainless steel ones. One thing to remember is sometimes you need to cool down the single boiler by releasing steam through the wand.
It is because steaming requires a higher temperature than extracting and you only have one boiler. A steaming session would make your water too hot for extraction right after.
They both are capable of producing 15 bars which are plentiful for a quality espresso shot. Another thoughtful design of them is the removable pressurized basket.
This basket helps beginners create a thick layer of crema with every shot, regardless of their experience and their grind size. Purists often avoid pressurized baskets because they don't let you see the result of your fine-tuning.
Having this basket removable, these espresso makers can satisfy both parties.
Milk System
The Winner: Gaggia Classic Pro
One of them is better at preparing milk-based drinks. I am undoubtedly talking about the Pro and its commercial-style steam wand.
With this model, you will get higher quality milk froth. A pin-hole wand does not pump air vertically through an air hole like a Panarello wand. It spins your milk with two steam jets.
In this way, you can tweak your milk foam more finely for different beverages. Of course, it requires some practice but a learning opportunity is exactly what one would expect from a semi-automatic.
The Classic can pull an espresso shot just as delicious as its successor. However, its Latte, Café Au Lait, and Flat White are inferior. That is why the Pro is taking the lead.
Flexibility
The Winner: Gaggia Classic
Both of them accommodate easy-serving espresso pods with their single filter. They also let you opt in or out of using a pressurized basket.
What tells them apart is their Over Pressure Valve (OPV) and milk frothing capability. The Classic has an adjustable OPV to let you modify the bar pressure. People who insist on pulling 9-bar shots will love this characteristic.
The Pro does not allow you to make this adjustment. Its OPV sits on top of the pump and cannot be adjusted.
Even though modifying the pressure is not recommended by the manufacturer, I still give this round to the Classic. It gives users a chance to explore the intricate inner-working of an espresso machine.
Other Benefits
The Winner: Gaggia Classic Pro
Being semi-automatic, these two machines will pump water through the group head after you flick the brewing switch. They don't time the extraction period for you. You need to flick the switch again to stop.
You will have a better experience flicking switches with the Pro. The three rocker switches now sit separately and equidistantly across the face of the machine. So there will be less fat-fingering your brewing switch while trying to turn on the steam wand.
Another benefit of this model is its quieter pump bushings. With these, you don't need to worry about waking up the whole family while preparing your early morning fix.
About its makeover, it does not have many significant changes in its exterior. It just offers five more extra colorways: Polar White, Thunder Black, Industrial Grey, Classic Blue, and Cherry Red.
This unit also brings back the 3-way solenoid valve. It prevents post-extraction overflow by redirecting the water away from the group head and into the drip tray.
Short Summary
Quick Rundown: Gaggia Classic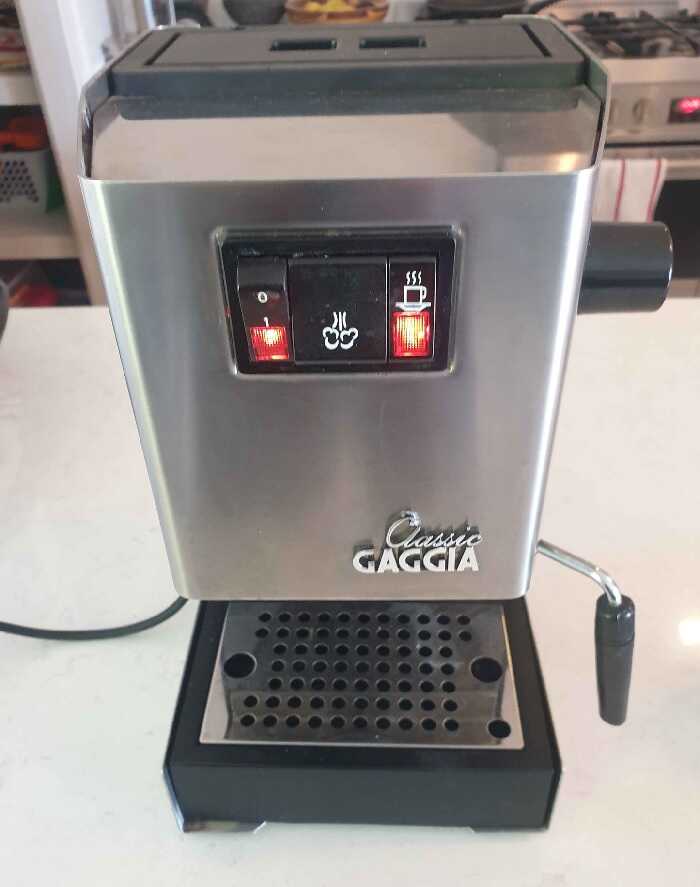 Pros:
More affordable

Great entry-level semi-automatic machine

Adjustable bar pressure

A 3-way solenoid valve

Removable

pressurized basket 
Cons:
Louder

Less capable steam-wand

Only has stainless steel color
>> Read Customer Reviews: Here <<
Quick Rundown: Gaggia Classic Pro
Sale
Pros:
New pump bushings for less noise

Commercial-style steam wand

Allows you to practice making latte art

Five more colorways

A solenoid valve to avoid soupy pucks

Removable Perfect crema device
Cons:
More expensive

Requires frothing skills with the steam wand

Non-adjustable bar pressure
> Read Customer Reviews: Here <<
The Related Article
Comparison Articles