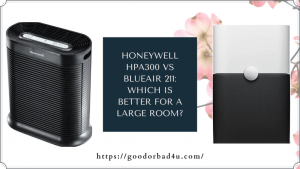 Honeywell HPA300 vs Blueair 211: Which is THE BEST for large rooms? Take a close look at the comparison table and my in-depth review below!
Honeywell Hpa300 Vs Blueair 211: Comparison & Review
| | | |
| --- | --- | --- |
| | Honeywell HPA300  | Blueair 211 |
| Energy consumption (W) | 40 – 130 | 30 – 61 |
| Filtration efficiency | 99.97 | 99 |
| Filter system | True HEPA | HEPASilent™ |
| Filter settings | 4 | 3 |
| CADR (cubic ft/min) | 320 (max) | 170 – 360 |
| Room Coverage | 465 with 5 air changes per hour | 540 with 5 air changes per hour |
| Perfect for | Large rooms (living room & master bedroom) | Large rooms (living room & master bedroom) |
| Noise level (dB0) | 39.3 – 61 | 31 – 56 |
| Auto mode | No | No |
| Timer | Yes | No |
| Remote control | No | No |
| Weight (lbs) | 21 | 13 |
| Measurement (inch) | 13 x 13 x 20.4 | 9.25 x 20 x 22.25 |
| Color | Black | 5 colors |
Honeywell Hpa300 Review
For long, the Honeywell HPA300 air purifier has been held in high regard by purchasers. Just from a quick first glance, the compact, ergonomic design covered in all-black finishing coat instantly catches our eyes and promises terrific experiences.  
Operation wise, this product adopted a mechanical two-part TrueHEPA filtration. The first layer of Activated Carbon acts as the main protector against large particles, gases, odours and VOCs. 
Whereas, the TrueHEPA filter undertakes the central role of the filtration system with the ability to remove up to 99,97% of microparticles such as pet dander, viruses, bacterias and moulds. Also, you will have a wide range of settings to choose from, for it provides 3 air cleaning levels with an additional Turbo clean function.
Operation aside, this air purifier is one of the most competent performers in terms of performance. To be more specific, a dense HEPA filter with super tiny holes can deliver a clean air rate (CADR) of 320 cubic feet per minute, allowing the HEPA allergen to cover the room of up to 465 square feet at maximum. 
On top of that, despite the fan constantly running at a high speed, the high-tech filtration system still manages to reduce the noise level to 39.3 to 61 dB. For someone who doesn't know, a human whisper is measured at proximately 30 to 35 dB. If a working machine has a noise level of less than 60dB, we must say that it is fairly outstanding.
On the downside, for the carbon filter to stay in the first layer, the pollutant particles can easily accumulate and cover the surface. Therefore, you are required to replace the carbon filter every 3 months, and it has to be purchased from the official store at a fairly steep price. 
Pros:
Suitable for large room

Capture 99.97% of airborne particles

Adjustable air cleaning settings

Auto timer
Cons:
Filter need regular replacement
Bottom Line: With the large coverage of 465 feet square with 5 air changes per hour, this product works perfectly for extra-large rooms. However, if you are focused on energy efficiency, this product might not be as good of a fit for you.
>> Read Customer Reviews: Here<<
Blueair 211 Review 
Blueair has taken the game to the whole new level with its 211 air purifier model. Surprisingly, this product has the upper hand of the Honeywell Hpa300 in terms of the operating system by upgrading the filtration to a HEPASilent™ technology. 
Allow me to go into more detail. The HEPASilent™ filter system is an enhanced version of the TRUEHEPA, created by a unique combination of both mechanical and electrostatic functions. Compared to the TRUEHEPA system, HEPASilent™ provides one more additional layer of filter, making it a three-part filtration. 
Specifically, a first fabric pre-filter delivers protection against larger particles and releases the sole pressure on the carbon filter. The mixture of the Particles and Carbon filter works in cooperation to capture and eliminate all kinds of airborne particles up to 99%.
Thanks to the combined two-filtration technology, the filters are less dense and concentrated, therefore require less air pressure and therefore, deliver a unique high flow of clean air for the ultimate room coverage of 540 feet square with 5 air changes per hour.
Also, because of the less dense filter material, the noise level and energy consumption are remarkably reduced compared to the Honeywell HPA300. Particularly, the noise level is only in the range of 31 dB (equivalent to a whisper) to 56 dB (equivalent to a rainfall sound), and the fan running at a lower speed to bring down the overall energy consumption to 30 – 61W (40 to 130W for HPA300).
Another advantage this product has over the HPA300 air purifier is the ability to removes particles down to 0.1 microns in size. Unlike the mechanical filter of TRUEHEPA system, which only captures the particles and still leaves room for their re-growth inside the filter, the HEPASilent™ system not only captures the viruses, bacteria but also kills them completely. 
The only worth-mentioning downside of this product has to do with the lighting. Despite its function of informing you what speed the device is on, it can't be turned off and can be a disturbance to your sleep at night.
Pros:
Upgraded three-part filter system

Two-filtration technology

Require less air pressure

Kill 99% of particles
Cons:
The light can be a distraction
Bottom Line: This product is a higher-valued replacement for the HPA 300 model. It covers a larger room area and requires fewer filter changes, therefore, is an ideal option if you have a big room and are looking for a low-maintenance product.
>> Read Customer Reviews: Here<<
Which Is Better: Honeywell HPA300 Or Blueair 211? 
These products both have their pros and cons and can be utilized for different purposes. If you want a classic-looking air purifier that provides more additional features such as an on-off timer, filter check reminders, adjustable lights dimmer, Honeywell HPA300 is the way to go. 
If you are in need of a product with higher purifying technology and better performance, invest a little bit more and equip yourself with a Blueair 211.
Should I need to pick between one of the two products, I will go with the Blueair 211. The maximum efficiency and performance of the device are the main contributors to my choice. On the lowest settings, it already delivers purified air at a lower energy consumption than the HPA300 (30W to 40W).
Finally, the battle between Honeywell HPA300 vs Blueair 211 has come to an end. I hope this post has provided you with some beneficial information which can help to bring you to a conclusion much faster.