Need more information about how much does it cost to open a coffee shop? Keep reading to find the answer!
No matter which industry you want to start up, estimating budget is always a priority that you should pay attention to. If you can't afford it, your wonderful business plan is meaningless.
In this article, I'll show you what the coffee shop owners should prepare to open a coffee shop and how they will cost you based on my real experience and knowledge. If you're ready to start your dream coffee shop, let's get started!
How Much Does It Cost To Open A Coffee Shop
Location Cost
Location is definitely an important factor that you should take priority in your startup costs.. Many people don't know that the geographical location of the store will determine its sales.
Obviously, no one wants to choose a remote area where not many people pass by to open a coffee shop. On the contrary, if you choose a crowded place but surrounded by kindergartens, middle schools, this isn't a smart choice.
So, what should you do? Consider carefully to find a place that is crowded with your potential customers – aged 18 and over.
No matter what state or area you're in now, there are some "prime locations" that many people want to own. Certainly, these places have exorbitant prices that not all people can afford.
For example, do you think you can pay for opening a coffee shop on Broadway Street in New York? I don't think many people can say "yes." That's why you should consider your budget.
Through the previous survey, I have the monthly rent price of a coffee shop in some states in the US, which you can refer to below:
New York: $3,250/month

San Francisco Bay Area: $2,900/month

Los Angeles: $2,450/month

Washington: $2,200/month

San Diego: $1,960/month

Chicago: $1,790/month

Atlanta: $1,350/month
If you already have premises to do business, that's helpful. It saves a large amount of money per month for you.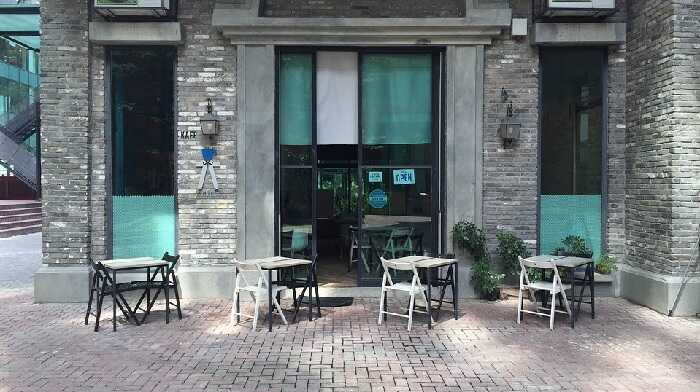 Building Cost
The building cost that I want to mention here includes the cost of hiring a consultant or an architect. The construction and design you can also do yourself to save a significant amount of money.
Hiring cost fluctuates in a huge range. It's dependent on the complexity of your project, the architect's ability.
The average hourly rate for an architect is between $65 and $125. In total, it can cost you from $1,500 to over $5,000 for this payment. 
About the construction fee, it will be determined by the material facilities you have. Those who rent a completed coffee shop with a new and wonderful design, they just need to spend renovation cost.
However, if you have to rebuild the new construction, you will probably have to spend many times this amount. In total, it may be from $10,000 to $30,000 or more.
Supplies Cost
Now, start to find your supplies of coffee. There are hundreds of suppliers in the US, and their product quality and cost aren't the same. For opening a new coffee shop, the business owners have to afford the initial cost of about $1,000 to $6,000 for coffee grain.
You can choose to buy pre-roasted coffee beans from these sources. Or, if you want to do it yourself, prepare to pay an extra $10.00 for a coffee roaster.
In addition, if your store sells additional side dishes or food items such as cake, sandwiches, etc. You also need the cost estimate for them. Combined with money to buy coffee cups, bags, napkins, and so on, the total cost will be around $15,000 to $20,000.
Equipment Cost
This is probably the most capital intensive. A note here is to choose really quality products, don't choose them because they're inexpensive only. With such an investment, you need durable and high-quality equipment for long time use.
So, I will tell you what coffee shop equipment I bought for mine. All of them are must-have so keep reading carefully:
Commercial Espresso Machine

: I've searched for information about the standard and high-quality Espresso machines. Semi-automatic ones are from $2,000 to $5,000, the super-automatic will be more expensive, and the rough estimate is from $5,000 to $20,000.

Espresso Grinder

: Paying $500 to $2000 for an Espresso grinder is an affordable amount.

Water Filtration System

: It's necessary for a brewing session. You need to pay about $750 for this system that will meet your needs.

Commercial Coffee Grinder/Drip Coffee Maker

: This is an additional one as only an Espresso grinder isn't enough. You may have to make different types of coffee simultaneously, and it will support you a lot. It will cost you about $1000.

POS System

: For a system with full equipment, the budget is $700 to $800. If you already have a tablet that is compatible with the system, you can save 1/3 to 1/2 of this amount.
In addition, there is much additional equipment that I can't list all here. Altogether, you should prepare about $50,000 to $80,000 for equipment.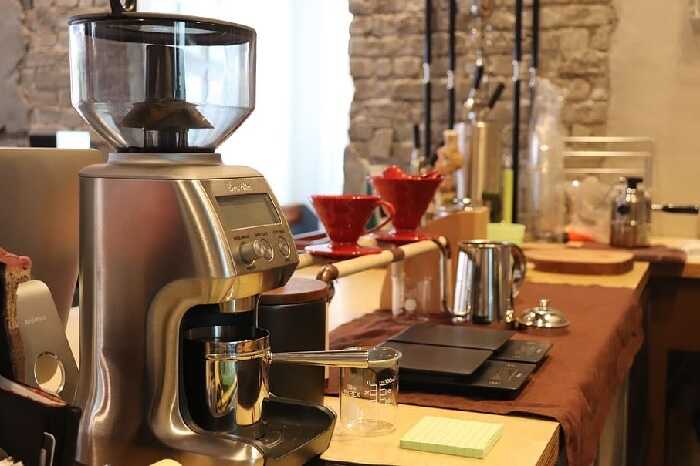 Running Cost
To be able to run your future coffee shop, you need employees. Depending on the store scale and your management ability, the number of employees you need to hire will vary.
At the opening time, I employed:
1 Cashier
2 Barista
4 Waiter/Waitress
Their hourly wage can be from $8 to $9, which means you'll have to spend about $1,100 per month for each employee. In total, it costs me a monthly expense of about $7,000.
License, Permit, And Taxes
Certainly, before starting your business, you'll need licenses and permits from a competent authority. Although the costs are dependent on your area, the required ones will include:
Business license

: The registration fee will be $50, and you'll have to pay an extra amount from $25 to $7000, depending on the type of business.

The local government will issue a sign permit

that costs from $20 to $50 per year.

Food service license

: from $100 to $1000. 

Music license

(if you play music inside your store): between $250 and $500 each year.

General Liability Insurance

: with a premium from $500 to $1,200, you can receive up to $1,000,000 coverage.
These costs are in the average range, so you should check the information in your area carefully.
What Should You Do To Anticipate The Most Accurate Budget? 
Create A Business Plan
Let's start with a comprehensive business plan and strategies. The more detailed it is, the easier it will be to follow and complete it straightforwardly. It's a must-have step to have a profitable business.
Certainly, determine your target customers first as they're who can bring the hug profits to your coffee business.
Think about what you want to do next, what your plans are during this time, and write the cost breakdown. Which type of coffee shop business do you want to run? Coffee carts, independent coffee shops, coffee kiosks, and so on.
Don't overlook any aspect. Not only encapsulating operating the store, but you also have to prepare a plan for Marketing and Marketing budget, finding supply sources, promotion in the early stages, and so on.
Find A Good Location
The definition of "good location" for each person isn't the same. Based on more than 5 years of experience in coffee shop operation, I have advice for those who are looking for a suitable location:
You must be able to afford it. Don't try to hire an overbudget place as you'll need to spend money for many other things after.

Thoroughly investigate the habits and needs of the inhabitants of that area. This may take time, but it will help you understand if the location is worth paying for or not.

Reconsider places where there are too many cafes. High competition can make it harder for you to attract customers.
Find Suppliers And Recruit The Staff
You can easily find employees through online recruitment sites or consulting centers. Either way, take advantage of the probationary period to ensure their performance and attitude is enough to run the cafe well.
You can choose the prescribed average range to offer them or let the employee offer their own salary. However, note that their salary shouldn't be too high compared to the average level as you will still have to increase the salary for your employees after a period of working.
Purchase Equipment
You will have to rack your brain to make wise purchases because it's hard to find the well-suited ones for you among thousands of products out there.
I was really keen on PHILIPS coffee makers, of which the 2200 model and 3200 model confused me a lot. After testing and experiencing, I finally made a comparison between PHILIPS 2200 vs 3200. You can refer to many other reviews and comparisons on my website to make the final decision.
Get Started And Be Consistent
Now, you've prepared enough things. What you should do next is believe in yourself and be consistent. You may meet many difficulties and obstacles when operating your coffee shop, but try your best and be patient to get things off the ground. Your hard work will soon pay off.
Conclusion
I think you've your answer for how much does it cost to open a coffee shop. In total, you should prepare at least $80,000 to over $300,000 for the start-up costs, depending on your type of coffee business, style, location, and more.
As mentioned above, you need to have a detailed plan and careful preparation before estimating accurately. And don't forget to base your budget on running and operating the most suitable coffee shop for yourself.
The Related Article
Comparison Articles