Jura A1 is a coffee machine first introduced in 2017 and has become the latest addition to the P.E.P family. Even though it's loved by many customers, my Jura A1 review will not focus only on the advantages of the product but also the minor drawbacks that Jura could improve. 
When people talk about Jura A1, they would mention its positive points such as compact sizes, straightforward operation, and with the intensive aroma and fast grinder. If you're curious to know more, let's check out the article!
Image
Image
Who Will Benefit The Most From Buying The Jura A1?
As I have mentioned initially, this Jura A1 is best suitable for beginners who would like to invest in a premium-quality coffee maker. 
Unlike professional baristas who focus more on the number of recipes, brewing capacity, and duration of making a cup of coffee, Jura A1's buyers will enjoy its simple operation and compact size.
It's the best shot for beginners due to the adequate presets and P.E.P, simple touch screen display, and automatic on/off function.
Three Programmable Programs 
The number of specialties of the machine is three, namely espresso, coffee, and ristretto. These types of beverages are the top common drinks by coffee lovers. It's best for beginners to first master these three standard drinks before switching to other high-tech machines. 
Jura A1 is the perfect coffee maker that allows novices to work on and improve your brewing skill.
Along with the three time-saving presets that allow you to make a cup of espresso just by a simple click, this model is also equipped with the popular P.E.P function. 
Pulse Extraction Process allows espresso and ristretto to fully develop the coffee aroma through the optimized water extraction time, creating better flavor and rich taste to users.
Without whistles and bells, beginners can still brew a delicious cup of coffee like other advanced models of the brand. Since it's not compatible with more presets, this gadget's price is also more affordable and reasonable.
Touch Screen Display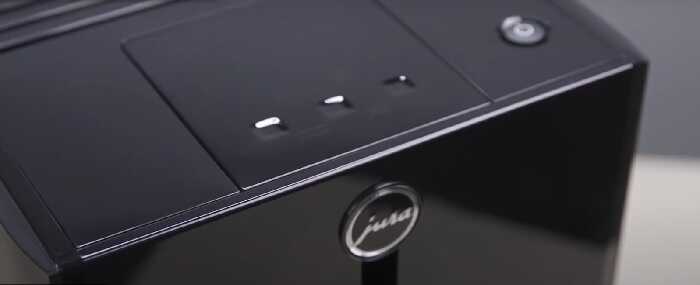 As expected from the price, Jura A1 comes with a touch screen display. The symbols displayed on the touch screen enable users to operate easily without making any mistakes or confusion. These icon-based symbols are quite touch-sensitive, minimalistic, and easy to use.
The total number of symbols on the control panels is 11: three of them illustrate the coffee types, and two are the level of brewing coffee. 
Other than that, you will find other specific functions such as cleaning, filter, or descaling. With the help of a detailed manual, you won't get overwhelmed with the operation.
The control panel of A1 model is located at the top of the machine to retain the design and reduce unused space. The front panel features only the wide drip tray and the height-adjustable coffee spout, perfect for your house's different mug sizes.
Despite having two color options of Jura A1 piano black and piano white, the control panel keeps its standard black panel for better visual appeal.
Zero-Energy Switch
This feature is crucial for those who start learning how to brew. Normally, when we're too focused on the process and result of making coffee, we often neglect other matters, such as shutting off the machine or cleaning. 
Worry not; with the automatic on/off function, your machine will enter the energy-saving mode after the preset time following the last action on the machine.
Right after the last brewing, Jura A1 will stop heating up, and you can spot this by looking at the low brightness of all the symbols. 
Different presets will have distinguished waiting duration, starting from 20 minutes to 2 hours. You can always adjust the time length to ensure high energy efficiency.
What Can Be Improved?
Even the most perfect product of Jura has drawbacks, so does the A1 device. My Jura A1 coffee machine review article will state the three disadvantages that I wish Jura can change in the future. 
Minor drawbacks
The coffee bean lid could be designed to be more durable and fittable. Some customers had complained about how the cover kept sliding out from the machine when they were refilling the coffee beans. 
Some even experienced a worse situation with the top lid breaking into pieces. As a result, the machine stops operating.
Another factor to consider is the limited number of cups it can brew in one go. As you might notice, the coffee has only one spout and might not be suitable for those who demand a large batch simultaneously. 
However, this issue usually occurs later on during your coffee brewing journey. A newcomer should focus on the process and the coffee quality while brewing, not about quantity. 
One Major Drawback
Unfortunately, the machine does not come with a milk frother. Without this feature, drink options like cappuccino or latte can't be achieved. 
Nowadays, many coffee machines on the market are equipped with milk steaming functions to attract coffee lovers. This lack can be a huge drawback for this Jura A1 review model.
Jura A1 Automatic Coffee Machine Piano White
ONE TOUCH: Prepare 3 barista quality specialties including ristretto, espresso and coffee at the touch of a button - coffee only
PERFECT ESPRESSO: Ultimate coffee quality thanks to JURA's exclusive Pulse Extraction Process
CONICAL BURR GRINDER: Fast and precise AromaG3 grinder grinds whole beans to the optimum fineness
ECO FRIENDLY: JURA is always freshly ground, not capsuled - fresh taste with very limited waste - single serve machine
CAPACITY: 37 ounce water tank, 4.4 ounce bean container
The Alternatives For Jura A1
It's not uncommon if you hesitate to spend too much on a coffee machine even though the retail price is quite reasonable for a product of Swiss quality. If that is the case, you may want to look for other alternatives. 
I recommend the Gaggia Classic or Rancilio Silvia. With quite similar functions and brewing quality, they will be more economical choices.
If you prefer a more advanced machine but do not fluctuate the machine's cost, I will suggest the Jura Ena Micro 5. It's also a lightweight and compact machine but with a double spout and six specialties.
The Related Article
Comparison Articles