When we talk about the best high-end and luxurious coffee machine manufacturer in the market nowadays, Jura – the Swiss company is definitely on the list. For many years, its automatic coffee machines have been famous worldwide for their thoughtfulness and detailed features.
Recognizing the demands of buyers, I decided to make this Jura D6 review so that you could have a better view of what this machine is and which advanced features it has. Here are some brief technical data that you should keep in mind before diving in while browsing through the article. 
Let's not waste any more time!
Image
Image
Jura D6 Review: What Are The Key Features?
Design and Material
Jura D6 automatic coffee machine is not the best designed coffee machine out of all the Jura products. However, its construction, materials, and accessories are quite luxurious, giving customers a certain feeling of owning a high-end and durable gadget.
The machine optimizes all the best quality, such as aluminum and stainless steel for its different parts. For example, stainless steel is used in the drip tray and the burr grinder to resist water damage or rusting. Jura also builds the brew group, which is where the barista locks the portafilter to make drinks, with a light and durable aluminum.
Jura applies the aluminum material in the brew group and the main house to retain heat evenly and prevent the unit from dissipating hot air to the environment.
With Piano Black and Platinum color options, customers can freely choose the best suits for their homes. What's more? You can also receive a glass milk container in the box for a more convenient frothing. 
One of the drawbacks that I don't quite fancy in Jura D6 is the complicated operation. It will require beginners to invest some time in learning since the machine comes with a plain text display only.
While other models of Jura are equipped with a touch screen display and icons for a more understandable operation, Jura D6 comes with two ergonomically optimized knobs for regulating. Undoubtedly, I would expect more from a high-end machine with such a hefty price than just a plain text display and regulating switches.
Luckily, just like understanding customers' concerns, Jura D6 has an optional Smart Connect, which allows its users to operate everything through tablets or smartphones. I reckon it would be best suited for those who have limited access or movement to the machine with this function.
Brewing capacity
As I've stated at the beginning of the article, Jura D6 automatic coffee machine can produce a medium batch with a removable 64-ounce water reservoir and a 7-ounce bean container. Depending on your mug sizes, you can create up to 64 single shots and 30 double shots of espresso or a standard of 15-10 cups of coffee.
In other ways of saying, you'll have to clean the machine waste container after every 16 brewing portions.
In my opinion, the machine will be suitable for those who do not have a high demand for caffeinated intake per day but still seek an adequate taste from a cup of coffee. They won't have to refill the machine too often since its capacities are quite large.
Compared to other brands that we frequently see in the shop or at your friend's house like Delonghi, Saeco, Philips, etc., the brewing unit of Jura D6 has enlarged a lot. 
The Drinks
The number of specialty coffees of Jura D6 is seven, including 3 programmable coffee, cappuccino, and espresso drinks. Let's discuss how good this Jura coffee machine can do with each type of drink.
For espresso, the most common type of beverage, Jura D6 has equipped with P.E.P (Pulse Extraction Process) brewing. This type of brewing extends the time of making espresso for thorough extraction. But the result is worth it! You will receive a rich, nice crema in your espresso that is no different from the outstanding barista quality.
Unfortunately, the preset for coffee drinks does not comply with P.E.P for aroma optimization. The best part of this option is that you can brew 8 ounces of coffee from the fresh ground whole beans at a time. 
Cappuccino must be the most delicious drink out of all three presets since the machine is equipped with an Easy Cappuccino system, built-in milk froth, and milk container. It's convenient and easy to obtain the temptingly light and fine milk foam texture. All you need to get ready is just a cup of fresh milk and your favorite mug!
Cleaning and Maintenance 
I understand that none of us like the cleaning and maintaining process since it requires lots of time, actions, and observations. Unfortunately, the brewing unit of Jura D6 is not removable for regular cleaning and lubricating. As a result, Jura D6 is more vulnerable to the lack of maintenance and might need to be taken to a specialist every 2-3 years.
If you don't wish to clean the machine manually, you can choose to purchase Jura cleaning tablets separately to prevent tainting coffee flavor and build-up stale residue. Or, you can let the machine activate its self-cleaning mode by leaving the steam valve shut off after 10 minutes.
However, this self-cleaning function has several disadvantages, such as the large consumption of water. Therefore, my recommendation is to clean the milk froth daily (if you use it) or regulate the switch to the rinse mode and let the machine do its job.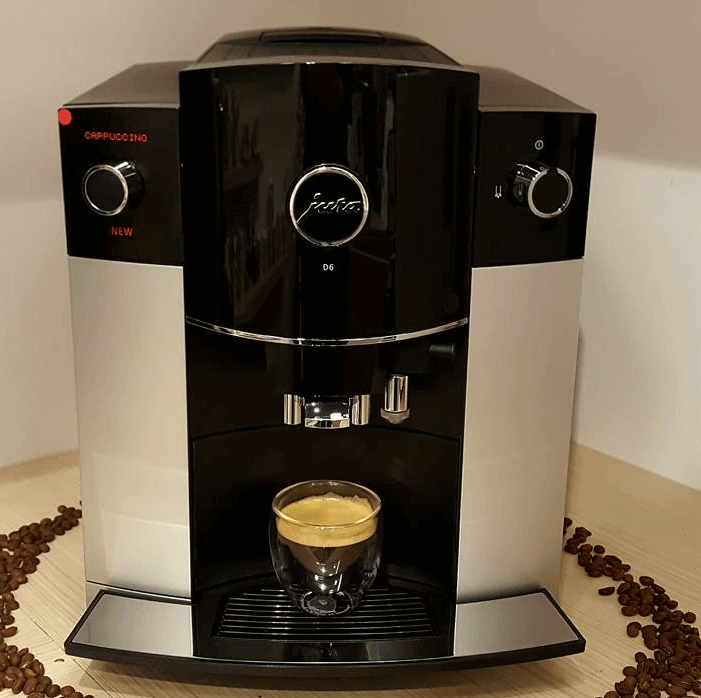 Additional Features
There are two additional features that I would like to mention in this article. One is the Aroma G2 Grinder which ensures the most aroma gets preserved in the grounds, and the other is the Energy Save Mode. 
The Aroma G2 Grinder takes special care to ensure the full flavor of your drinks during grinding, which totally affects the whole taste of the beverage. Through this feature, 12% more aroma is extracted from your fresh coffee beans as compared to the former burr grinders.
If you're worrying that 1450 wattages might eat up all of your electrical expenses, then I have great news for you! Jura D6 is designed to keep energy costs low by automatically cutting power consumption when it enters standby mode. By doing so, you have to switch to the Zero Energy switch.
Jura D6 has many advanced features such as Thermoblocking that prevent overheating or Intelligent Water System that automatically filters water. However, I'm not going to move any further since our Jura D6 coffee machine review is getting too long. Instead, let's get moved to the quick rundown of the product for a better final grasp.
Quick Rundown of Jura D6
Pros:
Automatic cleaning

Provide maximum strength for espresso

Excellent quality in making milk foam texture

Can be connected and operated through an app

Consistent P.E.P

Make two cups simultaneously with fresh taste
Cons:
Plain text display

Limited three recipes
>> Read Customer Reviews: Here <<
Conclusion
After reading my Jura D6 review article, I believe you must have decided in your mind. The machine is a very good automatic gadget that creates a rich and strong cup of espresso, especially a perfect cappuccino.
Nowadays, there are countless options for buyers to choose from, and some of them might have a softer price compared to the Jura D6 automatic coffee machine. My advice is that if you enjoy having three coffee styles every day, or prefer to make a medium amount of coffee batch per week, then the Jura D6 is a great choice.
Personally, this automatic coffee machine is best for home use and is not suitable for beginners or those who would like to explore different recipes and configurations. If you want to consider more options, check out this comparison article between Jura E6 vs D6.
The Related Article
Comparison Articles