Choosing a winner between Jura D6 vs E6 is difficult since they have many things in common.
Both Jura D6 and Jura E6 are the best-selling automatic coffee machines of Jura aimed at casual drinkers. They share pretty similar features, from the PEP (Pulse Extraction Process) technology to the Fine Foam Frother with an open switch operating concept.
So, which is the better option here: Jura D6 or Jura E6?
Image
Image
Image
Differences Between Jura D6 VS E6
Design and Convenience
As you can see, both Jura D6 and E6 look sleek and stylish, which should be a nice addition to your kitchen. The designs are fairly similar at first sight, with the front panel, the spouts, and the drip trays. Every other feature, such as the bean hopper or the water tank is hidden in the body to make an appealingly neat coffee maker.
I love how Jura equipped the milk and coffee spouts next to each other, as you can make coffee and milk at a time. It is fun to watch, and more importantly, it saves time.
The main difference lies in how you adjust the settings with each product. The Jura E6 has a screen control on the front, while its counterpart comes with only two knobs. Of course, having a screen display offers more convenience.
The Jura D6 measures 11 x 13.6 x 16.5 inches and weighs 19 pounds.
Meanwhile, the Jura E6 has a dimension of 11 x 13.8 x 17.3 inches and weighs 22 lbs.
Both products have a compact footprint that should fit in a small kitchen. Nonetheless, you should leave some extra room to attach accessories as well as to ensure stability for them.
Although the D6 is smaller and lighter, the E6 is probably more convenient to use due to the screen display. It is hands down the winner in the first round of Jura D6 vs E6.
Capacity
Capacity is an important factor to consider, especially when you are buying a coffee machine.
The Jura D6 comes with a 7 oz bean container as well as a 64 oz water tank. 
The Jura E6 has the same 64 oz water tank, but it is able to contain much more beans than the 10 oz reservoir.
Both of them can make two drinks at the same time.
It is obvious that the Jura E6 is the more superior when it comes to capacity. If you are a heavy coffee drinker, you may want to go with the E6 instead of D6. More beans, more coffee, right?
Features and Accessories
As said in the introduction, both Jura D6 and E6 come with PEP technology and Fine Froth. These two features work effortlessly to ensure optimal extraction time and make the best microfoam. There is no need to touch the steam wand since the coffee maker does everything for you. Simply scroll through the settings, choose what you like, and you are good to go.
The two do not have built-in Smart Connect, but you can always buy a Smart Connect device separately to use the JOE app. I find it super convenient to operate the coffee makers anywhere via this app.
Nonetheless, there are still some differences in their features.
The Jura D6 combines the PEP technology with a pre-brew system to optimize the extraction stage, thereby giving each cup of coffee more flavors and aromas. The best part is this coffee maker allows you to make adjustments while it is brewing coffee. Few machines offer such an option now.
On the front panel, you can see a text-only LED display along with two LED buttons to access different programs of the D6. There is a built-in grinder that offers five settings. This is not really impressive, but acceptable for a cheap coffee machine.
Meanwhile, the Jura E6 is equipped with more advanced features.
To be specific, it boasts a TFT color display and six multifunction buttons on the side. Although it is not a touchscreen that some may expect, navigation is still super easy. Rest assured that.
Apart from PEP, pre-brew, and Fine Foam technology, the E6 coffee maker impresses us with the intelligent water system, which detects if any water filter is used. You should use one to remove metals that may affect the taste of your coffee. Also, the machine will tell you when you need to replace the filter. No guesswork is needed.
Like its counterpart, the Jura E6 features a single grinder only. Nonetheless, its Arome G3 burr grinder provides seven total fineness levels.
Last but not least, the Jura E6 and D6 boast different accessories. The E6 package includes a 20z cool control basic as well as a 14 oz stainless steel milk container, while its competitor comes complete with a glass milk container and a milk pipe with stainless steel casing.
As you see, Jura D6 and Jura E6 have a lot of features in common, but the latter seems more feature-rich. It is no doubt that Jura E6 wins this section.
Quick Rundown of Jura D6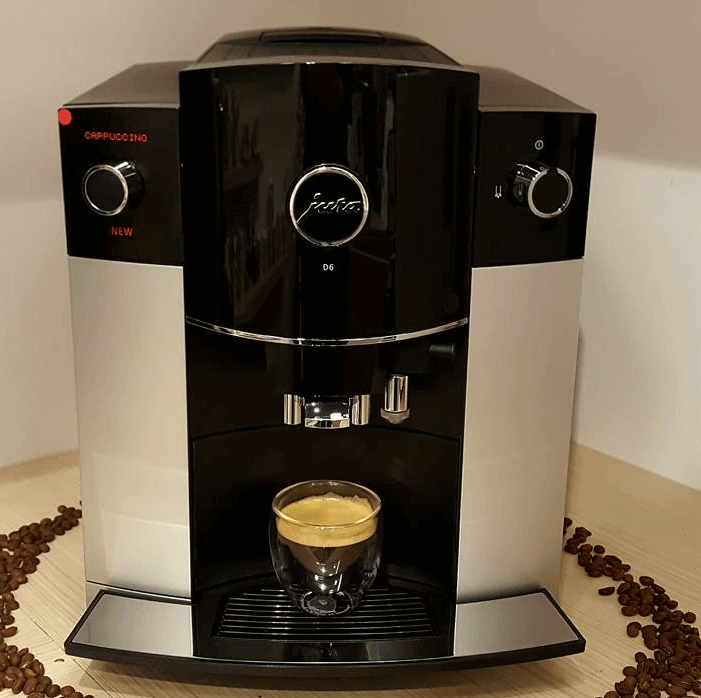 Jura D6 Automatic Coffee Machine, 1, Black
Note: 1)Too coarse a grind, too little coffee, or insufficiently tamping the grounds before brewing can all lead to inadequate pressure for a proper brew. 2)It is important to note that the amount of espresso extracted will vary depending on the grind size and amount and reprogramming may be needed when the size and amount are adjusted
VERSATILITY: Cappuccino, espresso and coffee maker, Compatible with Smart Connect for use with J.O.E. (JURA Operating Experience) app
OPERATION: Plain text display or Smart Connect App control
CUSTOMIZATION: Adjustable water level, coffee strength and temperature
GRINDER: Fast and precise AromaG2 integrated grinder
Pros
Affordable price

Pre-brew system available

PEP and self-cleaning technology

Fast-heating boiler
Cons
Only three recipes available

No color display
>> Read Customer Reviews: Here<<
Quick Rundown of Jura E6
Jura E6 Automatic Coffee Center, Platinum
Makes 6 specialty drinks including: cappuccino, Coffee, two coffees, Espresso, two Espresso, milk foam
Controls make it easy to find, customize and brew your favorite drinks
Pulse extraction process brews Coffee with a full, rich bouquet and delicious flavor
Eight Coffee strength levels allow you to fine tune each drink
Fast, quiet G3 grinder creates 60 percent less Leftover ground Coffee
Pros
PEP and Fine Froth technology

Screen control and step-by-step guide

Large bean hopper and water tank
Cons
No slot for pre-ground coffee

No option for coffee pods
>> Read Customer Reviews: Here<<
The Bottom Line
All in all, both Jura D6 and E6 have their own advantages. While Jura D6 is the more affordable and compact, the E6 appeals to those who want more capacity and features. Now the choice is yours. Set your criteria and see which one is the better for yourself.
In case you ask, I like the Jura E6 more. Although it is priced higher than the D6, the extra features are well worth the money you have to pay.
This is the end to my Jura D6 vs E6 comparison.
Thanks for reading
The related articles
Buying Guides
Single Reviews
Comparison Articles