For over the years, Jura has manufactured different machines with distinguished technologies and designs. Out of all the existing models in the market, Jura E8 is the best-seller of this Swiss company. My Jura E8 review will present an overview of this amazing model, including the advantages and disadvantages. 
Stay tuned for more surprises!
Image
Image
Who Will Benefit The Most From Buying The Jura E8?
If you're looking for a machine that can buy you some time with various drink selections, double spouts, and six grinding levels, the Jura E8 review immediately gives you an answer. The E8 model is the perfect machine for all milk caffeinated lovers, even from home-use to commercial-use purposes.
The features I'm going to discuss today in the Jura E8 coffee machine review are the versatility of the brewing system, cleaning & maintenance, and the milk system. 
Brewing system 
Applying the 8 coffee strength settings, E8 allows users to have full control over their customized drinks. Apart from the 16 programmable specialties, users can create their own recipes by adjusting the coffee strength level, brew temperature, shot volume, and milk (like cappuccino or lattes).
After introducing the 16 specialties, the machine has become the most successful automatic coffee machine. Just by a touch of a button, the gadget offers both wide ranges of coffee and tea selections. I haven't tried out the tea function since I'm more of a coffee addict. 
And due to my observation, its P.E.P system is doing better than other reviewed models. Its cup of espresso and ristretto is such a gift from heaven. The crema is thick and frothy, while the texture and flavor meets my exact taste. 
The capacity of gadgets is most suitable to be served a large number of people. You can create at least 32 double shots and 64 single shots until the next water refill.
Cleaning & maintenance
Due to the high-quality constructed materials and processes, the act of cleaning and maintenance is quite simple. You can either purchase cleaning tablets that are sold by the brand or manually doing the job.
Using the cleaning tablets is simple enough, just watch this video here and follow the instructions. But if you don't want to go through the trouble of descaling, you might want to use the auto-cleaning and auto-rinsing function of the milk tube and water spout. 
It will smart-clean three times: when you turn the gadget on when the milk tube is used after 10 minutes, and when the machine is powered off.
Furthermore, the E8 features a Jura filtration system, which does not ask for lots of care and maintenance to keep working. The Intelligent Water System filters the limescale (due to the hardness of water) and other substances. 
How to use Jura E8's filter and when should I replace it?  The gadget will automatically choose the filter replacement intervals due to your house's level of water hardness. It's recommended to change your filter after every 2-3 months.
So, even when you don't have time to take care of it frequently, the machine will do its job and successfully maintain your precious gadget.
Milk system
You might want to purchase this machine for its fantastic automatic milk frother. Basically, pretty much of the cost you're paying for this E8 gadget is for this feature. For those who love to drink milk-based beverages, E8 is a choice to froth your drinks. 
The single wand with a rotary dial allows you to choose from two textures of milk and dispense as concentrated a foam as possible. With a press of a button, you can achieve a perfectly tight foam for a nice layered cappuccino or latte. One of the great things about this model's milk frother is that it's made from the highest-quality materials. 
The professional fine foam frother G2 is specially designed for specialty coffees with milk and milk foam. The only drawback in making milk foam is that its brewing and frothing can't be done simultaneously.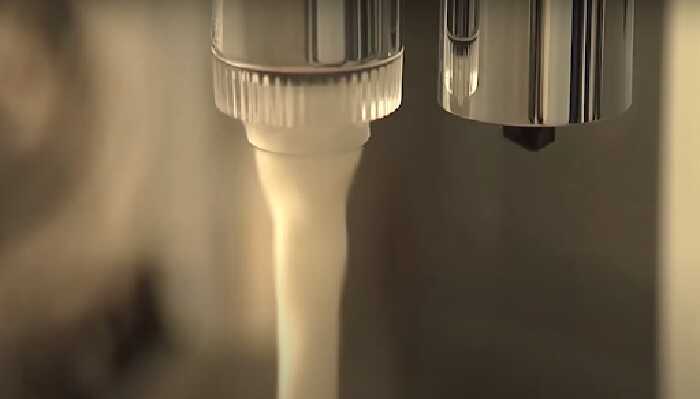 What Can Be Improved?
In my Jura E8 touch review, I have one minor and one major drawback for this product. In my opinion, the cons are not so essential to affect the gadget's quality.
One Minor drawback 
The minor disadvantage is the lack of a touch screen. Despite having a large LCD panel for one-touch use, its screen is not directly designed to interact with your finger in the panel. 
However, I think it's only minor since every user can control the device remotely from their tablet or smartphone. It's called the Smart Connect, where you can command your coffee machine for any type of coffee through an app. This might even be cooler than having the touch screen, isn't it?
One Major Drawback
Just like I've mentioned above, the product's wand is not compatible with dual functions. It has only one boiler to do brewing and steaming. Unfortunately, both actions can't be done simultaneously.
The Alternatives For Jura Ena 8
For a company like Jura, I think Miele will be a suitable candidate. Both company's products are well-known with lots of presets and functions. You can check the Miele 6310 and 6350 for their customized user-profiles and convenient care and maintenance. 
But if you want to stick to the original brand, Jura S8 is not a bad idea. It has a touch screen for those craving for a modern look and operation. Check out my comparison in this Jura E8 vs S8 review now!
The Related Article
Comparison Articles