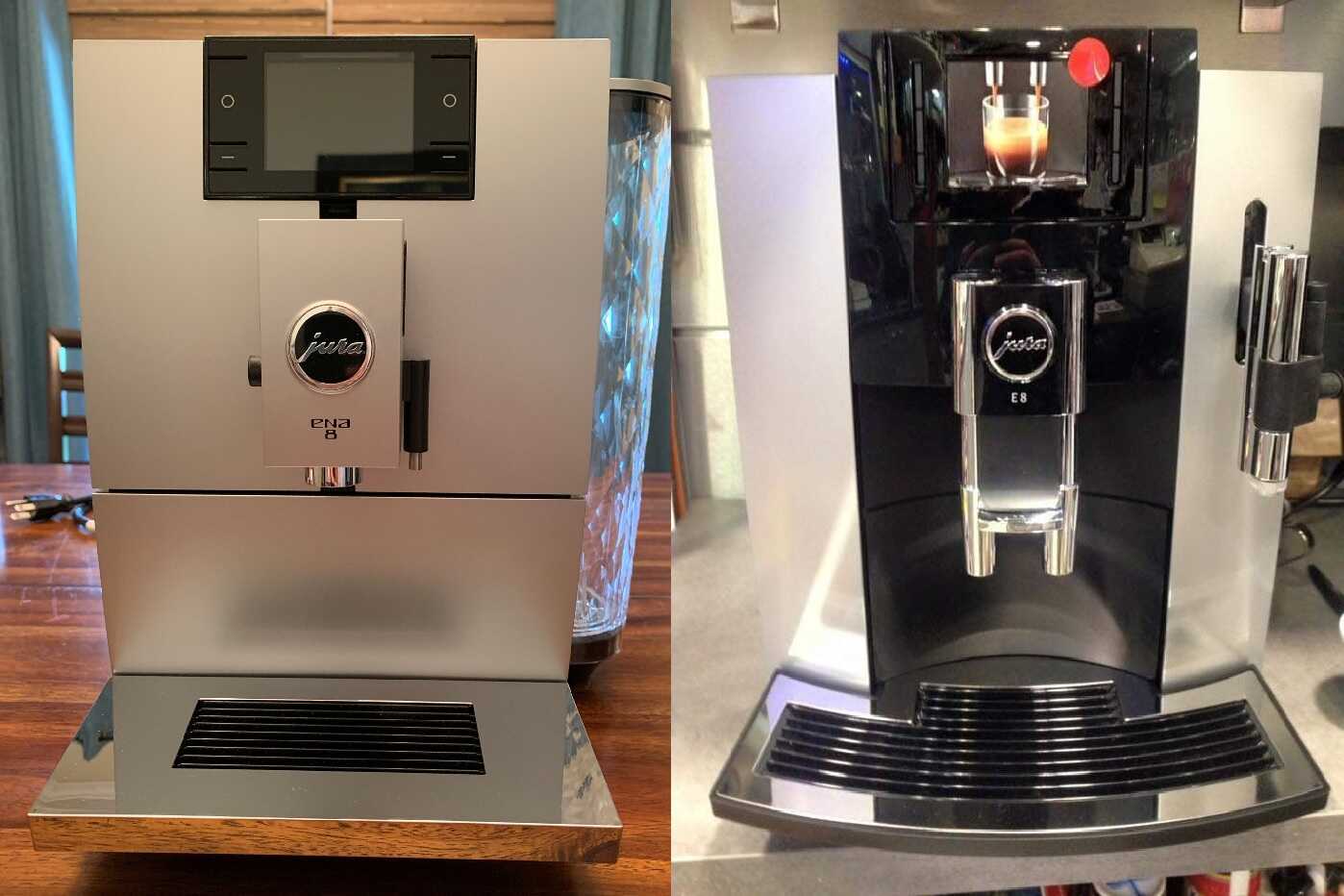 When Greek meets Greek, then comes the tug of war; that describes exactly Jura Ena 8 vs E8. The two coffee makers come from the same brand and have many features in common, making them a frequent topic of comparison.
Do not worry; I have written this guide to help you out. Spend a few minutes here, and you will know which Jura product wins.
Let's get started.
Differences Between Jura Jura Ena 8 Vs E8
Design and Convenience
At first sight, both coffee makers look sleek and stylish. The designs are quite similar to a control panel, along with spouts. However, while the water reservoir of E8 slides into the body for a neat construction, that of ENA 8 is equipped on the right of the machine.
About the colors, while Jura E8 is available in two neutral colors of black and stainless steel, its competitor offers metallic and red. Which color you should choose depends entirely on your preferences.
Let's compare the exact dimensions.
The Jura E8 has a dimension of 13.8 x 17.3 x 11 inches with a weight of 21.6 lbs. Meanwhile, the Ena 8 measures at 12.7 x 17.5 x 10.7 inches and weighs 20.7 lbs.
You see, both products have roughly the same specifications. There are indeed differences, but none of them are noticeable.
Having a neat design offers more convenience; therefore, I choose the Jura E8 to win this time. There are two more rounds in my comparison between Jura ENA 8 vs Jura E8.
Capacity
The Jura E8 wins when it comes to capacity. Not only its bean hopper but also the water tank are bigger than those of ENA 8. To be specific, the E8 is designed with a 10 oz bean hopper along with an 8-cup water tank. Meanwhile, its competitor boasts a 4.4 oz hopper and a 4.7-cup tank.
That is not to mention the output. Since the Jura E8 coffee maker features dual spouts, it is able to make two cups of coffee simultaneously. Its competitor can make only one cup at a time.
Features and Accessories
I am going to start with the shared features first.
These two fully automatic coffee makers are manufactured by Jura, so of course, they come with Jura's exclusive technology known as Pulse Extraction Process. It optimizes the extraction time to ensure you have the best espresso. Also, with both products, you can use the TFT display together with buttons to adjust coffee strength and volume at ease.
I appreciate that both Jura ENA 8 and E8 feature built-in frother and grinder. You do not need to spend extra money and time on buying separate products. Also, they help to make a streamlined design.
For added convenience, Jura equipped extra features for cleaning and maintenance, namely self-cleaning, calc-clean, anti-calc, as well as rinsing function.
Other shared features include a hot water system, cup illumination, auto shut off system, energy-saving mode.
There are some features that are unique to each product.
For example, the Jura ENA 8 has a water level indicator that tells you how much water is left in the tank. Its competitor does not offer this.
Although you can adjust the coffee strength with both Jura E8 and ENA 8, the former only offers eight settings while the latter offers 10. Likewise, the adjustable coffee spout height range of the Jura ENA 8 is wider than that of E8.
Between Jura Ena 8 vs E8, I give the nod to ENA 8 in this round.
Quick Rundown of Jura Ena 8
Pros
Sleek and neat overall design

Large capacity

Built-in frother and grinder
Cons
>> Read Customer Reviews: Here <<
Quick Rundown of Jura E8
Pros
Compact footprint

Built-in frother and grinder

Ten coffee strength settings
Cons
>> Read Customer Reviews: Here <<
The Bottom Line
My comparison of Jura Ena 8 vs E8 showed that the Jura E8 wins this time. To be exact, it wins two rounds of design and capacity and loses the game to ENA 8 when it comes to features. If you may ask, I like the Jura E8 a bit more since I want to have something with a large capacity.
Thank you for reading until the end. If you have time, you can find out more about my comparisons between popular coffee makers here.
Hot Topics You May Love: