My Jura Ena Micro 1 review will introduce to you one of the most desired products in the Ena Micro Line. Even though it has been present in the market since 2014, many customers claim that the rich taste of espresso from the Ena 1 is still better than other advanced ones. 
The gadget comes with a compact design, reasonable cost, and excellent quality at brewing espresso. However, it might not be your go-to machine if you prefer to make some milk-based drinks or desire to own a more functional machine.
So who is the most suitable owner of this gadget? Don't be in a rush. Here is the full review.
Image
Image
Who Will Benefit The Most From Buying The Jura Ena Micro 1?
The A1, Ena Micro 1, and 5 all have similar features of compact design, simple operation, and lightweight. They are also affordable and quite ideal for a family of 2-3. 
Therefore, the features I'm going to discuss in my Jura Ena Micro 1 review are only suitable for those who need a small intake amount of caffeine per day. These are the appearance, cleaning, and espresso function. 
Appearance
Size is the most evident reason that buyers purchase this machine. It's quite compact with a measurement of 9 x 12.7 x 17.5 inches (WxHxD) and a scale of 19.6 pounds only. Since it's quite portable, you can easily rearrange your kitchen corner without damaging the system and presets inside the machine. 
While being constructed with plastic, its front panel looks quite sleek and straightforward. This model looks very alike to the Jura A1 machine, from the outer construction to the water tank and bean hopper capacities.
The only difference, or the advantage of Micro 1, lies in the removable water tank, which is very convenient for washing and rinsing. The Ena 1 also has more unique color options. Somewhere two years ago, it offered the orange option for stylish buyers, but it seems the color line has been discontinued. 
Now, you can only purchase the black version.
Cleaning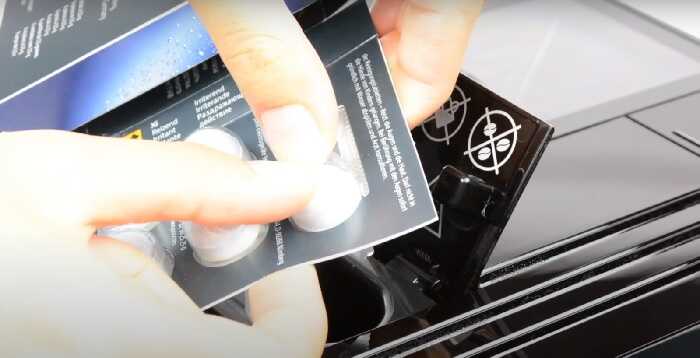 While the A1 has the auto shut on/off function for absent-mind users, it's not applicable for the Ena Micro 1. This Ena model has followed the integrated maintenance program of cleaning, descaling the machine, and changing the filter.
So how to clean Jura Ena Micro 1? The great thing here is that the machine will remind you whenever its inner engine gets dirty. Usually, after every 80 cycles, it will warn for a deep clean. Apart from cleaning inside the machine, you have to rinse the drip tray and change the dregs bins regularly. Some of its parts are removable and compatible with dishwashers also.
Luckily, this model is not built with a milk frother because the milk smell will often stay and linger around your corner (which is not nice). If you're not the meticulous type or those who love taking care of things in the house, the Ena 1 is quite suitable. 
Espresso function
The most notable point that distinguishes the A1 and the Ena 1 model from each other is the ability to brew espresso. Many customers claim that the espresso taste of this machine is much better than the A1 model. It provides drinkers with a more rich flavor and condition texture.
Though both machines can brew drinks from coffee beans or ground coffee, the espresso quality of Micro 1 has always been claimed as the advanced drinks for professional baristas. 
As expected from the espresso-only machine, all the coffee beans or ground coffee have to go through a slow extraction process for flavor maintenance. Due to this, the espresso quality is now boosted to be even more delicious.
What Can Be Improved?
Probably the major disadvantage in this Jura Ena 1 review article lies in the lack of milk frother. Not only does it limit the programmable drink selections, but it also restricts machine options for those who love milk-based coffee.
Unless the buyers already own a device for milk frothing, I reckon this model isn't their final answer.
JURA 13626 ENA Micro 1 Automatic Coffee Machine,Micro Black
ONE TOUCH: Prepare 3 Barista quality specialties including Ristretto, Espresso and coffee at the touch of a button - Coffee only
COMPACT: Slim design, perfect for small spaces
CONICAL BURR GRINDER: Multi-level grinder will perfectly grind whole beans to the optimum fineness
ECO FRIENDLY: JURA is always freshly ground, Not capsuled - fresh taste with very limited waste - single serve machine
CAPACITY: 37 ounce water tank, 7 ounce bean container
The Alternatives For Jura Ena Micro 5
If you want to try out different brands but still keep the quality, I recommend the Gaggia Classic or Breville Infuser with froth milk. Obviously, you can create more drinks and have a larger capacity.  But keep in mind, the alternative machines have large sizes.
But if you think this Jura 13626 Ena Micro 1 review is not suitable for your needs at all since you ask for more advanced functions, presets, or drink options, then feel free to go for Jura Giga 5 or Z8. In my opinion, they are the best models of Jura.
The Related Article
Comparison Articles