When talking about coffee machines that save up lots of space in every kitchen corner, I immediately think of the Jura Ena Micro line. You might have read my comparison article of Jura A1 vs Ena Micro 5 before and understand each model's pros and cons. 
This time, it's the comparison between the most highly-rated single-spout vs the most compact double-serve Jura machine. The top super-automatic machines like Jura Ena Micro 1 vs 5 are the signature models of the brand.
Image
Image
Image
Differences Between Miele Jura Ena Micro 1 vs 5
Design & Convenience
The compact design is the signature point of both products. Tipping the height of 12.7 inches and 17.5 inches wide, the Ena Micro 5 vs 1 are the top models for kitchen corners with limited space. Obviously, with these dimensions, you can expect them to have lighter weights than other bigger models. 
I highly rate the arrangement and construction of the two machines since they're compatible with the touch panel control located on top of the machine. 
With the Ena Micro line, saving space is their top priority. Therefore, instead of building the operating panel on the frontal part, the manufacturer places it on the head of the machine. 
If the distance between the kitchen countertop and cupboard does not exceed 15 inches, I will not recommend any of these models to you. Read this article to grasp a general idea of how to architect your kitchen corner.
The short space between them might block the control panel's view. Apart from that, you can freely place them in whatever positions you want since they're very modern and stylish with various color options to fit in different interior designs.
The most distinguishing factor between the two products is the spout. The Micro 5's double-serve spout is bigger in size compared to the single-spout of Micro 1. 
This feature will be discussed in detail in the latter part, but in this round, I will choose the Micro 1 for a compact look with a slimmer spout.
Wattages and Capacity
The 1450 watts are applied to all Jura coffee machines. You can see how robust and sturdy they can be while brewing a cup of coffee within just 2-3 minutes. Even with the double spout function of  Ena Micro 5, the number of batches it can brew has doubled compared to its counterpart. 
With the same 37.2-ounce water tank and 4.4-ounce bean container capacities, Jura Micro 5 is more suitable for users with large and frequent demands. The capacities of both models are not very impressive since they are small, compact, and designed specifically for small batch purposes.
If you are looking for a small, high-quality coffee machine with automatic functions, Jura Ena Micro 5 vs 1 is your best selection. You might want to go for the Ena Micro 5 if you prefer brewing a bigger (but not the biggest) batch.
Additional Features 
In this round, my vote goes to the Jura Micro 5 model.
There is nothing better than a compact gadget that can brew coffee as the large ones. The Ena Micro 5 is this type of machine. 
Owning the small body of the Ena Micro lines but having the ability to brew two coffee cups simultaneously of other advanced lines, Micro 5 deserves to earn more favor from coffee lovers.
The double-serve spout of Micro 5 is also known as the Intelligent spout in which it can rotate and adjust the number of shots based on your choice. 
So just by a simple twist, you can brew one cup or two cups simultaneously any time you want. This useful function is not common on the market nowadays. 
The other features of both products, such as the grinder, level of grinding strength, or coffee spout's adjustable ranges, are quite similar. 
They are two exquisite machines, but not as advanced as the other high-end models of Jura. There are still other functions that Jura should upgrade or invest more time into.
Let's scroll to the pros and cons section to find out more!
Quick Rundown of Jura Ena Micro 1
JURA 13626 ENA Micro 1 Automatic Coffee Machine,Micro Black
ONE TOUCH: Prepare 3 Barista quality specialties including Ristretto, Espresso and coffee at the touch of a button - Coffee only
COMPACT: Slim design, perfect for small spaces
CONICAL BURR GRINDER: Multi-level grinder will perfectly grind whole beans to the optimum fineness
ECO FRIENDLY: JURA is always freshly ground, Not capsuled - fresh taste with very limited waste - single serve machine
CAPACITY: 37 ounce water tank, 7 ounce bean container
Pros:
Compact and lightweight design

 

Excellent at brewing espresso

Budget-friendly cost
Cons:
Small bean reservoir

Can't brew a large batch
>> Read Customer Reviews: Here <<
Quick Rundown of Jura Ena Micro 5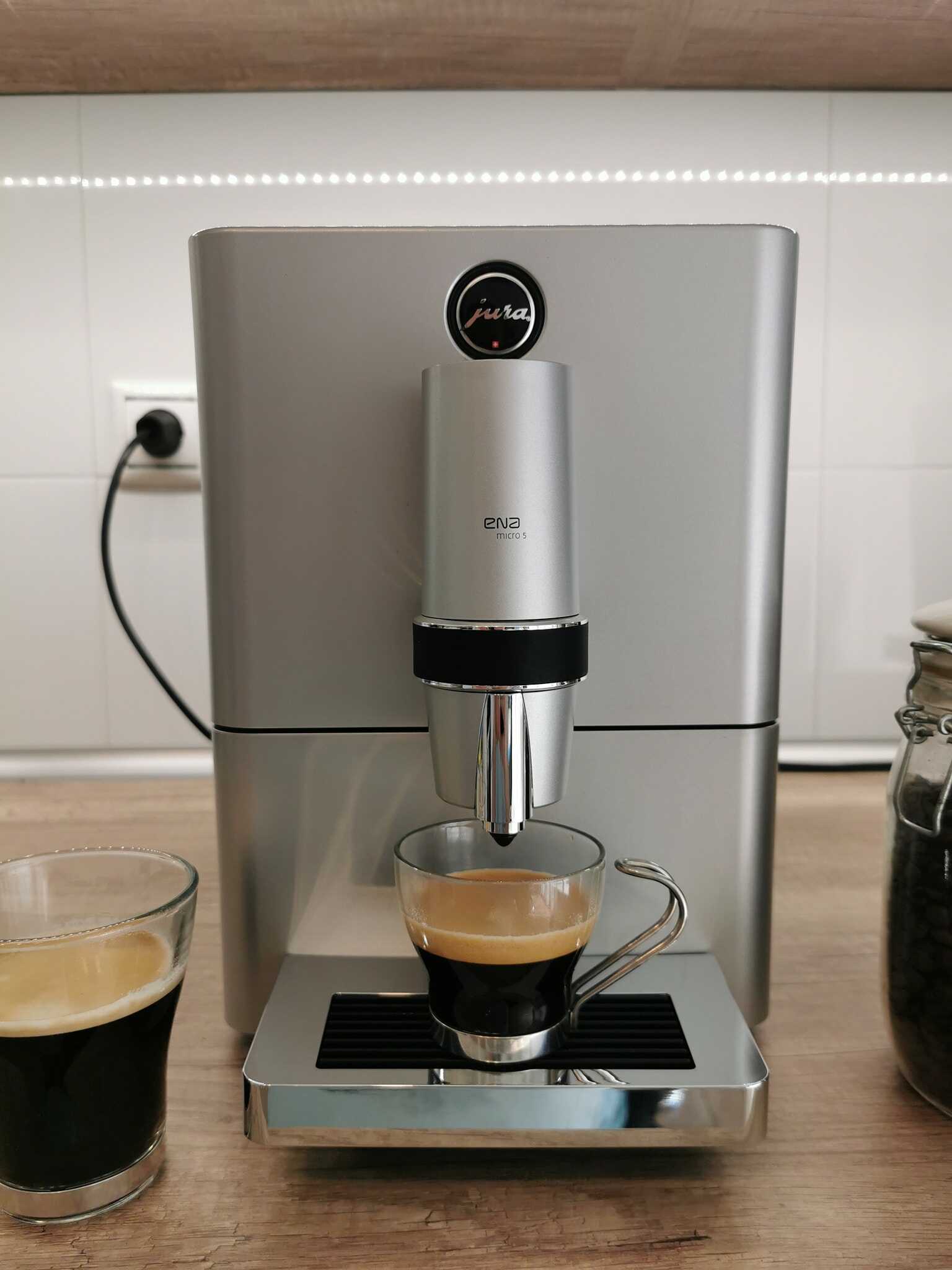 Jura ENA Micro 5 Automatic Coffee Machine, 1, Silver
Unique rotating coffee spouts automatically control selection of one or two drinks
Height adjustable coffee spout ranges from 1.2" to 4.4" high
4 oz. Bean Hopper has air tight aroma preservation cover to keep beans fresh
Boiler Design - Stainless Steel ThermoBlock
Powerful pump rated to produce 15 bars of pressure
Pros:
Intelligent rotatable spout

Compatible with brewing medium batches

Bean hopper with lid for aroma reservation
Con:
Not compatible with Smart Connect
>> Read Customer Reviews: Here <<
Conclusion
Jura Ena Micro 1 vs 5 are often being put for comparison since their prices aren't different, and their functions are quite similar. However, the biggest advantage of the Micro 5 lies in its intelligent spout that can serve a family of up to 3-4 people.
As for me, I will choose the Micro 5. Even though I don't have a large demand for coffee every day, I can rotate the double spout to the single function and change it back whenever I have guests coming. Isn't it so convenient? 
The Related Articles
Single Reviews
Comparison Articles