I suggest you look at this comparison between Jura S8 vs Miele CM6350 if cost is not a significant factor determining your buying choice. They are not the brand's top models, but they're still exquisite in representing the whole brand.
Which gadget do you prefer more? Would it be the "best for value" Jura S8 or the "smart heating" Miele CM6450? Stop wasting more time and hit the information table below for more specifications.
Image
Best for
Advanced heating function
Color
Piano black, chrome, and silver
Image
Color
Piano black, chrome, and silver
Image
Best for
Advanced heating function
Wait, don't buy any machine before you really know about espresso. Click here
Differences Between Jura S8 vs Miele CM6350
Design & Convenience
Evaluating design focuses not only on the outer appearance of a coffee machine but also on how convenient it is to operate the product. 
If you have a sleek and modern gadget, but you cannot utilize the machine since it's so complicated to use, then the manufacturer has completely failed its job in designing.
This is the same case with the Miele CM6350. The manufacturer has built a very modern and sleek Miele gadget by applying a gloss white finish with a touch button control panel. However, the arrangement of buttons and settings does not gain much favor from beginner or amateur barista.
It's too complicated with various symbols (without any text display) located on every side of the machine. Furthermore, its control screen is quite small compared to its counterpart.
Despite having a heavier weight and bigger dimensions, Jura S8 still makes a better impression on me. I feel more familiar with the buttons and construction of a two-spout function in the middle, a milk frother on the side, and a touchscreen control panel in the middle.
One of the great things about these two models is that they are both compatible with remote control. This characteristic creates so much opportunity for people with reduced physical and limited access to the kitchen area.
Wattages and Capacity
Every model of Jura is suitable to be operated at 1,450 watts, robust enough to grind and brew coffee in a short amount of time, and reasonable enough to activate a zero-energy switch. 
Even though their thermoblock heating systems can only perform one action at a time, you can still keep the brewing number consistently for the whole day. Therefore, users will only need to spend roughly 10 minutes on 6-8 cups of coffee.
When talking about the capacity of Miele CM6350 vs Jura S8, the S8 model surely wins. All of the Jura coffee machines are designed to optimize the inner space as much as possible; therefore, we have a 64-ounce water reservoir and 10 ounces in a coffee bean container.
The CM6350 has a slightly smaller capacity of 61 ounces for a water tank and 10-ounce coffee bean. Even the waste capacity of this mode is fewer than the Jura S8, which is only 10 portions. The number of the S8 model is 1.5 times more.
Additional Features 
The advantage of Miele CM6350 lies in two factors: the active-heat cup warmer and the number of recipes. 
While the Jura S8 offers 15 specialties, Miele CM6350 can brew more than just 10 recipes. Some buyers claim that apart from these primary presets, they can create more flavor drinks from the 4 customizable profiles, in which you can expect up to 27 types of drinks.
The second factor is the active cup heater that many coffee owners would love to pay extra money to have equipped in their machine. It's a very thoughtful function that will pre-warm the coffee cup nice and fresh hours before you get off to work.
No more wasting time brewing another cup of coffee or waiting for the hot water spout to work; you can enjoy your favorite caffeinated taste right away. 
Quick Rundown of Jura S8
Sale
Jura S8 Automatic Coffee Machine Moonlight Silver
ONE TOUCH: Prepare 15 barista quality specialties including espresso, coffee, cappuccino, flat white and latte macchiato at the touch of a button
PERFECT ESPRESSO: Ultimate coffee quality thanks to JURA's exclusive Pulse Extraction Process
CONICAL BURR GRINDER: Fast and precise AromaG3 grinder grinds whole beans to the optimum fineness
: JURA is always freshly ground, not capsuled - fresh taste with very limited waste - single serve machine
CAPACITY: 64 ounce water tank, 10 ounce bean container
Pros:
Simple yet straightforward construction

Large water reservoir

Low maintenance
Con:
No active or passive cup warmer
>> Read Customer Reviews: Here <<
Quick Rundown of Miele CM6350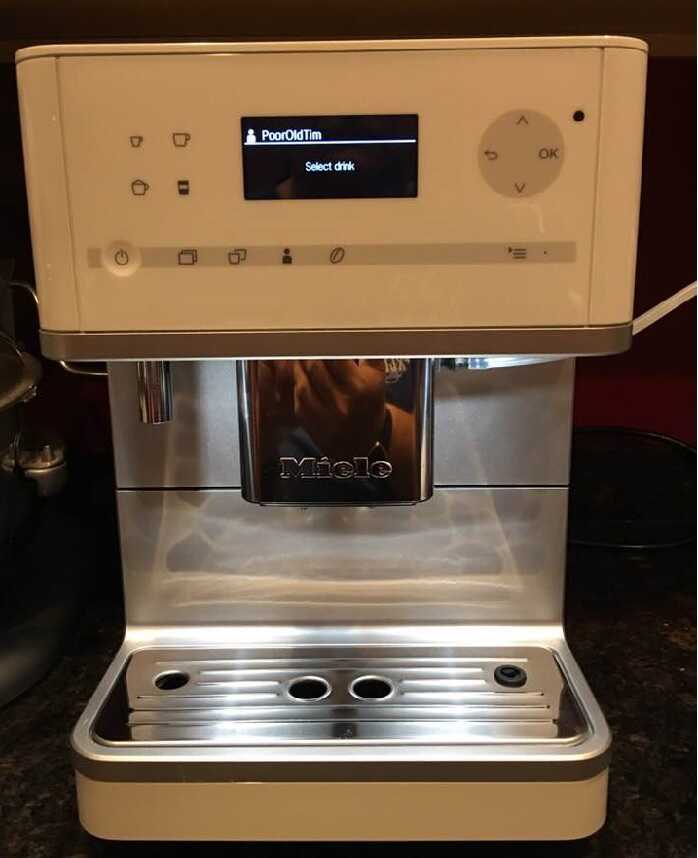 Miele CM6350 Countertop Coffee Machine, Lotus White
Program up to 4 User Profiles with individual settings for portion size, strength, brewing temperature & more.
OneTouch and OneTouch for Two function - make one or two servings at the touch of a button.
Brewing specialties - One or two servings of espresso, coffee, long coffee, ristretto, cappuccino, latté macchiato, cafe latté, hot milk & milk froth.
Additional features include Integrated Cup Warmer, DirectSensor Control Panel and Coffee Pot Function for making up to 8 cups of coffee at one time.
Convenient cleaning programs for care and maintenance.
Pros:
Higher wattages

Compact footprint

Active cup warmer
Con:
>> Read Customer Reviews: Here <<
Conclusion
After reviewing the Jura S8 vs Miele CM6350, I can conclude that each model is suitable for different purposes. In my opinion, the Miele CM6350 is specially manufactured for professional baristas or those who have experience in brewing coffee. 
And for the Jura S8, it is more comfortable if used at home. The brewing process is straightforward that any of your family members can brew a high-quality cup of coffee. It is an effective yet low-priced household coffee machine.
If you still cannot find your right match, how about check out this article of Jura S8 vs Z6?
The Related Articles
Comparison Articles