Jura X8 vs Z8 are the two models that do not come from the same line; therefore, they will have several distinguishing features, both in outer and inner factors. After careful consideration, I have finally decided on the worthy winner – Jura X8.
The reasons I pick this model will be explained thoroughly in the article. Before getting deeper, I recommend checking this table of technical data for a better grasp of information.
Image
Best for
Luxurious design and large touchscreen
Dimensions (D x H x W)
14.7 × 18.5 × 18.2 inches
Image
Dimensions (D x H x W)
14.7 × 18.5 × 18.2 inches
Image
Best for
Luxurious design and large touchscreen
Differences Between Jura X8 vs Z8
Design & Convenience
The number of articles that I have compared Jura Z8 to other coffee machines in the market might have exceeded the number of me brewing a cup of coffee per day. In which, you know, is quite a lot. And when it comes to the review design section, I will choose Jura Z8 as a winner no matter its competitors.
The reasons are quite simple. All of its structures and arrangements are reasonable for operation, sleek enough to be a decor itself, and convenient enough to save users a bundle of time. Even the transparent grooved water tank of the Z8 looks pleasant to the eyes. 
Normally, I don't prefer any gadget that has external elements, but Z8 is an exception. However, my favorite point of the Z8 is the 4.3 inches touchscreen. Each icon of Z8 has pictured the drink types very well and details, making the brewing process a lot easier. 
What about the X8 – the model that I considered to be more worthy than the Z8? To be honest, it does have the luxurious, high-end vibe of the Swiss quality, but it looks quite ordinary while standing next to the Z8.
The gadget tips the scale at 30.9 pounds, which is 1.4 pounds heavier than the competitor. Its depth, height, and width are also bigger with 14.7 × 18.5 × 18.2 inches. Apart from the touchscreen feature, the second difference between the two products is the milk frother's position. 
While the Z8 has it integrated with the two coffee spouts, the X8 places it independently to the left side of the machine. And obviously, the height of X8's milk frother cannot be adjusted.
Wattages and Capacity
Unlike the Jura Giga W3 or Giga 5, which have only 1250 watts in brewing and grinding coffee, both of our models come with 1450 watts. Especially when it comes to the X8 model, it can make a very large batch per day – up to 80 cups of coffee.
Meanwhile, the Z8 is compatible with a maximum of 45 cups only. The number might be changed according to different settings and usage, but as for me, the X8 can produce faster and more coffee cups.
It's not just about the robust engine. Jura X8 even has such an outstanding capacity for the water tank and coffee hopper. Its measurement is 170 ounces for the water reservoir, meaning 2 times bigger than its competitor. Even its coffee bean container and drip tray volumes exceed most of the standard capacity in the market, let alone the Z8.
Taken all of this information into account, the Jura Z8 surely falls behind. 
Additional Features 
Most of the additional features of Jura Z8 vs X8 are similar. They are all compatible with J.O.E (remotely controlled app), dual thermoblock heating system, number of specialties, and the energy save mode.
If you are unfamiliar with these terms, you can check them in some of my other articles, where I carefully note down their definition.
In case you're still indecisive with your choice, I can list out one more feature of the Z8 model that might change or support your opinion. This feature is called the Water Tank Illumination, which reminds users when it's time for refilling by lightening the LED blue light. 
At the bottom of the tank, the built-in light will visually monitor the level of water a simple task.
Quick Rundown of Jura X8
Pros:
Large capacities in water tank, coffee hopper, drip tray

Versatile

Compatible with all brewing purposes

Dual thermoblock heating
Cons:
No touchscreen

No height-adjustment milk frother
>> Read Customer Reviews: Here <<
Quick Rundown of Jura Z8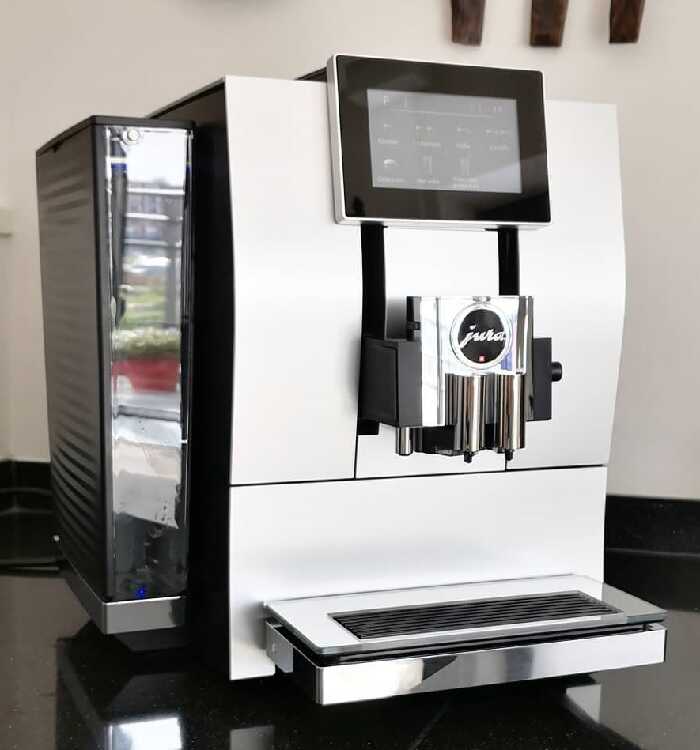 Pros:
21 specialties

4.3 inches touchscreen

Splendid construction and design
Con:
Require more counter space
>> Read Customer Reviews: Here <<
Conclusion
You might have spotted that the Z8 model does not lose in this battle since some of its features even surpass the X8. But in this Jura X8 vs Z8 comparison article, I want to give you the utmost reality aspects.
Having the X8 coffee machine in hand will help you save time at brewing, cleaning, and especially refilling. Their number of presets and heating system are the same; therefore, I highly recommend investing additional bucks and getting a larger-capacity machine like Jura X8.
The Related Article
Comparison Articles