Between Jura Z6 vs Z8, which model is better for you and your home? Even though they have many factors in common, the Jura Z8 still gains my favorite due to its simple and versatile operation.
The Z8 model has won two times in my review battles. Aren't you curious about how it can be such a champion? Check out this information table before diving right in, and you will get my idea.
Image
Best for
Dual Thermoblock and drink selections
Modern roaster with large water reservoir
Dimensions (D x H x W)
12.6 x 14.8 x 17.7 inches
Image
Best for
Dual Thermoblock and drink selections
Image
Best for
Modern roaster with large water reservoir
Dimensions (D x H x W)
12.6 x 14.8 x 17.7 inches
Differences Between Jura Z6 vs Z8
Design & Convenience
As I've mentioned before, both coffee machines' dimensions and stunning design of both coffee machines are very similar. They both share the compact sizes of  12.6 x 14.8 x 17.7 inches, a convenient water tank for removing and refilling, and a dual spout with milk frother in between. 
However, when putting both gadgets on the scale, the Z8 model is slightly heavier than the Z6 model. It might be due to the fact that the Z8 has more advanced functions and brewing capacities than its competitor. This information will be presented to you later in the article.
While both Z6 vs Z8 have large screen displays, only the Z8's is compatible with touch function. The Jura Z6 does not have this ability since its display is TFT color, only available for visualizing. In my opinion, the drawback of having a touch screen is the unavoidable fingerprints on the screen. This makes the machine look quite unclean.
Since both devices have similar designs and construction, it's quite hard to pick the winner. If you prefer to control your operation by pushing buttons, then the Z6 is your top choice. However, you can go for the Z8 model if you're like me – who favor the convenient touchscreen.
Wattages and Capacity
Talking about the power and engine of Jura coffee makers, they are all compatible with 1450 watts. And yes, you don't have to worry about waiting long for your coffee to be made since these two have double-serving functions. 
Every 3 minutes, two cups of coffee will be ready in time and help you get ready for a bright new day! 
What about the capacity? No doubt, the Z8 wins this round for its massive drink options. The Z6 model has 50% fewer drink selections than its competitor, only 13 types. My favorite coffee machine – Jura Z8 – has up to 21 choices of specialties that will allow users to explore different coffee aromas.
However, the water capacity of Jura Z6 is larger than the Z8 model. It can store 84 ounces of water, while its counterpart's ability is only 81 ounces. Due to this factor, I believe it would be the perfect choice for restaurants or cafes, where there are continuous demands for coffee drinks. 
The big water reservoir will not run out quickly, and the 13 drink types are enough to satisfy the buyers.
Additional Features 
When I first unboxed the Z6 model, I got mistaken for the Z8 machine by how alike they are. But after several days of using the gadget, I've discovered some of the features that Z6 is lacking, compared to the Z8 gadget.
The first factor to talk about is the thermoblock system. While the Z8 has a duo function, the Jura Z6 comes with a single thermoblock. This means that the Z6 can't steam and brew simultaneously, which requires users a longer wait. On the other hand, its competitor can prepare the drinks much faster.
The second feature is that the Z8's touch screen can save more personal recipes while the other model cannot. Can you imagine that apart from the 21 specialties, you can still add your own recipes? How amazing is that!
Other than the drink options, thermoblock system, and screen display, both machines are equipped with the Save Energy Mode, P.E.P features, and adjustable spouts.
Quick Rundown of Jura Z6
Jura 15093 Automatic Coffee Machine Z6, 81 ounces, Aluminum
The pulse extraction process (P.E.P.) allows the whole bouquet of aromas to Blossom. Result: possibly the best Espresso of all time - at the touch of a button
The innovative nozzle technology prepares fine, compact and very tempting milk foam. The machine switches from milk to milk foam fully automatically
The Z6 packs incredible performance into compact Dimensions. All the control elements are conveniently accessible on the front
Maintenance is just as easy as preparing a Coffee: one touch of a button is all that's needed
Only Original Jura maintenance products Guarantee complete hygiene and protection. Only our protective formulas have been carefully optimized to suit the programmed and materials used in Jura automatic machines.
Pros:
13 specialties

Stunning design

Large water reservoir
Con:
Single thermoblock heating system
>> Read Customer Reviews: Here <<
Quick Rundown of Jura Z8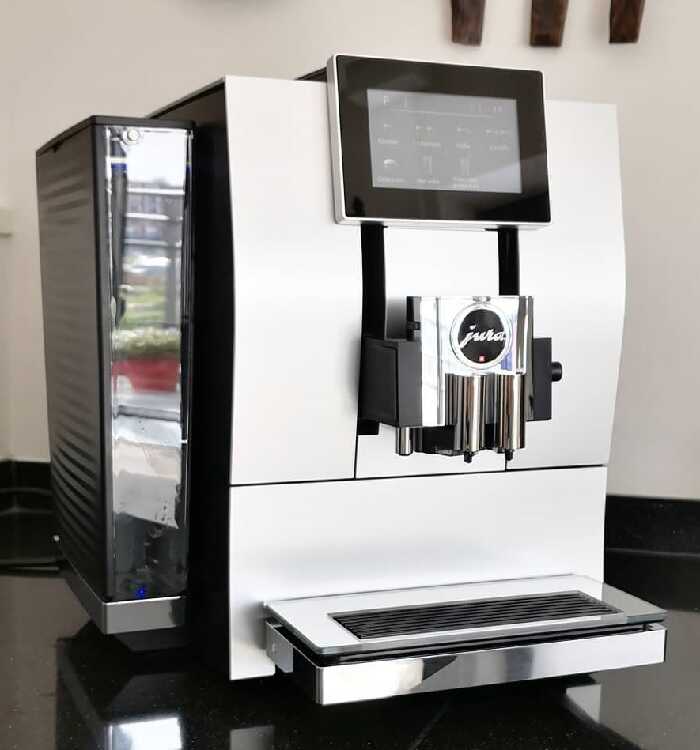 Pros:
Wide range of drink options

Dual thermoblock heating system

Touch screen

Compatible with saving specific recipes
Con:
Fingerprints on the touch screen display
>> Read Customer Reviews: Here <<
Conclusion
I will stick to the Z8 as the winner for this battle between Jura Z6 vs Z8. The machine has so much potential for both professional and amateur baristas. It even has many different types of coffee presets and a dual thermoblock heating system, allowing users to save a bundle of time. 
However, if you love the design and construction of Z8 but prefer a more affordable option with fewer presets, I highly recommend the Jura Z6.
The Related Article
Comparison Articles