Torn between Jura Z8 Vs Giga 6?
You are in the right place.
This article will point out the similarities as well as the differences of both coffee makers so that you can make the right decision. I will even decide the winner in each section to make it easy for you.
Scroll down now.
Image
Image
Image
Differences Between Jura Z8 Vs Giga 6
Design and Convenience
At first glance, the two products look sleek and stylish. They both have a touch screen, dual spouts, along with a milk frother on the front. The screen display of Jura Z8 is a bit larger than that of Giga 6, though. There are no buttons as you can operate the whole machine by touching the screen.
When it comes to dimensions, the differences are small. To be specific, the Giga 6 measures at 18.9 x 16.3 x 12.6 inches and weighs 39.7 lbs. Meanwhile, the Z8 is 17.7 inches deep, 15 inches tall, and 12.6 inches wide. It weighs 29.5 lbs. I will not pick the winner based on weight since it does not really matter when you choose an espresso machine.
In a nutshell, there is no winner between Jura Giga 6 Vs Z8 in this section.
Capacity
Jura introduced Giga series as high-capacity coffee makers, so it is no surprise that Giga 6 boasts a 87 oz water tank and two bean hoppers, each of which holds up to 9.8 oz.
The water tank of Jura Z8 is comparable to that of Giga 6, around 81 oz. This is a huge bonus. But it only owns a bean hopper that is designed to contain around 9.8 oz.
You can see that the Jura Giga 6 convincingly wins this round. It is the best choice if you want to serve coffee for many people.
Features and Accessories
Both Z8 and Giga 6 are known as super automatic coffee makers. It means that they are capable of making a wide variety of drinks and boast a lot of convenience features, such as touch screen display, energy saving mode, and adjustable spouts.
Now, you may be surprised to know that the Jura Z8 offers 21 kinds of beverages, including some classic options such as cappuccinos and lattes. But the Giga 6's menu is even more impressive with 28 drinks. That is a lot to go by; so rest assured that you can always find something that suits your taste with these two espresso machines.
What makes Jura Giga 6 outstanding is the artificial intelligence. It uses algorithms to suggest your favorite drinks first when you open the menu. There is no need to scroll through a bunch of options.
The Giga 6 also has an edge with dual grinders. The second grinder allows you to make two different kinds of coffee at a time, for example, decaf and regular. With the Jura Z8, you only have a grinder.
The Jura Z8 does have a unique feature though, which is its water tank illumination. This helps you see the amount of water left clearly. Just take a glance and you will know.
Nonetheless, just one does not bring it on the same level with the Giga 6. So, do you agree with me that Jura Giga 6 wins this round?
Quick Rundown of Jura Z8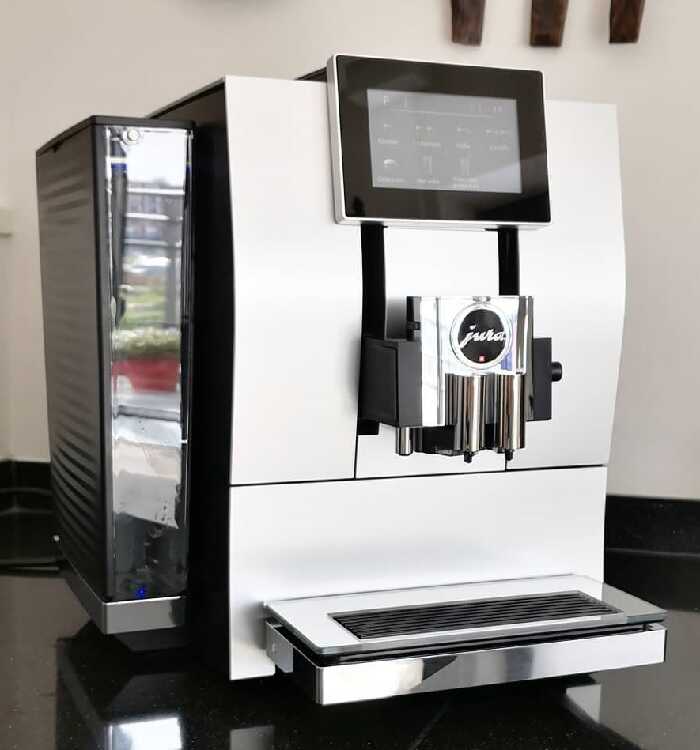 Pros
Large water tank

Water tank illumination

Varied menu of drinks
Cons
>> Read Customer Reviews: Here <<
Quick Rundown of Jura Giga 6
Jura GIGA 6 Aluminum Automatic Coffee Machine
Stainless steel body with aluminum finish
28 available specialties to choose from
87 ounce water tank
2 electronically adjustable ceramic disc grinders
Automatic Grinder Adjustment (A.G.A.) function
Pros
Artificial intelligence

Dual grinders

28 kinds of drinks available
Cons
>> Read Customer Reviews: Here <<
The Bottom Line
This article of Jura Z8 Vs Giga 6 points out that Jura Giga 6 is the ultimate winner. It has a large capacity along with a varied menu of drinks. It makes the best choice for those who pay attention to quality more than price.
Nonetheless, I like the Jura Z8 a bit more. I find 21 drinks enough for my taste, and its selling point is the affordable price tag.
Check out my next article about Delonghi Esam3300 vs Gaggia Brera here.
Thank you for reading.
The Related Article
Comparison Articles