Jura Z8 vs Giga W3 is the review article that I don't really want to write since I have to point out the winner between them when they are fantastic! From construction, presets, to cleaning and maintenance, these gadgets have no problem at all! So there is such hardship while writing the comparison.
Regardless, after careful consideration and observation, I finally decided to go for my ultimate favorite gadget – Jura Z8. It deserves to be noticed and bought by more customers. 
Here are several reasons why it is so.
Image
Dimensions (D x H x W)
14.6 x 21.7 x 19.5 inches
Image
Image
Dimensions (D x H x W)
14.6 x 21.7 x 19.5 inches
Differences Between Jura Z8 vs Giga W3
Design & Convenience
In terms of design, the Z8 model never fails me. I just want to make my point clear again after reviewing a considerable number of articles: the Z8's design and construction is my utmost favorite. It does not come with many whistles and bells.
My favorite device consists of only a plain touchscreen control panel, a double spout with a milk frother attached between, and an external water tank. But the overall construction of the machine satisfies me in all aspects.
The machine does not take up much space since it's only 12.6 x 14.8 x 18 inches. With this dimension, the Z8 can still carry a big water tank and bean hopper, even when its weight is 1.3 times lighter compared to the competitor.
As for the Giga W3 coffee maker, all of its technical data exceeds the data of the Z8 model. For example, even though its display panel is a screen button and not as large as the Z8, the W3 machine is taller, wider, deeper, and heavier. Its water tank and bean hopper are also attached outside of the machine, but with bigger sizes and capacities.
Due to this factor, a kitchen that is not spacious or has a short distance between the countertop and cupboard won't be able to store the Giga W3.
Wattages and Capacity
The standard wattage of Jura coffee machines is usually 1450 units. However, several machines have a large number of programmable brewing specialties that offer a lower watt. In our case, it's the Giga W3.
It comes with 1250 watts while the Z8 has 1450 watts. And believe me or not, the number of cups that Z8 can brew coffee cups per day is less than its competitor. Even though both machines are equipped with a double-serve function, the Giga W3's duration of making one cup of coffee is indeed faster.
Even its water tank, bean hopper, and coffee ground waste are larger than the competitive model. Before knowing its existence, I can never imagine a 176-ounce water tank would fit in such machine sizes. What about the bean hopper? The W3 model has a 35 ounces container, while the Z8 can only store a 10-ounce of coffee bean.
As a result, the Giga W3 is the more optimal choice to opt for capacity and brewing duration.
Additional Features
Presets are not exactly the additional features, but since the two models are compatible with brewing so many unique drink options, I still want to put this feature in this round. 
If you simply want to compare the number of presets each model has, then the W3 surely wins for its 43 specialties. But the Jura Z8 is not a simple machine since it can brew up to 21 coffee types. Therefore, don't rush to the decision that W3 is better than the Z8.
If you're not a professional barista, buying an expensive machine with 43 specialties will only waste your money and time. The Z8, on the other hand, is more suitable for both home use, office use, and commercial use. The drinks options are quite basic and easy to make with the proper instruction on the touchscreen.
Other additional features that help make the coffee taste better to include the rotary switch, P.E.P technology, advanced frother for consistent milk flow, and aroma preservation cover. And yes, do not forget that these two gadgets help eliminate unnecessary energy while you're not operating.
Quick Rundown of Jura Z8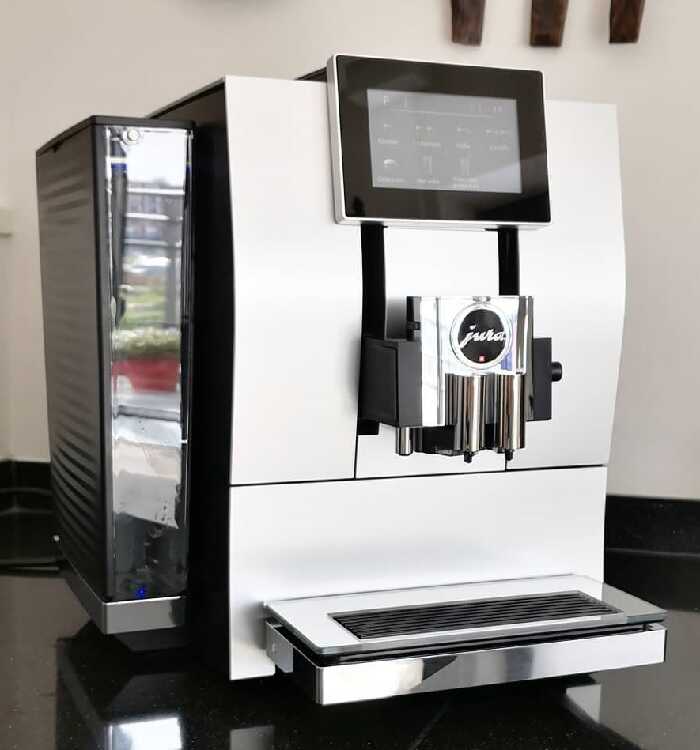 Pros:
Astonishing design

Suitable for all purposes of usage

Robust engine of 1450 watts
Con:
Not compatible with milk cooler
>> Read Customer Reviews: Here <<
Quick Rundown of Jura Giga W3
Jura 15089 GIGA W3 Professional Automatic Coffee Machine, Silver 169 oz.
The ingenious, self-explanatory operating concept includes a ball bearing-mounted rotary switch and TFT display for maximum speed and efficiency
The integrated rinsing, cleaning and descaling programs reduce the effort involved to a minimum. Active bean monitor is available
with accessories such as cup warmers and milk coolers, it is possible to design an optimum complete Coffee solution for any requirement
The GIGA W3 is also capable of producing the internationally popular flat white
Elegant and professional, the automatic Coffee machine provides everything that counts in a modern working environment for customers, visitors and employees
Pros:
Up to 43 specialties

Large water reservoir and bean hopper

40 coffee ground servings

Compatible with cup warmer and milk coolers
Con:
Complicated operation

Only suitable for professional barista
>> Read Customer Reviews: Here <<
Conclusion
I understand that The Giga W3's features surpass almost every aspect of the Z8. However, in this comparison article of Jura Z8 vs Giga W3, I reckon my review should be a little bit more down-to-earth. A machine with so many advanced features and large capacity will only benefit those in demand for commercial use.
On the contrary, Jura Z8 is a much suitable option with sufficient presets, luxurious construction and design, and high-quality brewing capability.
The Related Articles
Single Reviews
Comparison Articles