Jura Z8 vs Siemens EQ 9 products are both automatic coffee makers, delivering the same powerful motor of 1500W. However, there remain some different features, setting one apart from the other. Which machine is the best choice? Please read my article for the answer.
The following table will display some main features of the two candidates.
Image
Serving Capacity
26 espressos / bean hopper
Image
Serving Capacity
26 espressos / bean hopper
Differences Between Jura Z8 Vs Siemens EQ 9
It's time to dive right into the differences between the two. First, let's take a look at their appearance.
Design And Convenience
Both of them come with the basic black or silver color, which can go well with many backgrounds. These neutral colors make the room tidy and give it a sense of luxury.
Jura Z8 vs Siemens EQ 9 models don't differ much in their dimensions, 38 x 32 x 45 cm and 39 x 30 x 47 cm respectively. They are quite spacious with a large size, but you can't expect more with a heavy-duty coffee maker. Besides, the Siemens model weighs only 25 pounds, making it easy for transportation.
The Jura model goes with a large 4.3-inch touchscreen and a rotary switch. Meanwhile, Siemens provides a smaller 3.5-inch TFT color display and control panel. Both are easy to customize.
The best part of the EQ 9's design is the stainless steel construction, making it the winner in the first round. The stainless surface makes it easier to clean up, ideal for places requiring strict hygiene, such as kitchens, hospitals, restaurants, etc.
Meanwhile, the Jura model is made of aluminum, prone to rust, and not as durable as steel.
Capacity And Volume
Jura Z8 provides a 10-oz bean hopper and an 80-oz water tank. With a full volume, you can make approximately 26 espresso-sized cups, 8 coffee-sized cups, 5 travel mugs, 4 semi-carafes, or 2 carafes. This capacity is suitable for offices, restaurants, or parties in your family.
On the other hand, Siemens EQ 9 comes with a slightly smaller capacity, an 8.2-oz bean container, and a 77-oz reservoir. It also allows you to make 25 espressos, 8 coffees of normal size, 5 travel mugs, 4 semi-carafes, or nearly 2 carafes. 
Besides, the Siemens product offers a high pump pressure of 19 bars, while this figure is only 15 for its counterpart. This quality supports quicker coffee making. Particularly, it takes only about 25 seconds for a cup of espresso, while the Jura needs 35 seconds.
Thanks to its high pump pressure, Siemens EQ 9 takes the lead over the other option.
Additional Features
Siemens EQ 9 vs Jura Z8 comparison seems to display many differences in their extra functions. Let's take a closer look into them.
Jura Z8
This model offers a cutting-edge remote control feature, connecting via Bluetooth. You can order and customize your drinks anywhere in your house just by using a smartphone or tablet. This quality is ideal for busy residents or coffee shops since it's convenient and time-saving.
The equipped PEP technology helps slow down the extraction time to enhance the flavor of the coffee. This quality also creates a thick crema layer, just like a drink by a professional barista.
Jura Z8 also comes with an aroma grinder, optimizing the smoothness of the coffee. This feature ensures 12.2% more aroma and high grind consistency, bringing out a complete bouquet from beans to cups. 
Another special function of this Jura product is the intelligent water system (IWS) equipped with an RFID chip for ultimate hygiene. This part will also tell you how hot the water is and announce when to change the filter.
Siemens EQ 9
The highlight of EQ 9 is its super easy cleaning quality. This product is equipped with an auto milk-clean system. Gone are the days you have to clean up the machine whenever making milk-based drinks.
Moreover, it contains many removable components such as the brewing unit, water tank, and drip tray. More importantly, they are all safe to use dishwashers.
There is also a so-called Barista Mode allowing you to make perfect drinks without any customization. Besides, you don't have to worry about your kids because the built-in child-lock will prevent accidentally running the brewing cycle.
In this round, I will vote for the Jura Z8 for its features because I'm keen on coffee, and its flavor is all I care about.
Quick Rundown Of Jura Z8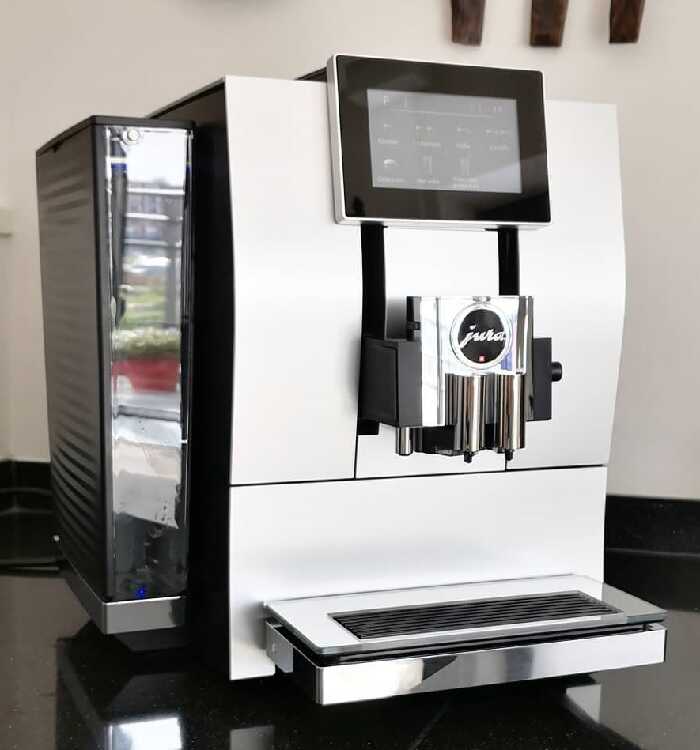 Pros
Large water tank and bean hopper

Large touchscreen for easy control

Remote control

Aroma grinder and IWS ensuring full coffee flavor
Cons
Quite heavy

Weak pump pressure
>> Read Customer Reviews: Here <<
Quick Rundown Of Siemens EQ 9
Siemens super-automatic espresso coffee machine with an adjustable grinder, double boiler, milk frother, maker for brewing espresso, cappuccino, latte, macchiato, flat white EQ.9 TI903209RW.
MULTIFUNCTIONAL Super-automatic espresso coffee machine with AUTOMATIC CAPPUCCINO system that delivers a tasty barista-quality Cappuccino, Caffelatte, Latte, Milk, in less than 3 minutes.Can be used with either coffee beans or ground coffee for preparation of two cups of coffee within a single brewing cycle.
PROFESSIONAL Brew two cups of magic drink simultaneously with Top-of-the-line Simens bean-to-cup brews two cups. Great brewing without having to learn how to be a barista. This fully automated machine has an integrated coffee grinder , a pump generating up to 19 bars of pressure, a water filter, Intelligent heater, an automatic milk frother, as well as electronic temperature control and pre-brewing technology.
USER FRIENDLY. A super-automatic espresso maker can deliver the coffee shop experience to the comfort of your home, any time you feel the urge. System equipped with 3.5" TFT COLOUR DISPLAY a control panel, a water tank, a frothing unit, a bean hopper & coffee-grounds container withr and also provides adjustable water, milk & coffee drink quantity.
EASY TO CLEAN Automatic cleaning with Descaling, cleaning programs with a Cappuccino System cleaning indicator. All removable components of the Simens super-automatic espresso coffee machine are dishwasher safe.
WORRY-FREE PURCHASE: Simens super-automatic coffee machine backed with an Unconditional Satisfaction Guarantee and a 12-month Warranty. If you are not 100% satisfied, please CONTACT US immediately and we will help you right away. Our world-class customer support is available 7 days per week
Pros
Large water tank and bean hopper

TFT color display for easy control

High pump pressure

Super easy to clean

Barista Mode for time-saving

Safe for kids
Con
>> Read Customer Reviews: Here <<
Conclusion
The winner of the Jura Z8 vs Siemens EQ 9 battle is EQ 9. This model not only is user-friendly but also offers quicker coffee making and easy cleaning.
Jura Z8, the runner-up, also ensures you a complete coffee bouquet from bean to cup. If you are interested in other Jura machines, consider reading Jura X8 vs Z8 for a better choice.
The Related Articles
Comparison Articles