Jura Z8 vs Z9  are the two gadgets that have many advantages, functions, and characteristics. I believe they are certainly going to promote the next future of making espresso machines.  However, since they are very well-made from the Swiss company, both machines offer quite a hefty price.
After doing the homework on research these two machines, I concluded: the Z8 deserves to have a seat on your kitchen countertop. It has more presets, a touch screen for easy operation, a better Save Energy mode, and a higher power.
Shall we get started by checking the technical data below? Let's go!
Image
Dimensions (D x H x W)
12.2 × 14.76 × 17.7 inches
Average serves/10 minutes
Image
Average serves/10 minutes
Image
Dimensions (D x H x W)
12.2 × 14.76 × 17.7 inches
Average serves/10 minutes
Differences Between Jura Z8 vs Z9
Design & Convenience
Normally, I don't look at this factor to purchase a coffee machine but the Z8 espresso maker is an exception. It has the luxurious design that none of the coffee machines in the price ranges has. You can quickly spot a big 4.3 inches touch screen in the middle of the coffee, making it more fashionable and high-tech.
The transparent water tank with a curved shape offers a sleek silhouette look. Inside this reservoir is a blue led light that can warn users when is the time for a water refill. Both the hot-water spout and the double spout of Z8 allow users to adjust the height and be more suitable for their cup sizes. 
While this coffee machine has 12.6 × 14.8 × 18 inches, its counterpart slightly gives smaller dimensions of 12.2 × 14.76 × 17.7 inches. But the total mass of Jura Z9 is 1 pound heavier than the 29.5 pounds of Jura Z8. Personally, I don't think it's a disadvantage to own a 1 inch deeper or 1 pound heavier device.
The Jura Impressa Z9 actually has a unique design out of all Jura machines. It has a separate cappuccino frother system on the right side of the machine and a hot water spout on the left side. In the middle is the main caffeine spouts that will deliver double delicious cups of espresso simultaneously.
Unlike the touchscreen of its competitor, which will leave all the messy fingerprints, the Jura Z9 comes with a TFT color display that ensures intuitive operation. Overall, the construction of both machines is very sturdy and durable with high-end plastic and materials.
But my choice will go for the Z9 machine since it has more spouts than its counterpart. This allows users a simple yet straightforward operation – the ultimate goal of all espresso machine's design. Therefore, the winner for this round is the Jura Z9.
Wattages and Capacity
The wattages and capacities of Jura Z9 vs Z8 are very distinct from each other. Even though they are in the same series and have a bunch of similar techy details, the Z8 is more robust with 1500 watts. Its competitor appears to have 1250 watts only. 
With this indicator, the Z9 can offer up to 8 cups per 10 minutes while its fellow is able to prepare more than 15 cups. 
Many people would not like a high-wattage espresso gadget because it uses a lot of energy and raises their electricity bills. But don't worry; both models are compatible with the Save Energy mode. 
Coming with three stages for saving energy consumption function, the Z8 has more ability to protect you from spending excessive amount than the Z9. For example, the maximum energy permitted for the Save Mode 1 of Jura Z8 is 8 Wh, and the other machine's limitation is 13 Wh.
Another factor to consider in your choice is to base on the capacities of the water tank and bean container. The two gadgets offer the same volume of coffee bean; however, the Z9's water tank is 15 ounces bigger than its fellow.
Feel free to choose the Z9 model if you need a big-capacity machine. I will stick to the medium volume of Jura Z8 with a better Save Energy function. It's better to spend more money on initially buying the product than on a product that requires an additional fee afterward.
Features 
Unfortunately, the Jura Z9 coffee maker is currently not available in the market. This is also one of the reasons why I recommend choosing the other model. But in my opinion, the Jura Z8 really worth your money for its 21 presets, speed in producing a cup of coffee.
Jura Z8 comes with 21 specialties that allow users to explore their options, from the most complicated drinks to the simplest cup of tea. Though it does not offer a separate cappuccino frother or hot water tube, its wide range of drink choices is more than its competitor, which has a bigger water tank's volume.
The speed at making a cup (or two in case you want to brew simultaneously) of coffee is very fast since it's built with two thermoblock heating systems. This function helps users shorten brewing time when they want to heat the water and reach a desired espresso-making temperature for brewing and steaming on demand. 
The Z9 also has two thermoblock, but it's not as efficient as its counterpart.
Quick Rundown of Jura Z9
Jura IMPRESSA Z9 Automatic Coffee Machine, Black
The Aroma plus grinder can grind fresh coffee beans twice as fast as conventional grinders while at the same time preserving all their delicious aroma
Two thermoblocks - one for coffee and hot water and another for steam, to ensure optimum preparation conditions.
Rotary Switch and TFT colour display ensure intuitive operation.
You can create any coffee you could possibly want in no time at all.
Featuring fine foam technology
Pros:
Separate heat-water and cappuccino spout

Big water reservoir

17 specialties
Con:
>> Read Customer Reviews: Here <<
Quick Rundown of Jura Z8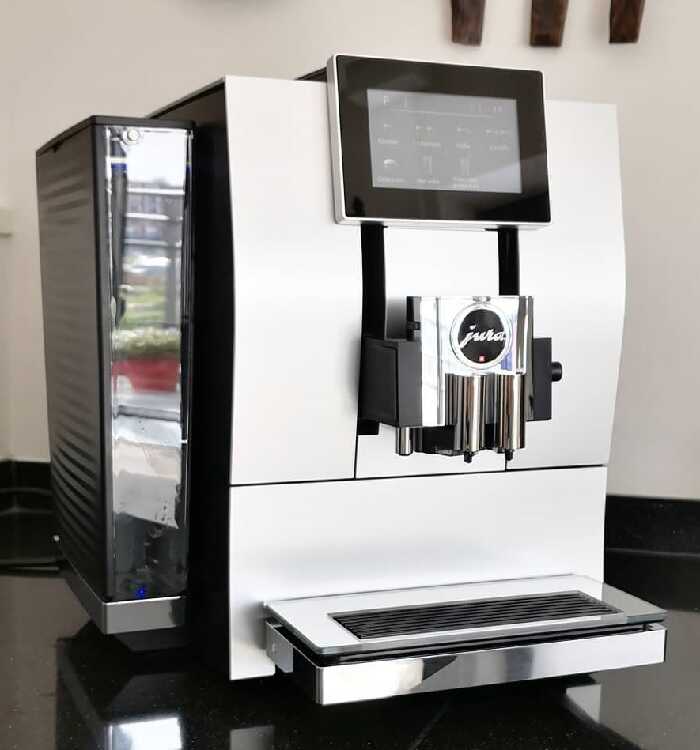 Pros:
21 specialties

Dual thermoblock heating system

Efficient Energy Save Mode

Stunning design
Con:
Touch screen requires extra care
>> Read Customer Reviews: Here <<
Conclusion
My winner for the comparison between Jura Z8 vs Z9 coffee machines is the Z8. The other coffee machine has a great design and big volume in the water reservoir, but its model is currently not available in any market; therefore, the one you should wisely spend your money on must be the Jura Z8.
The Related Articles
Comparison Articles