While many users claim that the showcase of Keurig K-Duo vs Hamilton Beach Flexbrew should have Keurig K-Duo as a winner for its numerous advanced features, I think differently. In my opinion, Hamilton Beach with a friendly-budget price and adequate brewing features deserves a winning title.
The reasons will be explained throughout these 4 factors of design, wattages, capacity, and additional features with accessories.
Image
Water tank capacity
16 oz (Single Serve) 12 cups (Brew pot)
Image
Water tank capacity
16 oz (Single Serve) 12 cups (Brew pot)
Image
Differences Between Keurig K-Duo vs Hamilton Beach Flexbrew
After the comparison table, the Keurig surely overpasses its counterpart in all aspects, so how come I still give the Halmiton the winner title?
Design & Convenience
The Hamilton Beach FlexBrew has the excellent build quality and design. One advantage is that the machine is rather small, given the dual brewing system and water reservoir. 
Some may claim that the ideal dimension of Keurig K-Duo of 12.92" in height, 10.94" in width, and 12.76" in depth is more compact and a better fit for any house kitchen corner. However, keep in mind that the Flexbrew offers not one but two separate "water reservoirs" that are only 1 inch wider. 
The Flexbrew will fit practically anywhere that a regular little kitchen appliance would. It can also be disassembled in a matter of minutes. All replaceable and dishwasher-safe parts include the carafe, drip tray, K-cup brewing pieces, and water reservoirs. 
 This is especially remarkable. 
On the other hand, the Keurig K Duo coffee maker is a sleek black 120-volt unit constructed of plastic. It weighs a substantial eight pounds and may not take up considerable counter space. In my honest review, the Keurig K-Duo looks sleeker with the silver accent touch and better button arrangement.
It also offers a six-button brewing control panel, two of which allow you to select a single cup or a carafe, and the other four buttons let you choose between different drink sizes. On top of the buttons will be a digital timer that will tell you how long before the coffee is ready.
With all of its capabilities and features, it could just be worth it to give it its own spot in your kitchen. However, I would still recommend the Hamilton brewer for the smart two-as-one water reservoir, advanced digital timer clock, lightweight, and straightforward operation.
Wattages and Capacity
The wattages between Hamilton Beach Flexbrew vs Keurig K-Duo brewer has a huge difference. While the Keurig offers up to 1450 watts capable of allowing you to brew rapidly anytime you want, its counterpart supports only 1050 watts. 
The figure shows that there is enough energy to keep the water heated but not fast boiling. This could be the Hamilton brewer's disadvantage. Even when it comes to water tank capacity, K-Duo offers up to 60 oz tank, while its competitor proposes only 14 oz per tank.
When brewing in a single cup, you can choose between 6, 8, 10, or 12-oz, as well as 6, 8, 10, or 12 carafe sizes if you prefer to use the drip brewing option. But this generous range of cup sizes is only presented in the K-Duo model. The Flexbrew of Hamilton has only 2 options full 12-cup and single-serving portion sizes.
You can brew up to 10 ounces with a K-Cup and up to 14 ounces with coffee grounds with the Flexbrew. I can definitely see that K-Duo is more beneficial for brewing different choices, so it earns one point for this round.
Additional Features 
If you have read my other comparison article of Keurig K-Duo vs K-Duo Essentials, you must have known that the K-Duo has such impressive functions as auto-off, brew time, stronger brew option, and heating plate.
The Hamilton Beach Flexbrew also offers auto-off, heating plate, scheduled brew time, and extra-strong taste functions at a much more affordable cost. However, the Hamilton provides another great feature of storage area and two water reservoirs.
A little storage compartment beneath the drip tray on the single-serve side of the Hamilton allows you to store a K-cup or pod(s) of coffee. This removable single-serve drip-tray stand will let you put all of your coffee-related items in one location, which will come in handy if you ever need to store the Flexbrew. It's also a lifesaver when it comes to saving counter space in cramped kitchens.
Hamilton Beach Flexbrew has two water tanks of brewing cups and a carafe. This was created expressly to make replenishing the tanks simple, preventing overfills and spillage. Each water tank has its own glass, allowing you to keep an eye on its levels.
Quick Rundown of K-Duo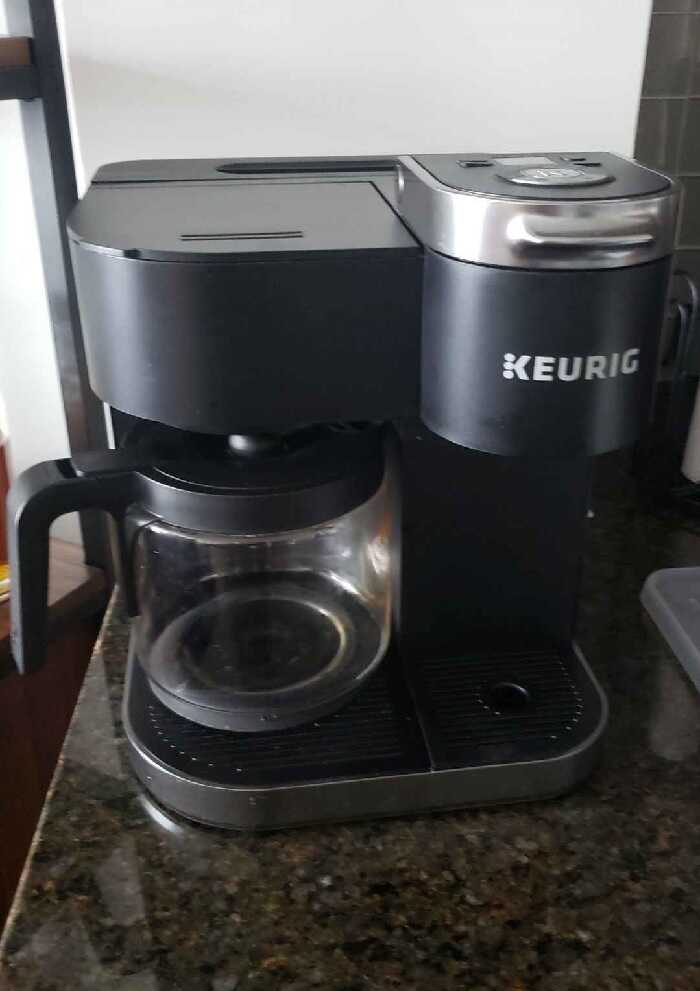 Sale
Keurig K-Duo Coffee Maker, Single Serve and 12-Cup Carafe Drip Coffee Brewer, Compatible with K-Cup Pods and Ground Coffee, Black
What's in the box: 12-cup glass carafe included with your brewer along with a heating plate to keep coffee hot.
Brew a cup and a carafe: Use both ground coffee and k-cup pods. Height with handle open-17.63 H inch. Height with drip cover open-18 H inch
Multiple brew sizes: Brew a 6, 8, 10, or 12-cup carafe and a 6, 8, 10, or 12 ounce cup.
Compatible with keurig gold tone mesh filter accessory: A reusable coffee filter you can use to brew your perfect carafe (sold separately).
Large 60 ounce water reservoir: The 60 ounce water reservoir is shared between the single serve and carafe brewing, saving you time and simplifying your morning routine. Removable reservoir makes refilling easy.
Pros:
Convenient and straightforward control panel

More carafe and cup sizes

Higher wattages for fast boiling water
Cons:
>> Read Customer Reviews: Here <<
Quick Rundown of Hamilton Beach Flexbrew
Sale
Hamilton Beach 49976 FlexBrew Trio 2-Way Coffee Maker, Compatible with K-Cup Pods or Grounds, Combo, Single Serve & Full 12c Pot, Black
3-WAYS TO BREW: Brew up to 12 cups with ground coffee on the carafe side or use dual purpose single serving to brew a pod or ground coffee on the other. The included pod holder and single-serve grounds basket easily handle both options
SINGLE-CUP COFFEE MAKER: Brew a cup with a K-Cup, pod, another pod brand, or ground coffee. The included pod holder and single-serve grounds basket easily handle both options and the cup rest removes so you can brew into a tall travel mug
BREW A FULL POT OF COFFEE: This programmable coffee maker has Easy-Touch programming for wake-up ready coffee. After brewing, coffee stays warm for 2 hours and the power automatically shuts off. Auto Pause & Pour lets you pour a cup as coffee brews
CUSTOMIZE YOUR BREW STRENGTH: Control how strong you want your coffee with Select-a-Brew: regular and bold brewing options
2 SEPARATE EASY-FILL WATER RESERVOIRS: Each brewing side on this Hamilton Beach coffee maker has its own water reservoir that's easy to fill and features a water window, so you always know exactly how much water to add
Pros:
Very reasonable price for its value

Lightweight

Double water tanks with many advanced features
Con:
>> Read Customer Reviews: Here <<
Conclusion
I am pretty amazed by the number of features that the Flexbrew gadget offers; therefore, the winner of this showcase between Keurig K-Duo vs Hamilton Beach Flexbrew is the Hamilton machine!
If you're going to be brewing for more than just yourself, the K-Duo is the way to go. It comes in a range of drink sizes and combines heat-up and brewing with Smart Start to simplify the first brew of the day.
Flexbrew's flexibility to brew single-serve or full-pot coffee from fresh grounds, on the other hand, is the best option for individuals who only need a pot or a cup now and again. With its storage compartment, it's very good at conserving space.