The differences between Keurig K-Duo vs K-Duo Essentials carafe brewers are minor. They're both Keurig pod machines with several brewing capacity options. You'll never get bored with restricted selections because there are so many third-party tastes and blends available.
When comparing the two machines, there are only 4 factors that buyers have to consider before purchasing: the convenience of use, wattages, capacity, and the number of additional features with accessories.
Image
Filter types
Reusable Paper Gold Tone Mesh
Reusable Paper Gold Tone Mesh
Image
Filter types
Reusable Paper Gold Tone Mesh
Image
Filter types
Reusable Paper Gold Tone Mesh
Differences Between Keurig K-Duo vs K-Duo Essentials
The two machines have several similar factors but users can easily differentiate them from many features. Here is the detailed comparison.
Design & Convenience
When it comes to design, both brewers offer a similar design with the glass carafe, matte black outer coat with silver accents, and a straightforward button control panel. 
Both machines are built for users with different tastes for ground coffee as well as K-cup pods. Keeping the idea of a space in mind, Keurig built the K-Duo model slightly smaller in size with 12.92" x 10.94" x 12.76" of height, width, and depth, respectively. 
With the drip cover on, both devices stand about 18′′ tall. The water reservoir is at the back, and the ground coffee maker is on one side of the front, with the K-cup maker on the other. They are not too large for the standard appliances that will complement most kitchens.
The Essentials isn't as well-made as the regular K-Duo, in my opinion. The buttons on the Keurig Essentials are on the right side of the machine, while the buttons on its counterpart are directly above the surface of the pod holder. The features in the K-Duo are also more advanced than the ones in its counterpart.
The Keurig Essentials has a slightly larger footprint than the other. The K-Duo, on the other hand, is 1.24 lbs heavier than the Keurig Essentials.
Overall, I would give the Keurig K-Duo a point for its smaller size and better design control panel.
Wattages and Capacity
Both Keurig machines hold the wattage of 1470W, which identifies a faster duration for heating water and brewing coffee. If you ask me how many cups of coffee they can produce in a day, it would depend on the carafe and cup sizes as well as the coffee types.
The battle between Keurig K-Duo Essentials vs K-Duo gets more intense when both are available in a variety of sizes. They allow you to pick between 6, 8, 10, or 12-oz cups while brewing in a single cup. Similarly, you have the option of brewing at 6, 8, 10, or 12 cups of a K-Duo carafe if you want to employ the drip brewing feature.
However, the 6-oz cups/carafe option is available for K-Duo regular only but not the Essentials machine. If you look at the table, the Essential model offers only 3 sizes while its competitor gives 4 choices. 
In terms of water reservoir capacity, there's a 60-oz water tank that can be used for both carafe and K-Cup brewing. It indicates that the coffee makers can create 12 cups of coffee before needing to be replenished. You won't have to worry about the tank's water level every morning.
The other plus point for both machines is the detachable reservoir for easy refill. Since the K-Duo has more brewing sizes, I will give it a point.
Additional Features 
I choose the K-Duo to be the winner in this battle for three reasons – better design, more capacity sizes, and abundant advanced features that its counterpart lacks. Its exceptional function includes auto-off, brew time, stronger brew option, and heating plate.
As the name suggests, it has a beneficial smart shut-off feature that simplifies your job, reduces electricity usage, and eliminates the risk of electrical shock. If the brewer is left idle for more than five minutes or 2 hours for the heating plate, it will shut down automatically.
The machine offers a timer, allowing you to schedule a brewing time in advance of 24 hours. Just like the auto-off mode, your coffee will be ready while you're occupied with other tasks. 
Unlike its competitor which does not offer any keep-warm function or stronger taste, the K-Duo keeps your coffee warm with a heating plate and increases the density of the drinks. You can also tune it to your preferred temperature. 
Unfortunately, both machines do not offer a Mesh or paper filter for coffee. Users will have to buy them separately.
Quick Rundown of K-Duo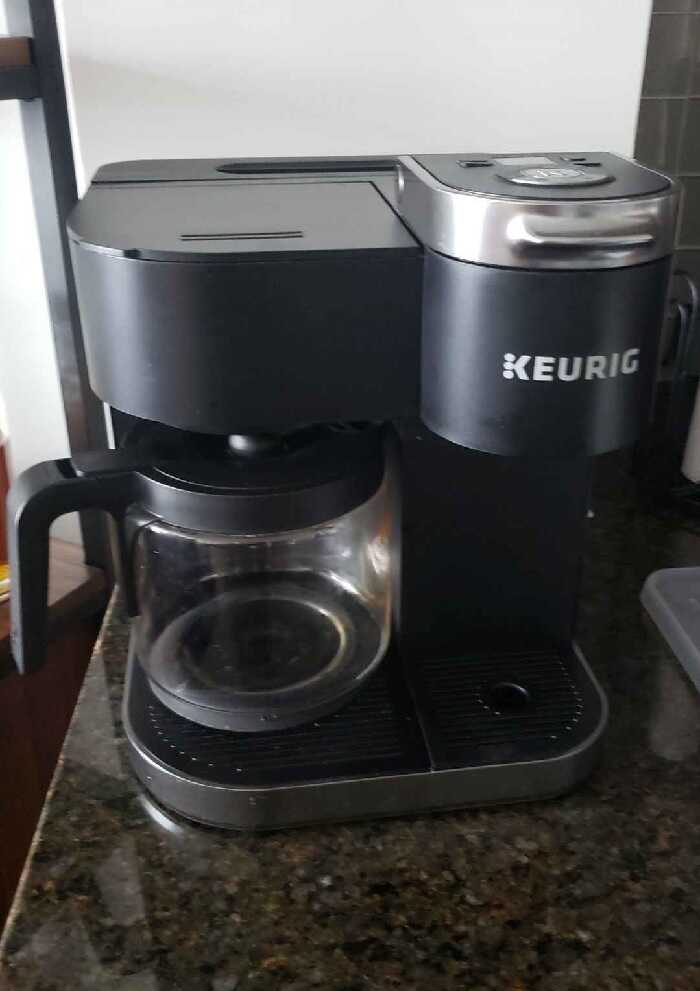 Sale
Keurig K-Duo Coffee Maker, Single Serve and 12-Cup Carafe Drip Coffee Brewer, Compatible with K-Cup Pods and Ground Coffee, Black
What's in the box: 12-cup glass carafe included with your brewer along with a heating plate to keep coffee hot.
Brew a cup and a carafe: Use both ground coffee and k-cup pods. Height with handle open-17.63 H inch. Height with drip cover open-18 H inch
Multiple brew sizes: Brew a 6, 8, 10, or 12-cup carafe and a 6, 8, 10, or 12 ounce cup.
Compatible with keurig gold tone mesh filter accessory: A reusable coffee filter you can use to brew your perfect carafe (sold separately).
Large 60 ounce water reservoir: The 60 ounce water reservoir is shared between the single serve and carafe brewing, saving you time and simplifying your morning routine. Removable reservoir makes refilling easy.
Pros:
Convenient and straightforward control panel

More carafe and cup sizes

More advanced functions such as timer, brew time, and heating plate

Offer stronger brew option
Cons:
Not friendly-budget

Sold separately Gold Tone Mesh and paper filters
>> Read Customer Reviews: Here <<
Quick Rundown of Keurig K-Duo Essentials
Sale
Pros:
Affordable

Compatible with ground coffee and K-pods

Good size reservoir
Con:
No timer

No heating function
>> Read Customer Reviews: Here <<
Conclusion
Between Keurig K-Duo vs K-Duo Essentials, the K-Duo includes more features, including a strong brew option, a carafe auto brew option, and the ability to create multiple cup sizes. I personally would choose it as my kitchen gadget.
However, the Keurig Essentials offers all of the functionality you'll need to create a good cup of coffee or carafe and is not as costly as the winner.
If you are thinking of choosing other pods coffee machines, I recommend reading this comparison article of Jura Z8 vs E8.