What is different between Keurig K Elite Vs K55?
This is actually not a hard question if you have tried many coffee makers. But it is a real challenge for those who have little technical knowledge.
Do not worry; I have written a concise comparison so that you know which to pick between two products. Read on.
Image
Best for
Digital display and large capacity
Image
Best for
Digital display and large capacity
Image
Differences Between Keurig K Elite Vs K55
Design and Convenience
Both Keurig coffee makers are designed with simplicity in mind. No matter what your pick is, it can greatly spice up your kitchen.
The main difference lies in the digital time display that K Elite boasts. Look down on the machine from above and you will see it. It offers convenience to some extent as you can tell the time quickly without guesswork. The K55 does not offer this feature, unfortunately.
I will continue with the exact dimensions of each. You may think this makes a minor factor, but if you have a small kitchen countertop, a compact coffee maker is essential.
Good news: both K Elite and K55 machines have compact footprints with few differences in the precise product dimensions. 
The K Elite measures at 13.1 x 9.9 x 12.7 inches, while the K-Classic has a dimension of 13 x 9.8 x 13.3 inches. About the weight, the former weighs 8 pounds whereas the latter is slightly heavier, about 8.6 pounds.
The K Elite wins this round due to the digital time display.
Capacity
The same scenario takes place. I mean, the K Elite continues to win convincingly when I compare Keurig K55 vs K Elite based on capacity.
This is because the K Elite features a 75 oz water reservoir, about 27 oz larger than that of K55. For your information, a 75 oz water tank is enough to make a 6-ounce cup of coffee every day for 12 days in a row before you need to refill it. It saves a lot of time and effort, right?
The K-Elite also has an edge since it can serve 4, 6, 8, 10 and 12 oz cup size depending on your needs. On the other hand, the K55 only offers 6, 8, and 10 oz options.
Features and Accessories
Right from the name, you can tell which one has extra features between Keurig K Elite Vs K55, also known K Classic. The K Classic is a pretty basic coffee maker, while the K Elite brings about a more premium experience with advanced features.
I will go into detail right now.
The first standout feature is Iced Setting, which allows you to brew coffee over ice without diluting the original pungent taste. Within a button and you can enjoy a flavorful cold brew.
In addition, you can adjust the temperature within the range of 187 and 192 Fahrenheit degrees with the K Elite machine. Such temp control will make a huge difference in your coffee. This is also a great feature that its competitor fails to offer.
That is not to mention the accessories. When you buy K Elite coffee maker, you will receive a box that includes a water filter handle as well as a filter. The K Classic package comes with nothing other than the coffee maker itself, which is a small minus.
Still, the K Classic boasts some convenience features that make it a decent option. For example, it will auto shut off after being idle for two hours to save energy. That comes in handy if you are absent-minded and often forget to turn off the coffee maker. Also, the descaling function helps clean your Keurig brewer with much ease.
Quick Rundown of Keurig K Elite
Sale
Keurig K-Elite Single-Serve K-Cup Pod Coffee Maker, Brushed Silver
WHAT'S IN THE BOX: One water filter handle, and one filter to help ensure your beverages taste their absolute best.Filter type:Reusable.Temperature Control : Allows you to adjust the temperature from 187° – 192°
BREWS MULTIPLE CUP SIZES: 4, 6, 8, 10, 12oz Enjoy the most popular cup sizes.
STRONG BREW BUTTON: Increases the strength and bold taste of your coffee's flavor.
ICED SETTING: Brew hot over ice at the touch of a button for full-flavored, delicious iced coffee.
HOT WATER ON DEMAND BUTTON: Perfect for instant soups or oatmeal.
Pros
Large capacity

Iced Setting function

Temperature control
Cons
>> Read Customer Reviews: Here <<
Quick Rundown of Keurig K55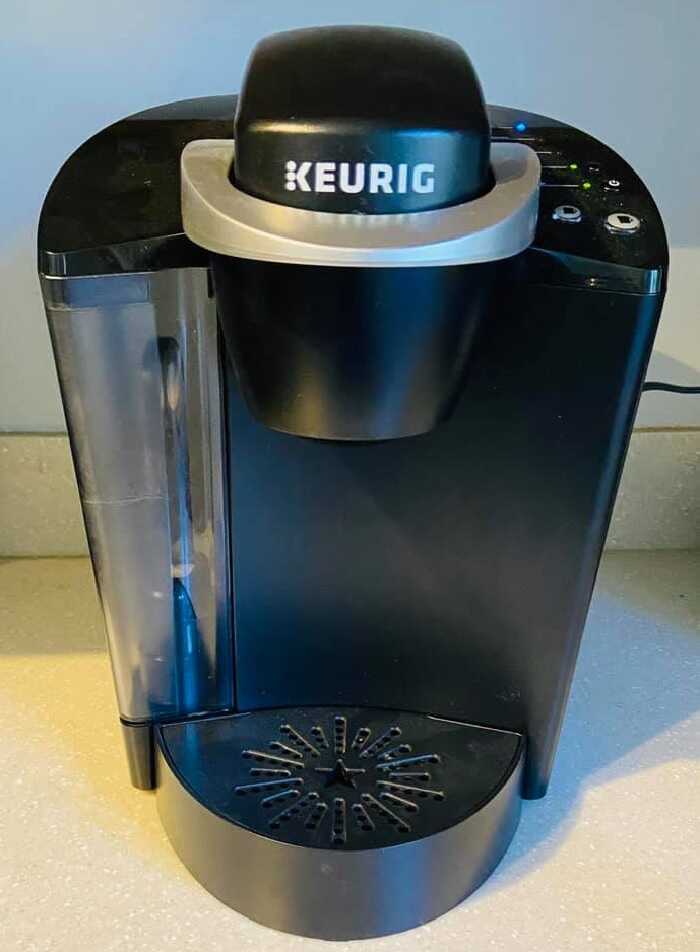 Pros
Lightweight and compact

Descaling function

Auto-off feature
Cons
No Iced Setting

Small water reservoir
>> Read Customer Reviews: Here <<
The Bottom Line
My comparison of Keurig K Elite Vs K55 has come to an end. The K Elite is the ultimate winner after three rounds. It defeats the K55 in every aspect, from design, capacity, to features. But if you have a tight budget and just want a basic coffee maker, you can opt for the K55. I am a coffee addict, so I will choose the K Elite to enjoy more features.
Thank you for reading. You can read my comparison of Cuisinart DGB-900BC vs Cuisinart DGB-700BC here.
The Related Article
Comparison Articles