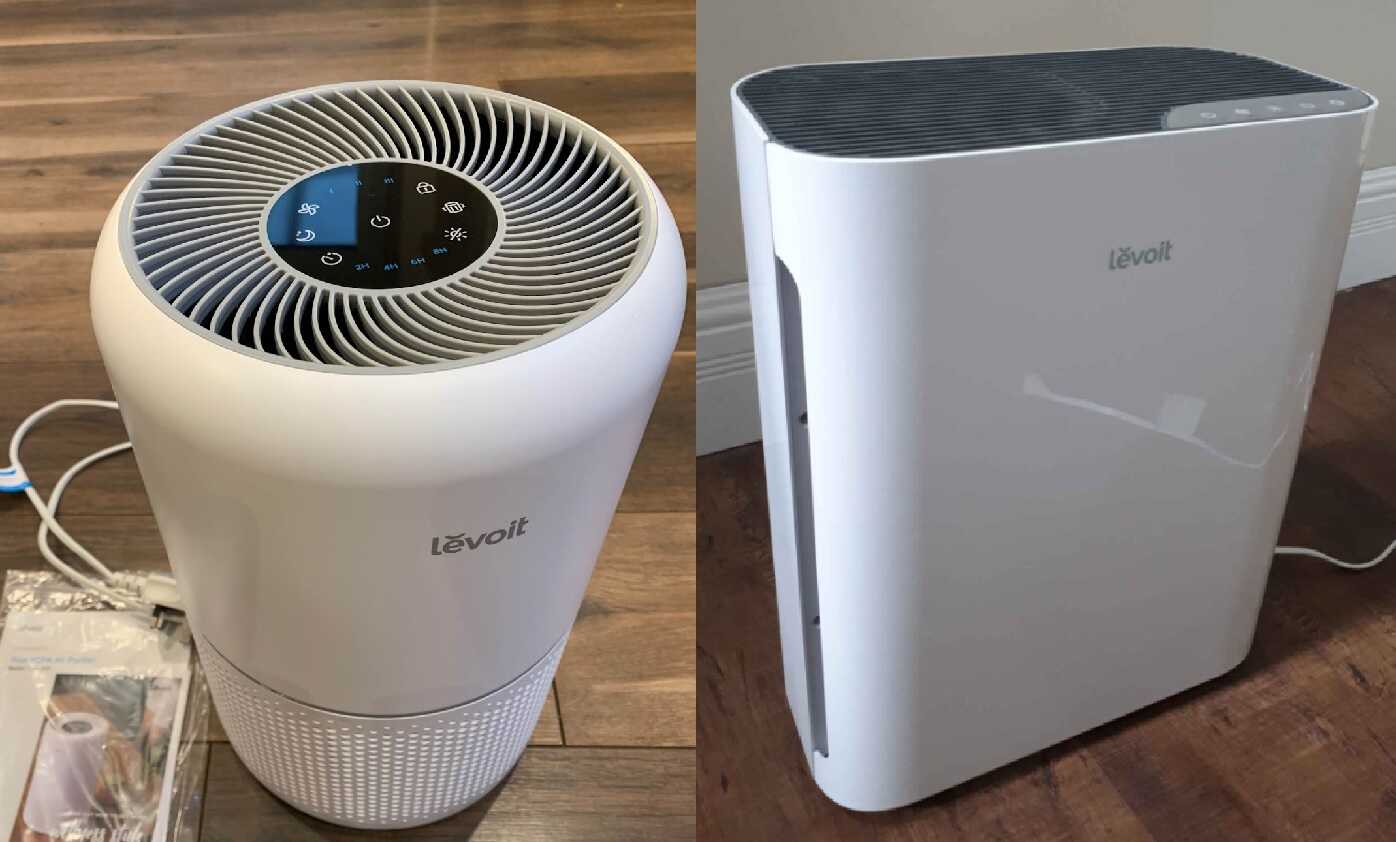 It's true to say that the Levoit Core 300 has dominated the low-range market for air purifiers. When it first came out in April 2020, there were many rave reviews for how quiet but powerful it is. Therefore, when comparing the two Levoit Core 300 vs Vital 100 machines, my answer will always be the Core 300 model.
It has a great coverage rate, lower power consumption, and better construction for an air purifier.
Image
Best for
Medium to large-sized room
Image
Image
Best for
Medium to large-sized room
Differences Between Levoit Core 300 vs Vital 100
Even though the Vital 100 does give us great impression, the Core 300 model still win for these several factors:
Design
The Core 300 model with a cylinder shape and curved air intake vent generates a very friendly atmosphere. It comes with the most basic color of black and white, which offers users various options to blend into every house's styles and corners. The model is so compact and lightweight that you can easily carry it from room to room.
On the other hand, the Vital 100 air purifier with the basic rectangular shape provides a sturdy and stable feeling. It's heavier than its counterpart at 1.8 pounds and 2-4 inches bigger in general. But I don't think this is a disadvantage for Vital 100 since it's designed to work with larger room sizes. 
I do compliment the Vital 100 model for its spacious outlet grill and the small but adequate control panel on the top of the machine. Both factors give the model a sleeker look than other products in the same range. But if I have to choose one, I will opt for the Core 300 model.
Filter
In any ozone-free air purifier, the 3-stage air cleaning technique is the most popular. Since our reviewed models provide the same filtration types, including pre-filter, True HEPA filter, and an Activated Carbon filter, this round is a tie.
When being put under the test, the two machines offer a 99.9% effectiveness for catching particles as small as 0.3 microns like virus particles, mold spores, pollen, bacteria, as well as mites, and pet dander. Not only that, they can absorb undesirable aromas and fumes, such as cooking odors, smoke, ammonia, and VOCs.
Coverage 
Levoit Core 300 works for medium-sized rooms, while the Vital 100 air purifier can cover up to 300 square feet, which is obviously a large room size.  So if you're looking for a suitable machine for purifying large indoor spaces, you should consider the Vital 100 model. 
Nevertheless, this model does not clean as fast as its competitor. The CADR and ACH of Core 300 totally surpass the Vital 100's rate. While it takes 12 minutes to let new air into the room, the Vital 100 requires a longer duration – approximately 18 minutes.
Now, you can explain that it will surely take more time for air changes because Vital 100 is designed to clean larger rooms. But what about the CADR – the "Clean Air Delivery Rate"?
In about a minute, Levoit Core 300 can wipe 140 cubic feet of dust, 145 cubic feet of smoke, and 141 cubic feet of pollen. Its counterpart can only clear off 130 cubic feet of each pollutant type.
Isn't it obvious that Levoit Core 300 is more efficient at filtering particles in the air? But which one will you choose? 
Noise Levels
Trust me; you won't ever suffer from waking up at midnight due to the loud running noise of the engine machine. Levoit Core 300 offers a sleep mode that will dim the light on the control panel and keep the noise decibels as low as 24. 
Even when it rises to the highest cleaning speed, the sound will only reach 58 decibels, as the office environment's sound level. 
Even though Vital 100 does not offer a Sleep Mode, its noise level is identical to the Core 300 model. Yet, both machines don't have a smart sensor that can auto modify the speeds, so I give both machines a point for this round.
You can check out this review article of mine to know more about the quietest air purifiers: Blueair 211 vs 411.
Usability
You don't have to be a high-tech person to operate these two devices. Everyone can use Levoit air purifiers since its touch control panel is very easy to use.
In terms of functionality, the Core 300 offers two more advanced features Child Lock and Sleep Mode. The timer setting of Core 300 also provides 4 choices, while the Vital 100 gives only 3 options. 
But the most selling point of Levoit Core 300 must be the customizable filters. Users can pay extra costs to buy other filters that serve different purposes, such as Pet Allergy for pet owners, Toxin Absorber for rooms with lots of chemical gases, and Mold & Bacteria filter for combating the growth of mold spores.
My choice is totally for Levoir Core 300 now.
Quick Rundown of Levoit Vital 100
Sale
LEVOIT Air Purifier for Home Large Bedroom, H13 True HEPA Filter, Air Cleaner for Pets Hair Dander Allergies Odors, 99.97% Removal of 0.3 Microns Dust Smoke Mold, Available for California, Core P350
Neutralize ALL Stinky Smells: Cute as they are, pets can smell sometimes. Now introducing Custom High-Efficiency Activated Carbon Filter - the effective odor eliminator for pet odors, litter box smells, and cooking smoke..etc. After many tests, the deodorization rate could be reached over 92%.
Perfect for Pet Parents: Experiencing coughing, congestion, or breathing difficulties caused by pets? Levoit Core P350 provides H13 True HEPA Filtration to reduce sneezing, itchiness, and stuffy nose by purifying the air you breathe.
No More Odor: With the patented ARC Formula technology, Core P350 is the perfect air purifier for home to eliminate any odor around your kitchen, wardrobe, shoes box, carpet, toilet. And you're left with only clean, crisp, fresh air.
Cleaner House than Ever: Did you know an air purifier can save you a lot trouble of cleaning? It's certained with P350. The fine Non-Woven Fabric Pre-Filter traps large floating particles such as pet fur, hair, dust, and lint, helping to reduce the amount of debris on your carpet and furniture.
Sleep Safe & Sound: Don't ever worry about your furry friend being disturbed by the air purifier - Sleep Mode turns display indicators to half-brightness and keeps noise levels as low as 24dB, so you can sleep while cuddling with your cute little one.
Pros:
Efficient for large-sized room

Can combat VOCs

Quiet engine

Large air outlet grill
Cons:
No air quality sensor

Low CADR 
>> Read Customer Reviews: Here <<
Quick Rundown of Levoit Core 300
LEVOIT Air Purifier for Home Allergies Pets Hair in Bedroom, H13 True HEPA Filter, 24db Filtration System Cleaner Odor Eliminators, Ozone Free, Remove 99.97% Dust Smoke Mold Pollen, Core 300, White
OZONE FREE: Levoit air purifiers avoid using UV-C light, an air cleaning method that research has shown can produce harmful ozone and secondary pollution
HIGH PERFORMANCE: Enjoy fresh air in minutes with the Core 300 True HEPA Air Purifier. Featuring VortexAir Technology and 360° air intake, the Core 300 cleans spaces up to 547 ft² in 30 minutes, 219 ft² in 12 minutes (CADR: 141 CFM / 240 m³/h). Only products over 6 pounds can be equipped with such powerful motors that optimize the air cleaning performance
FIND RELIEF: Ease sneezing, congestion, and other allergy symptoms caused by airborne contaminants. The H13 True HEPA Filter works alongside the Pre-Filter and High-Efficiency Activated Carbon Filter to capture 99.97% of airborne particles 0.3 microns in size, such as dust, smoke, pollen, odor
OFFICIAL LEVOIT FILTERS: Search for B07RSZSYNC or Core 300-RF to find Levoit's Core 300 replacement filter. Levoit filters provide the best fit and filtration, while off-brand filters are unreliable and may damage the air purifier
MULTIPLE FILTER CHOICES: Choose from a variety of replacement filters to best meet your needs. The Toxin Absorber Filter specializes in smog, toxins, and VOCs. The Smoke Remover filter specializes in wildfire, smoke and etc. And the Pet Allergy Filter helps to capture pet dander and absorb unpleasant odors
Pros:
Stunning and elegant design

Great coverage with high speed

Offer other types of customizable filter
Con:
No Auto mode for adjusting speed
>> Read Customer Reviews: Here <<
The Bottom Line
Which one is more advantageous between Levoit Core 300 vs Vital 100? I believe the Core 300 model is more reasonable to purchase since it has a good CADR and ACH rate, a quiet engine, and a stunning design.
You can consider the Levoit Vital 100 air purifier if you want a device that can cover a larger room size but does not require much additional cost.
The Related Article
Comparison Articles