It is perfectly fine to aim for an economical coffee maker with the Miele CM5300 vs 6350 review. You can still get the finest option from this manufacturer at a reasonable price.
CM5300 includes a lightweight plastic material in beautiful graphite grey with powerful function and useful accessories. That is why it will be one of your wisest decision to equip for coffee at home.
Listed in the following table are a few noticeable specifications.
Image
Dimensions (D x H x W)
18.2 x 9.5 x 14.25 inches
16.75 x 10 x 18.13 inches
Image
Dimensions (D x H x W)
18.2 x 9.5 x 14.25 inches
Image
Dimensions (D x H x W)
16.75 x 10 x 18.13 inches
Differences Between Miele CM5300 vs 6350
Design & Convenience
Miele CM6350 vs 5300 are built with similar designs, but 6350 is 9 pounds heavier than 5300. This is why it cannot be as easily portable as the latter, although they may look alike at first sight.
Based on their construction, 5300 suits the countertop better, while 6350 is more flexible for freestanding. There is an additional heated cup rest in the heavier model to enable its cup warmer.
I love their diverse brewing specialties for up to 8 types of coffee in one machine: ristretto, cappuccino, hot milk, latte, etc. You can make use of their auto-off and standby time mode to save energy.
Both units contain an intuitive interface using buttons, so you needn't be tech-savvy to control them. However, Miele 6350 offers 4 user profiles for you to customize and save your favorite tastes.
Because 6350 delivers more benefits for your coffee enjoyment in general, I must say that its convenience has surpassed CM5300.
Wattages & Capacity
If you compare Miele CM5300 vs 6350, you will notice that 6350 is more advantageous in terms of water tank capacity with 1.8 liters available, while 5300 includes a more humble 1.3-liter rate.
The same matter happens with their coffee bean container. Miele 5300 offers the average amount of 200g, but 6350 can allow even more room to store 300g of beans for your coffee-making.
Nonetheless, both run on the same wattage of 1500W, so the lower-priced CM5300 model has the upper hand compared to an expensive but equally powerful device.
Besides, it is a surprise to know that there is a large drip tray in 5300 of 1.3 liters. 6350 is far behind with a small 0.8-liter tray, much less functional compared to its size.
With all of this information taken into account, I believe that the 5300 unit wins this intense comparison thanks to its effective yet cost-saving performance.
Additional Features & Accessories
Since both products conform to the latest safety requirements, there is no need to worry about their performance. Their removable dishwasher-safe components are ideal to ensure better hygiene.
Though all machines include clear instructions and cleaning tablets, I notice an additional spoon for the coffee ground is available in the 6350 packages.
Understandably, this model's higher price will come with better features and accessories. However, they are not crucial parts of your coffee-making process.
As a result, 5300 is more optimal with all necessary tools provided for no extra cost. They will enhance minimalism in your routine and save you from redundant money spending.
Quick Rundown of Miele CM5300
Miele CM5300 Coffee System, Medium, Graphite Grey,29530010USA
Onetouch and OneTouch for two function - make one or two servings at the touch of a button
Coffee pot function - make up to 8 cups of Coffee at a time
Directions control panel with 4 row text display
Brewing specialties - one or two servings of espresso, coffee, long coffee, Ristretto, cappuccino, latté macchiato, Cafe latté, hot milk & milk froth
Second type of Coffee possible using ground Coffee
Pros:
Lightweight 

Reasonable price

Great taste
Cons:
No warranty

No milk carafe
>> Read Customer Reviews: Here <<
Quick Rundown Of Miele 6350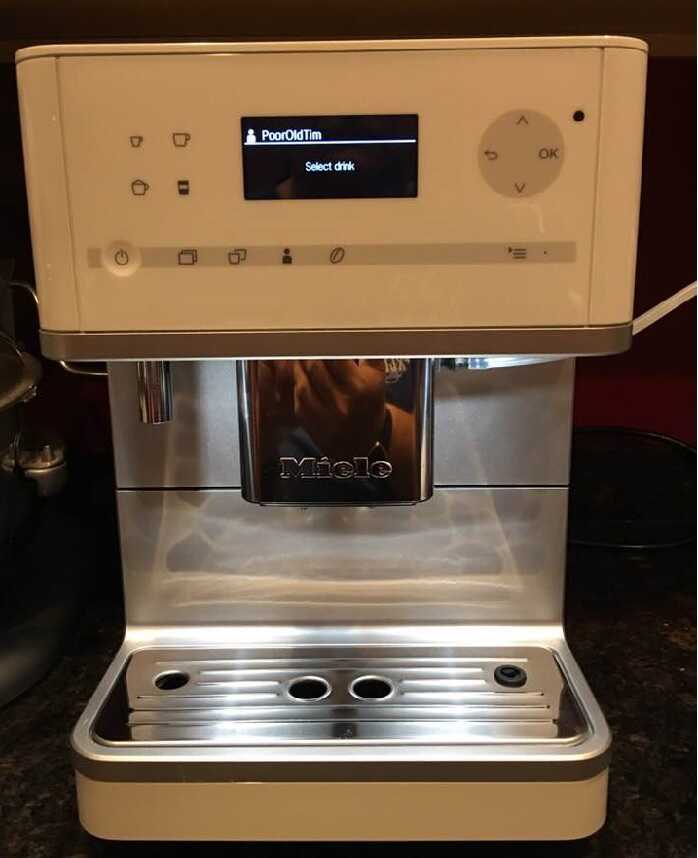 Miele CM6350 Countertop Coffee Machine, Lotus White
Program up to 4 User Profiles with individual settings for portion size, strength, brewing temperature & more.
OneTouch and OneTouch for Two function - make one or two servings at the touch of a button.
Brewing specialties - One or two servings of espresso, coffee, long coffee, ristretto, cappuccino, latté macchiato, cafe latté, hot milk & milk froth.
Additional features include Integrated Cup Warmer, DirectSensor Control Panel and Coffee Pot Function for making up to 8 cups of coffee at one time.
Convenient cleaning programs for care and maintenance.
Pros:
Cons:
Loud noises

Small water reservoir
>> Read Customer Reviews: Here <<
Conclusion
After reading the comparison between Miele CM5300 vs 6350, 5300 is the final winner to suit your low budget but still provide enough strength and convenience.
All of its features do not need to be more optimal than the component. The important thing is how it brings you a satisfying overall value as an effective yet low-priced household coffee maker.
Jura Ena 8 vs E8 is another hot topic you should check out for a fair comparison between models of the same manufacturer.
The Related Article
Comparison Articles