Amongst several Miele products, you have narrowed down the list to Miele CM6150 Vs CM6350 but still cannot choose between them?
My comparison will help you out.
I have done research and thoroughly know the differences between CM6350 and CM6150 by Miele. They are all here, and what you have to do is read the article.
Scroll down.
Image
Dimension
10 x 16.75 x 14.12 inches
Image
Image
Dimension
10 x 16.75 x 14.12 inches
Differences Between Miele CM6150 Vs CM6350
Design and Convenience
I am not surprised if you cannot tell the CM6150 apart from the CM6350 at first sight. They look like black and white versions of a single model. But actually, the black one is the CM6150, and the white one is its competitor. The CM6350 has another color option of silver.
Both products have an appealingly neat overall design with a futuristic vibe. The most remarkable feature must be the sleek screen display at the front.
Take a look at the exact dimensions of the two.
The Miele CM6150 model measures at 10 x 16.75 x 14.12 inches and weighs about 26 pounds. Meanwhile, its competitor has a dimension of 10 x 17 x 14 inches with a weight of 27 pounds. You can see that both coffee makers are lightweight and compact. There are differences in the exact specifications, but none of them are noticeable.
Capacity
Miele CM6150 and CM6350 are designed with exactly the same capacity. To be specific, each owns a 60 oz water tank along with a 10.6 oz coffee bean hopper. This is not impressive, but enough to serve your family. But if you want a high-capacity espresso machine for commercial purposes, you should look elsewhere.
One thing that the two coffee makers share is the One Touch for Two function. It means you can brew two cups at once to save time and effort. Also, the Coffee Pot function allows you to make up to eight cups of coffee.
Obviously, it is a draw between Miele CM6150 Vs CM6350 in this section.
Features and Accessories
Features are the last thing to decide which one wins the battle.
The first difference lies in the touch screen, or more precisely, the way you control each machine. To be specific, you can operate the Miele CM6150 via sensors and touch screen, while the 6350 model onlys allows touch control. It seems the 6150 has an edge.
But its competitor quickly turns the  tables by offering a bunch of extra features. Most notably, you will have a cup warmer to keep your coffee deliciously warm for a period of time. This is a handy feature that the CM6150 does not offer, unfortunately.
In addition, a hot water spout is there to give CM6350 users hot water on demand. Within a touch of a button and you have a pot of hot water to make a cup of coffee and even instant noodles. Really convenient, right?
What I love best is the individual settings, also known as user profiles. This feature allows you to save your taste preferences so that it is quick to customize your drinks next time. Fortunately, both Miele CM6150 and CM6350 offer that. 
On top of that, you can program the switch-on and switch-off time with both Miele coffee makers. Want to wake up in a room filled with coffee aroma and have a cup of flavorful cappuccino right away? Simply set the machine to brew your coffee the night before.
Between Miele CM6350 Vs CM6150, the former offers a more varied set of features. Thus, it hands down wins this round.
Quick Rundown of Miele CM6150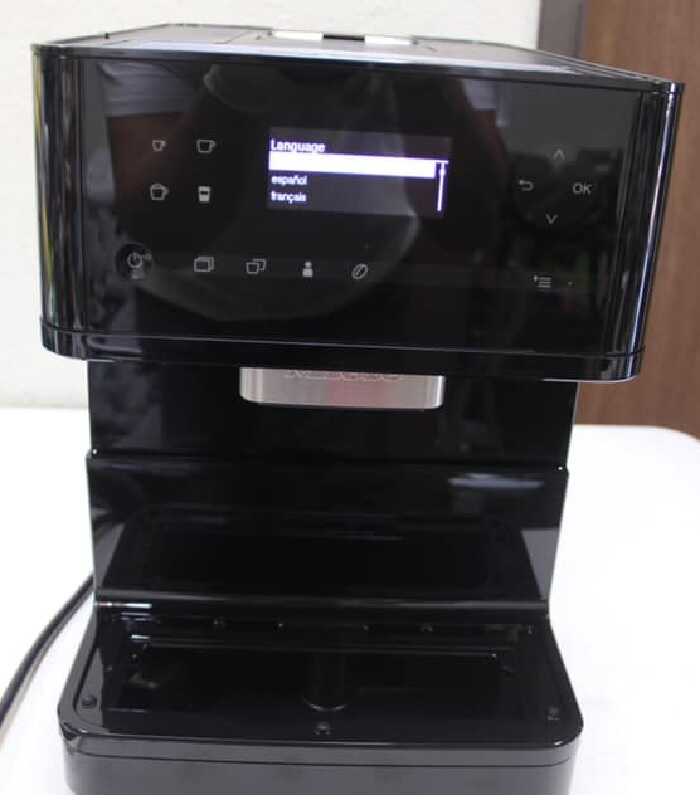 Pros
Sleek futuristic overall design

Sensor and touch control type

User profile function
Cons
>> Read Customer Reviews: Here <<
Quick Rundown of Miele CM6350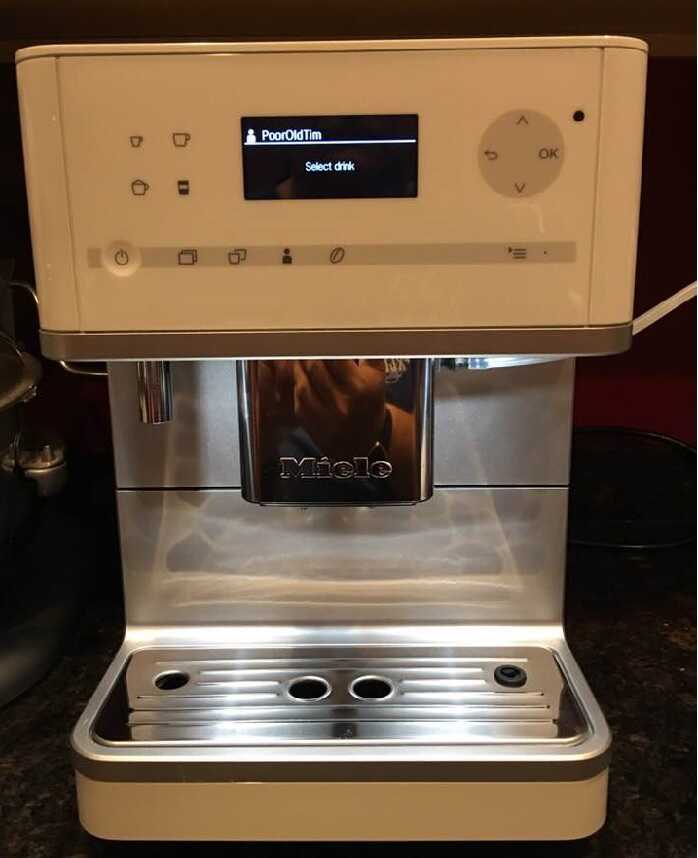 CM6350 Countertop Coffee System in Black
Program up to 4 User Profiles with individual settings for portion size, strength, brewing temperature & more.
OneTouch and OneTouch for Two function - make one or two servings at the touch of a button.
Brewing specialties - One or two servings of espresso, coffee, long coffee, ristretto, cappuccino, latté macchiato, cafe latté, hot milk & milk froth.
Additional features include Integrated Cup Warmer, DirectSensor Control Panel and Coffee Pot Function for making up to 8 cups of coffee at one time.
Convenient cleaning programs for care and maintenance.
Pros
Two color options

Convenient cup warmer

Built-in hot water spout
Cons
>> Read Customer Reviews: Here <<
The Bottom Line
My article on Miele CM6150 Vs CM6350 shows that CM6350 wins due to a varied set of features. It is also my choice since I love the cup warmer. I don't often drink up a cup of coffee quickly, so keeping my coffee always warm is a concern.
I have also compared the Miele CM6350 vs Jura E8. If you are interested, you can read it here.
Do not forget to like and comment. Thank you.
Hot Topics You May Love: