Miele has been known for its premium-quality gadgets over the years, and obviously, their coffee machines are no exception. The Miele CM6310 vs Miele CM6350 allows you to make the most out of an espresso maker by presenting premier programs, robust heating system, and elegant construction.
While checking and evaluating both machines, I found out that the Miele CM6350 has more advantages than its counterpart, which I believe is more suitable for my readers. But that's only my opinion! Let's dive right in to see if I'm correct!
Image
Best for
Drip Coffee Pot Functionality
High-end machine with no demand on large quantity
Image
Best for
Drip Coffee Pot Functionality
Image
Best for
High-end machine with no demand on large quantity
Differences Between Miele CM6310 vs Miele CM6350
Design & Convenience
Basically, these two models do not differ at all in terms of design and construction. They are built with ABS plastic which does not add weights and is still able to remain in shape. Even when you're the careless type that often accidentally hits the machine with your kitchen utensils (like me!), the material is high-quality enough to prevent scratch. 
Even though f the touch control panel's arrangement and design are simple, both machines give off elegant and high-end craftsmanship. From the top left to the right corner of the gadgets are the four drinks sensors, screen display, and control buttons for the touch screen. 
Users can also adjust their types of coffee by choosing other drink programs or customizable user profiles in the down, left corner. The instructions of both Miele coffee makers are very clear and understandable that even beginners will have no hard time operating.
Even though both come with stainless-steel milk flasks, the cord of the CM6350 is longer than the Miele CM6310. In my opinion, the shorter the flask cord, the tidier your kitchen corner will be. Obviously, this factor does not affect their dimensions.
Miele CM6350 vs Miele CM6310 both tip the scale of 21.8 pounds, which is quite portable. Its dimensions are also identical at 17 x 14 x 9 inches.
And since they don't have any distinguished designing factors from each other, this round is a tie.
Wattages and Capacity
The outlook and appearance are essential since it's a part of determining your kitchen corner's style. But let's not focus on it. The factors that matter here are the wattage and capacity of the espresso machines. 
Normally, a standard coffee maker would fall in the category of 600-1200 watts, where approximately 6 cups of strong espresso will be ready in about 10 minutes. But I reckon it's not enough for you, my coffee lovers.
You need to have an engine that can heat the water faster and more efficiently – the one that is as professional as the device in your nearby cafe.  This is when you should select a machine with higher wattages, which offers 1500 watts. 
Therefore, I present you with these Miele coffee makers with 1500 watts that are not fast and furious! Your cup of coffee will be ready in about less than 5 minutes of wait!
What about the water tank, bean container, and flask capacity of both machines? I hate to disappoint you, but both devices offer the same result in this category. They provide a recessed bean container that can store up to 300 grams of fresh beans. Besides, 1.8-liter water tanks and 0.5-liter milk flask of the two products are removable for a refill and easy cleaning.
It's a tie again for this round. But don't rush, our next round will show you the real difference between the two models.
Additional Features and Accessories  
In case you don't know, the Miele CM6360 is the higher-end model that is compatible with the coffee pot function. This also proves the only difference between the two models.
The Miele CM6530's "pot of coffee" function is a unique feature that no other super-automatic machine in the market has. In other words, instead of making coffee and different types of drinks using the ground coffee or coffee bean, you can purchase your favorite pot (I recommend the Miele's) and use it for this automatic strong espresso maker CM6350.
With up to 1 liter maximum, you can make from 3 to 8 cups of coffee. All you need to do is place a large container under the central spout, highlight the "Coffee pot" function and touch OK. 
Depending on the number of portions you choose, each cup's coffee is individually ground, brewed, and dispensed. Each stage of the process is shown in the display to keep users aware of the process. This feature is a massive advantage for whoever needs to make coffee for a big company.
With the optional Miele coffee pot, users can keep their cup of tea or Americano hot longer.
Other than that only distinction, Miele CM6350 and CM6310 both have built-in hot water spout, active cup warmer instead of passive, timer mode, and metal insulated milk jug. They also have the automatic rinsing of the milk system, in which the milk pipes will auto pump water down and rinse throughout the way. This will help maintain cleanliness and hygiene in the appliance.
In this round, the one which has more features deserves the winner title. I will give this round a point to a Miele CM6350 model.
Quick Rundown of Miele CM6350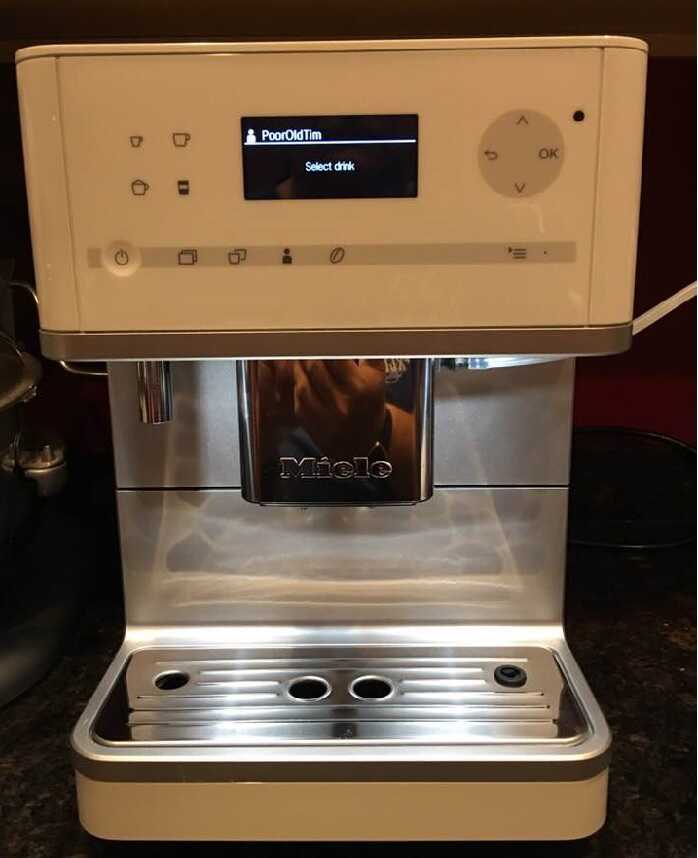 Miele CM6350 Countertop Coffee Machine, Lotus White
Program up to 4 User Profiles with individual settings for portion size, strength, brewing temperature & more.
OneTouch and OneTouch for Two function - make one or two servings at the touch of a button.
Brewing specialties - One or two servings of espresso, coffee, long coffee, ristretto, cappuccino, latté macchiato, cafe latté, hot milk & milk froth.
Additional features include Integrated Cup Warmer, DirectSensor Control Panel and Coffee Pot Function for making up to 8 cups of coffee at one time.
Convenient cleaning programs for care and maintenance.
Pros:
Full-pot coffee brewing functionality

 

Pre-programmed settings

High bar pressure
Cons:
>> Read Customer Reviews: Here <<
Quick Rundown of Miele CM6310
Miele CM6310 - White Coffee Machine, White
Direct Sensor Control Panel with 4 lines of text
OneTouch for Two - the ability to make two drinks at once with the touch of a button
4 User Profiles
Makes Espresso, Coffee, Cappuccino, & Lattes
Cup Warmer
Pros:
Active cup warmer

Intelligent maintenance

Short milk flask connected cord
Cons:
Expensive

Milk froth attachment issue
>> Read Customer Reviews: Here <<
Conclusion
Miele CM6310 vs Miele CM6350 does not have many distinctive factors; however, I still choose the Miele CM6350 as the winner. The reason is due to its Drip Coffee Pot Functionality that allows users to serve for large quantities.
Apart from that, its competitor – the Miele CM6310 is also an excellent choice. If you don't mind its price, the machine is also worth a purchase if you simply want a good-quality machine that can perform fast and consistently.
The Related Article
Comparison Articles