CM6350 and E8 are two best-sellers from Miele and Jura, so Miele CM6350 Vs Jura E8 is a battle between two famous brands rather than two coffee makers.
Which one do you think will win?
Make a guess and read this article until the end to know whether your answer is right or wrong. Always make the right decision then.
Read on.
Image
Image
Image
A good coffee machine itself can't make a perfect shot if you don't have the faintest idea about espresso. Click here to get to know all its ins and outs.
Differences Between Miele CM6350 Vs Jura E8
Design and Convenience
Jura E8 Vs Miele CM6350: which one has better design?
It is a matter of personal preference.
Personally, I like the Miele coffee maker more when it comes to design. The CM6350 is appealingly neat and sleek with a futuristic vibe. There is absolutely no redundant detail. That does not mean Jura E8 boasts an outdated design. In contrast, it looks pretty stylish and modern in black.
Both coffee makers feature a display, but Miele goes further to offer a touch screen. It means you can operate the machine via touching. Meanwhile, you need to use the buttons to adjust the settings with Jura E8, which is not really convenient.
Moving on to dimensions, no product seems to have an edge.
The CM6350 measures at 10 x 17 x 14 inches and weighs 27 pounds. Meanwhile, its Jura competitor has a dimension of 11 x 17.3 x 13.8 inches with a weight of 22 pounds.
All things considered, I give the nod to Miele CM6350 in this round.
Capacity
The two coffee makers are designed with slightly different capacity. The differences are negligible, so I will not pick the winner between Miele CM6350 Vs Jura E8  in this round.
Do you want to know the exact capacity of each?
The Miele CM6350 is designed with a 60 oz water reservoir and a 10.6 oz bean hopper. Meanwhile, its competitor has a larger water tank of 64 oz but a smaller hopper, which holds 10 oz of ground coffee beans.
Both products can brew two cups of coffee at once depending on your needs.
Features and Accessories
During the last round, I will compare the two coffee makers based on features.
Check out the shared features first.
Both CM6350 and E8 have a built-in grinder and milk frother. Also, they include a lot of extra features such as energy saving mode, auto shut-off function, timer, standby function, etc. For added convenience, both products consist of dishwasher-proof parts. It saves a lot of hassles when you need to clean them.
What makes the two outstanding is the hot water spout. Within the touch of a button and you can have a cup of hot water right away.
You are curious about the differences, aren't you?
The first difference is the milk tank. 
Having a milk tank comes in handy since it allows the machine to automatically heat and foam milk to add to lattes and cappuccinos. The CM6350 offers this feature, but the Jura E8 does not, unfortunately.
The CM6350 continues to have an edge with its cup warmer. On the other hand, the Jura E8 gets a bunch of complaints since it fails to keep your coffee warm for a period of time. It means you have to drink up your coffee quickly if you do not want it to cool down. A bit inconvenient, right?
You can see that the Miele CM6350 easily wins due to two handy features of a milk tank and a cup warmer.
Quick Rundown of Miele CM6350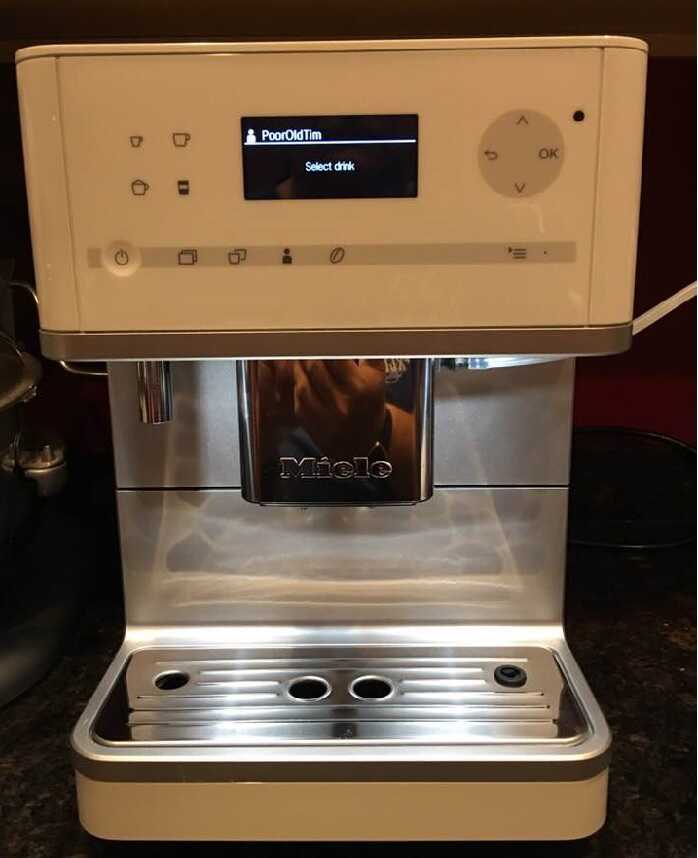 Miele CM6350 Countertop Coffee Machine, Medium, Obsidian Black
AromaticSystem: The CM 6350 countertop coffee machine wows with its dynamic brewing system and quiet grinder made of wear-resistant steel, while the ground coffee chute allows for a second variety
From coffee, espresso, to hot milk: Conjure up creamy milk froth for a range of drinks and prepare up to 8 cups at a time with the included coffee pot; adjust grind and water quantity in expert mode
OneTouch for Two: With just a touch of a button you can make two of any specialty drink; save your favorite drinks in one of up to 10 individual connoisseur profiles
ComfortClean: Many components of the coffee machine, including the water tank and waste container, are dishwasher-safe; the milk pipework is automatically cleaned after every drink made with milk
Items delivered: 1 x Miele CM 6350 coffee maker in Obsidian Black, with glass milk container, descaling tablets, cleaning tablets and operating instructions
Pros
Sleek futuristic overall design

Convenient cup warmer

Built-in milk tank
Cons
>> Read Customer Reviews: Here <<
Quick Rundown of Jura E8
Jura E8 Piano Black Automatic Coffee Machine
ONE TOUCH: Prepare 16 barista quality specialties including espresso, coffee, cappuccino, flat white and latte macchiato at the touch of a button
PERFECT ESPRESSO: Ultimate coffee quality thanks to JURA's exclusive Pulse Extraction Process
CONICAL BURR GRINDER: Fast and precise AromaG3 grinder grinds whole beans to the optimum fineness
: JURA is always freshly ground, not capsuled - fresh taste with very limited waste - single serve machine
CAPACITY: 64 ounce water tank, 10 ounce bean container
Pros
Large water tank

Built-in grinder and frother

Energy saving mode
Cons
No milk tank

No cup warmer
>> Read Customer Reviews: Here <<
The Bottom Line
My comparison of Miele CM6350 Vs Jura E8 has come to an end. The Miele coffee maker convincingly wins with futuristic design and extra features. If I have to choose, I also pick the CM6350 as I need the cup warmer function.
Thank you for reading until the end. Do you guess right? Comment your opinion below.
I will compare three Lattissima coffee makers in the next article. Stay tuned.
The Related Articles
Single Review
Comparison Articles