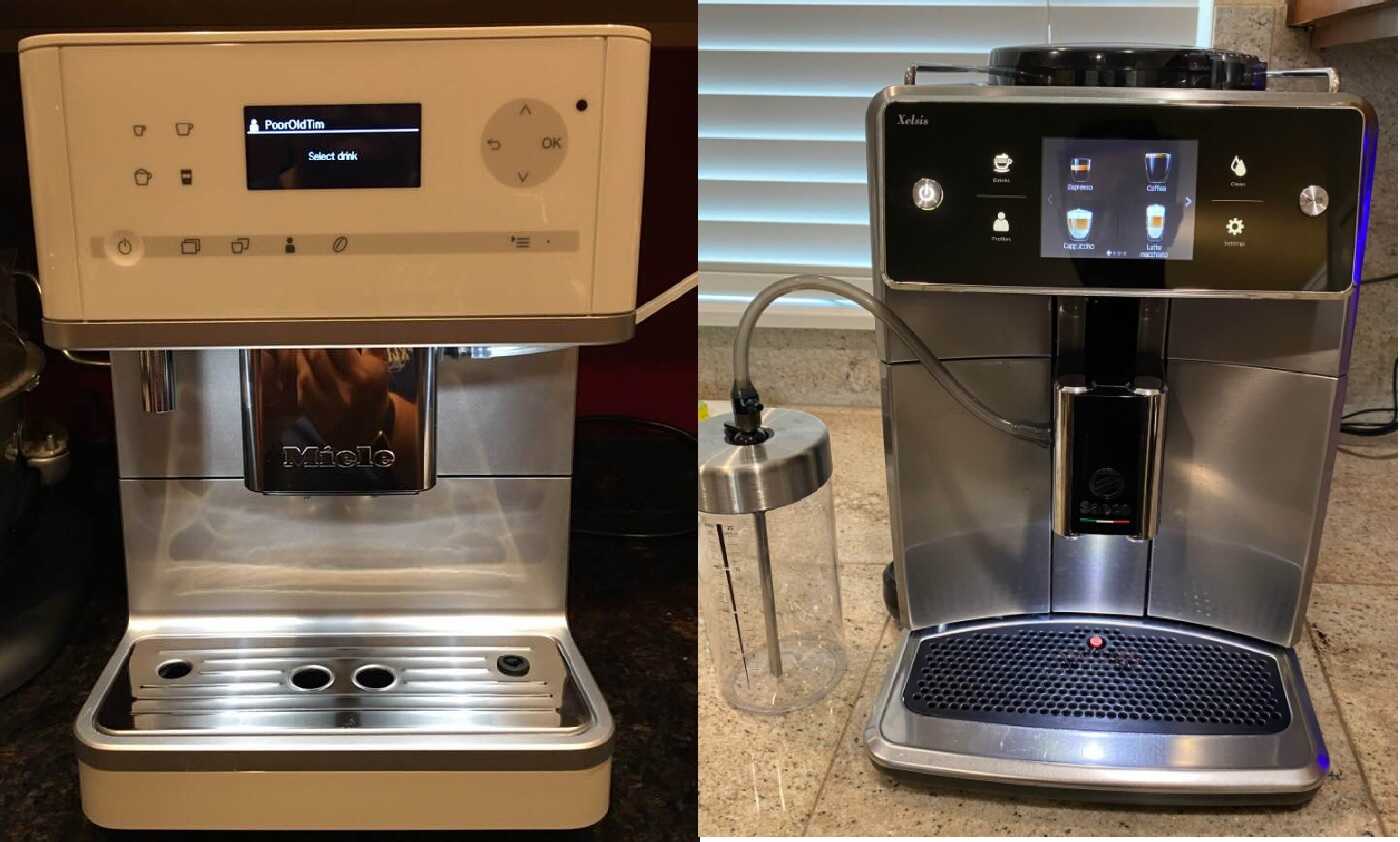 I believe you must have owned at least one coffee machine at home. But have you ever thought of upgrading it for a new one? These two Miele CM6350 vs Saeco Xelsis will make you rethink it. They have great design, advanced coffee-making features, and especially time-saving premier programming.
After carefully considering these two machines' pros and cons, I suggest that the Saeco Xelsis is better. Are you curious why I'm saying that? Let's quickly browse through this comparison table and head right in for the review!
Image
Best for
Advanced heating function
Image
Image
Best for
Advanced heating function
Differences Between Miele CM6350 vs Saeco Xelsis
Design & Convenience
I cannot describe enough the excitement and fascination that Saeco Xelsis gave me at first sight. It has the luxurious and modern construction that every coffee lover would love to own one. 
Xelsis' design was inspired by the Italian luxury goods industry, where craftsmanship is expressed in every detail, and the design uses noble materials and discreet, strict lines. Comes with 19.2-inch depth, 15-inch height, and 11-inch width, the Saeco Xelsis is compact enough to suit every kitchen countertop.
Even though it's equipped with a 450-gram bean hopper on the top of the machine, the espresso maker remains its sleek design. In order to prevent the fragrance from escaping, the bean hopper offers a plastic lid. Below is the 3.5 inches touch control panel.
The Saeco Xelsis espresso machine has 4 options: on/off mode, drinks, profiles, and clean and settings mode. The drink option allows users to use 15 popular recipes in memory that can be supplemented with their own versions of drinks. 
By choosing profiles, the choice of portion size, heating temperature, and mode will allow you to prepare espresso, latte macchiato, or ristretto under individual preferences. 
One of the reasons why I choose the 26.8-pound Saeco Xelsis is for the silver lining on its edge. It's so aesthetic and slick, which is the luxurious type that you often see in the movies.
On the other hand, Miele CM6350 coffee maker does not quite gain my interest. Even though the company offers users three different colors, the construction and design of the Miele coffee machine are quite plain.
It has a similar touch control panel to its counterpart; however, the arrangement of buttons, small screen display, and lack of icon for the type of drinks makes the device less luxurious. One of the points that I prefer Miele CM6350 more than the Saeco model is the durable stainless steel milk flask.
Even though both models come with a flask, the Saeco's material for this flask is transparent plastic while Miele CM6350 offers a much more premium-quality material.
The Miele model takes up less space than its competitor with 9 inches in width, 14 inches in height, and 17-inch depth. The machine also tips the scale at 21.8 pounds, which is more portable.
I'm really in love with the Saeco Xelsis's design and construction. And since Saeco Xelsis has been and remains the company's lineup's flagship, I will choose it as the winner for this round.
Wattages and Capacity
Okay! I want you to rethink for a second. Do you need an espresso machine that can solve your every-day-coffee addiction, or do you need a commercial machine that can make multiple cup of coffees per day?
If you're more to the second option, then the wattage for your machine should fall into the category of 1000-1800 watts. In this case, both machines with 1500 watts is your perfect option! 
Indeed, you would choose the machine that offers at least 1500 watts, where 8-10 cups of regular coffee are made per time. Luckily, Saeco Xelsis vs Miele CM6350 machines are the best suit for saving time and effort.
What about the water tank, bean container and flask capacity of both machines? Like I've mentioned above, the Saeco Xelsis offers a recessed bean hopper which can store up to 450 grams of coffee beans. Miele CM630 machine offers a smaller container of 300 grams.
The Saeco Xelsis's water tank is 1.7 liters while its competitor is 0.1 liter more. Both of the tanks are removable for refill and cleaning. In reverse, the flask capacity of Saeco Xelsis is 0.1 liter larger than the Miele's milk flask. In case you're curious about what these flasks are, they are the tool that stores hot and cold milk for different types of coffee recipes.
I'm not biased because the Saeco Xelsis machine has a better design, but this round it does deserve the winner title. It has large wattage power, larger bean container, and flask capacity.
Additional Features and Accessories  
The most notable features of Saeco Xelsis machine lie in the premier programs, interface technology, and milk quality. The touchscreen with easy guidelines gives users full control over multiple pages of beverage parameters. By using this machine, you can adjust the temperature, milk foam, and volumes of ingredients.
To protect your drink quality, the machine is equipped with the AquaClean filtration and HygineSteam system that ensures only pure and filtered water flows into your espresso machine. The most outstanding feature of Saeco Xelsis is the number cups of coffee and customizable profiles.
It allows users to create at least 15 espresso drinks and 6 user profiles for your personal preference. Even though some claim that the Miele CM6350 can offer up to 20-27 cup types of coffees, I reckon it does not. With a touch of a button, it can pretty much create up to 10 varieties and 4 customizable profiles, not more.
However, the Miele CM6350 machine does have its advantage. It has two features that the Saeco Xelsis doesn't have: A built-in hot water spout and a cup warmer. 
Its internal spout can instantly heat water for tea or hot cocoa, saving users more time every time their drinks get cold.  The active-heat cup warmer is a very professional and thoughtful function that Miele offers to customers. It will pre-warm your cup of coffee hot and nice for hours before you want to enjoy your morning coffee.
This round is so challenging at finding the winner. From my perspective, I'll still go for the Saeco Xelsis. Most buyers who purchase Saeco machines absorb coffee constantly for a day; therefore, their drinks will continually be refilled. Thus, the heating function is not really necessary.
Quick Rundown of Miele CM6350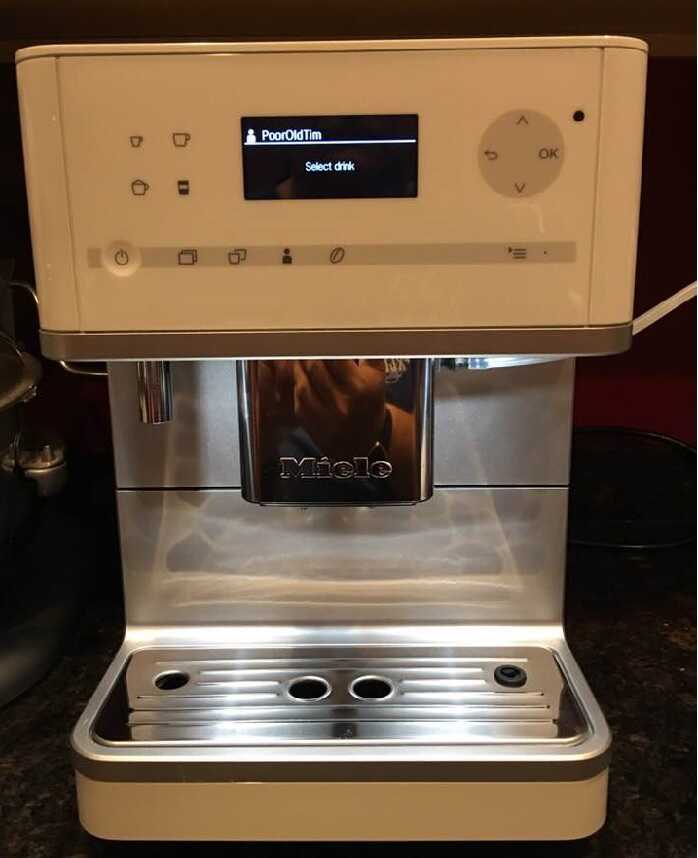 Miele CM6350 Countertop Coffee Machine, Lotus White
Program up to 4 User Profiles with individual settings for portion size, strength, brewing temperature & more.
OneTouch and OneTouch for Two function - make one or two servings at the touch of a button.
Brewing specialties - One or two servings of espresso, coffee, long coffee, ristretto, cappuccino, latté macchiato, cafe latté, hot milk & milk froth.
Additional features include Integrated Cup Warmer, DirectSensor Control Panel and Coffee Pot Function for making up to 8 cups of coffee at one time.
Convenient cleaning programs for care and maintenance.
Pros:
Cup warmer

Pre-programmed settings

High bar pressure
Cons:
>> Read Customer Reviews: Here <<
Quick Rundown of Saeco Xelsis
Sale
PHILIPS Saeco Xelsis Super Automatic Espresso Machine - LatteDuo Milk System, 15 Coffee Varieties, 6 User Profiles, Touchscreen, Black & Titanium, (SM7684/04)
With Philips Saeco Xelsis easily make up to 15 coffee varieties from common Espresso and Capuccino to specialty coffees like Flat White or Americano. Simply swipe the touchscreen to select the drink and customize it with our intuitive Coffee Equalizer.Filter type:Reusable.Power consumption stand-by : 0.5W, Drip tray capacity : 500 ml
15 Coffee Varieties at Your Fingertips: Explore the world of coffee - Espresso, cappuccino, macchiato, and a range of specialty drinks
Personalized Preferences: Everyone's custom coffee favorites can be saved in up to 6 user profiles for instant selection. Personalize each profile down to the finest detail
LatteDuo Milk System: Prepare and enjoy single or double serving of any coffee recipe with one touch, including Cappuccino or Latte Macchiato
Double Thermo Blocks: Dedicated for both brewing and steaming offer accurate temperature controls for every drink in your recipe book
Pros:
Appealing design

Ease of use

More customizable user profiles
Cons:
Expensive

Inconsistent milk flow
>> Read Customer Reviews: Here <<
Conclusion
In conclusion, the winner for comparing Miele Cm6350 vs Saeco Xelsis is the Saeco Xelsis model! It has more presets, larger capacity, and more power consumption. This espresso machine has premium looks and beautiful workmanship, which is very easy to operate and test new recipes.
You should purchase the Saeco espresso maker if you drink coffee frequently per day. But if your coffee intake is less than 4 cups per day, it's okay to try the Miele CM6350 with advanced heating and warming functions.
The Related Article
Comparison Articles