As you read the insights of Miele CM6350 vs Siemens EQ 6, you will find out that they are high-end coffee makers at a reasonable price.
Still, there could only be one winner, and my decision goes to EQ 6. It is equipped with advanced technology from head to toe, a stunning look, and high device safety.
Check out the following table for their specifications in detail.
Image
Dimensions (D x H x W)
16.75 x 10 x 18.13 inches
Image
Dimensions (D x H x W)
16.75 x 10 x 18.13 inches
Differences Between Miele CM6350 vs Siemens EQ 6
Design & Convenience
In my opinion, Miele CM6350 is quite heavy, even when built from plastic due to its construction of 29 pounds. Whereas Siemens EQ 6 is a far more lightweight 22-pound brushed stainless steel item.
I appreciate the smart built-in heating system in both devices to warm up your coffee throughout the day. However, you will likely receive a faster first cup with EQ 6.
Moreover, this model from Siemens includes the latest Thermoblock technology to support its boilers, while there is only a regular heated cup rack in CM6350.
What is more innovative in EQ 6 is the sensitive touchscreen with an LCD display to save you time operating it. It also allows you to choose between 6 user profiles for storing your favorite flavor.
On the contrary, CM6350 from Miele runs with a control panel using buttons for a more traditional method and 4 user profiles.
Their main similarities in this category are the one-touch button to get 2 cups of coffee at once and the flexible height adjustment up to 5 levels to fit different cup sizes.
Therefore, between Miele CM6350 vs Siemens EQ 6 in terms of design and convenience, I believe that you will fancy the latter item for its brilliant high-tech and lightweight build.
Wattages & Capacity
When it comes to the overall function of these devices, I will evaluate and compare them by wattages and capacity.
Both items run on an equal wattage of 1500W, an average rate in the 1000 – 1800W range to serve commercial purposes and deliver up to 10 cups of coffee at a time.
Their similarity also appears in the same operating voltage from 220 to 240V. Besides, the built-in container to store coffee bean offer a 300g capacity in both machines.
Nonetheless, EQ 6 loses its competitor in an important capacity that you should focus on – the water tank. Its tank measurement is 1.7 liters, meaning 0.1 liter less than CM6350.
That is why if you prefer having better wattages and capacities for your coffee maker, I would advise you to choose the Miele product.
Additional Features and Accessories
Lastly, comparing Siemens EQ 6 vs Miele CM6350 in terms of extra functions and supporting tools is necessary to assess their overall performance.
While there is a regular safety lock in Miele, Siemens include both temperature protection and a child-proof lock to ensure the whole family is safe.
Though its cleaning program is convenient for users, CM6350 still requires you to do manual descaling. EQ 6 operates with a completely automatic system for your convenience.
Also, it offers a test strip for water hardness compared to a spoon for coffee ground in the Miele CM6350 package. Which tool is more useful to you? Of course, a water test strip will help you out better.
Therefore, the final winner of this showdown has got to be the EQ 6 model from Siemens.
Quick Rundown of Miele CM6350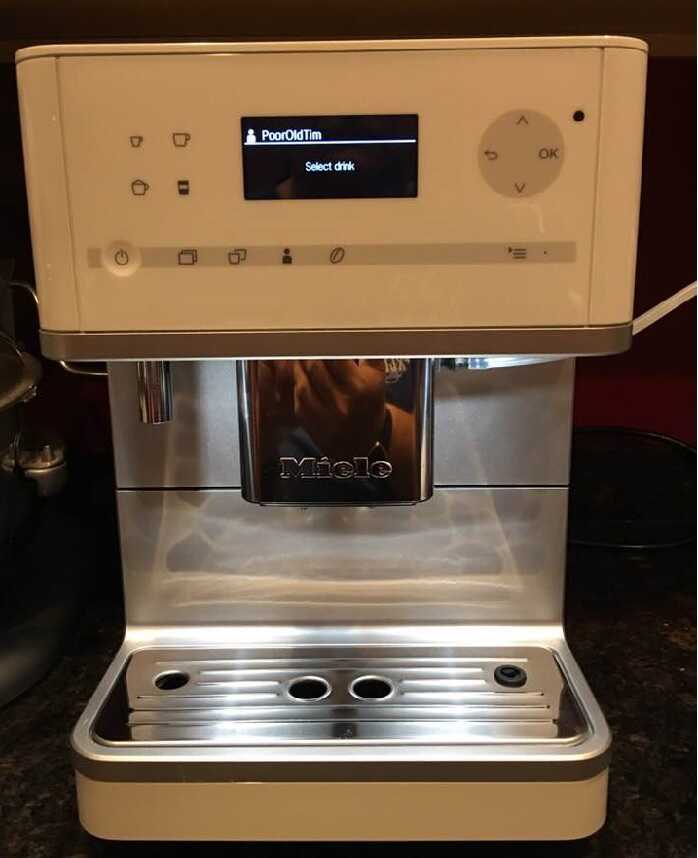 Miele CM6350 Countertop Coffee Machine, Lotus White
Program up to 4 User Profiles with individual settings for portion size, strength, brewing temperature & more.
OneTouch and OneTouch for Two function - make one or two servings at the touch of a button.
Brewing specialties - One or two servings of espresso, coffee, long coffee, ristretto, cappuccino, latté macchiato, cafe latté, hot milk & milk froth.
Additional features include Integrated Cup Warmer, DirectSensor Control Panel and Coffee Pot Function for making up to 8 cups of coffee at one time.
Convenient cleaning programs for care and maintenance.
Pros:
Cup warmer

Large capacity
Cons:
Loud noises

Small water reservoir
>> Read Customer Reviews: Here <<
Quick Rundown of Siemens EQ 6
No products found.
Pros:
Lightweight

Automatic 

High safety
Cons:
>> Read Customer Reviews: Here <<
Conclusion
It was not easy to compare Miele CM6350 vs Siemens EQ 6, but I know that the ultimate winner is the latter high-tech model with aroma and convenience for the perfect coffee right at your home.
Breville BES870XL vs Delonghi EC9335M is another great article to see which powerful coffee machine deserves your investment.
The Related Article
Comparison Articles