Centrifugal juicers work to extract juice, but a slow extractor such as Omega J8006HDS Vs MM900HDS does it much better. First, it helps the juice yield stay fresh for longer. Second, it runs more quietly.
Torn between these two Omega juicers?
Scroll down to find out the winner.
Differences Between Omega J8006HDS Vs MM900HDS
Design and Convenience
Both products are horizontal masticating juicers, so it is understandable they have identical designs with black and silver accents. The whole thing looks sturdy, which surely does not wobble during operation. You can expect the two juice extractors to offer a long-lasting service as well.
What about the dimensions?
The Omega J8006HDS Vs MM900HDS have the same measurements. Each machine is 6.5 inches wide, 14.5 inches deep, and 15.5 inches high. Make sure they fit your kitchen countertop before bringing any product home.
13 pounds is a bit heavy, but there is a carrying handle to save some hassles when you need to move the juicers from places to places.
This round ends in a tie since the two Omega juicers are identical in design.
Capacity
Unfortunately, the two juicers have the same narrow chute, which measures at one and a half inches. You may need to chop the large ingredients first before pushing them into the juicers. For a wide food chute, you may want to check out the NC900 series.
The MM900 is introduced as a celery juicer. It means the machine can extract more juice yield from celery than any other products in the same range. Thus, you can expect to save some money on your grocery bill.
More notably, this option is efficient in processing not only celery but also dense produce, leafy greens, and citrus fruits in general.
Thus, the MM900HDS deserves to win against the J8006HDS in this category.
Features and Accessories
The only difference probably lies in power. To be specific, the J8006HDS runs on a 150W motor, while its competitor uses a 200W motor to squeeze ingredients.
Power aside, both products work at a low speed of 80 RPMs to ensure minimal heat buildup and oxidation and promote healthy enzymes. Thus, your juice yield can stay fresh for a longer period – about three days. No worries about running out of juice in the middle of the week anymore.
I love that both extractors run quietly, so you can use them even in the middle of the night without worrying about waking your neighbors. They are also perfect for making celery juice for your family in the morning.
Like all Omega juicers, these two use a dual-stage system to process produce. It means the ingredients are squeezed first before the pulp is ejected in the second stage. In the end, you can enjoy more yield as well as a dry pulp. 
It is worth mentioning that the pulp is automatically ejected for convenience. You do not need to remove the pulp yourself, and feel free to pick as much pulp you want in your juice.
What about cleaning each product? Is it difficult?
When you buy either Omega MM900HDS Vs J8006HDS, you can rest assured about maintenance. All parts of the two are removable and dishwasher safe, so it takes you little efforts to clean the whole juicers after use. Here is a tip: you should soak all parts in warm soapy water first before placing them in the dishwasher.
Both products are backed with a 15-year full warranty to give you peace of mind.
Quick Rundown of Omega J8006HDS
Pros
Sleek and stylish overall design

Dual stage juicing process

Dishwasher-safe parts
Cons
>> Read Customer Reviews: Here <<
Quick Rundown of Omega MM900HDS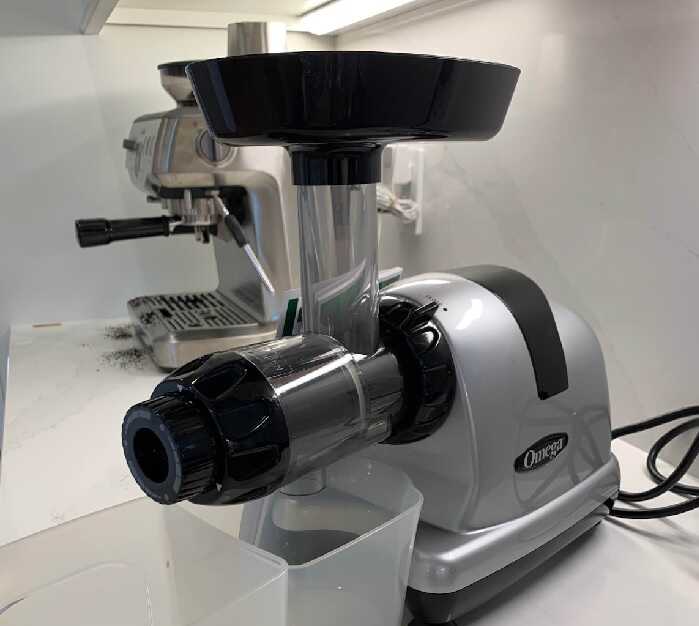 Pros
Powerful 200W motor

Efficient celery extraction

Convenient carrying handle
Cons
>> Read Customer Reviews: Here <<
The Bottom Line
I hope this article gives you a thorough understanding of Omega J8006HDS Vs MM900HDS. They are almost identical, except for the fact that the MM900 works better with celery. If you often make celery juice, it is the ideal option.
If you have time, check out my new comparison posts right here.
Thanks a lot for reading until the end.
Hot Topics You May Love: