Rancilio Silvia Vs Gaggia Classic are semi-auto coffee makers. It means the two offer more control over the brewing process while giving more convenience with various automatic features. You are able to get the best of both worlds then.
Which one is the better machine?
The answer is in this article. Scroll down and read on to know.
Differences Between Rancilio Silvia Vs Gaggia Classic
Design and Convenience
My very first impression is that the two coffee makers have a compact footprint. They are fairly lightweight, too. 
Want to know the exact specifications? 
The Rancilio Silvia measures at 9.2 x 11.4 x 13.3 inches and weighs 30 lbs. Meanwhile, the Gaggia has a dimension of 9.5 x 8 x 14.5 inches with a weight of 20 lbs. The two products can fit snugly even in small kitchen countertops. So if you have a narrow kitchen, consider one between Rancilio Silvia Vs Gaggia Classic.
Although the designs are slightly different, they both look sleek and stylish in a brushed stainless steel finish, which can surely spice up your kitchen.
Capacity
About the water tank capacity, the Gaggia Classic takes the win with a 72-ounce tank. Its competitor boasts a smaller tank, holding up to 67 ounces of water. Still, a 5-ounce does not make a huge difference. Both tanks are large enough for you to brew many cups of coffee without having to refill often.
On the other hand, the Rancilio wins in terms of boilers. It comes with a large brass boiler, which has a 12 oz capacity. That one of Gaggia is made of aluminum with a 3.5 oz volume only. Having a large boiler allows you to make many shots with no wait in between, so it is really convenient.
Final verdict: Rancilio Silvia is the winner in this category.
Features and Accessories
Both Rancilio and Gaggia are semi-auto coffee makers, so they have a bunch of features in common. For example, both products are designed to make either single and double shots of espresso based on your demand.
But there are still differences in the similar features of the two coffee makers.
Take the steam wand for example. While the Gaggia Classic features a cheap swiveling steam wand, its competitor comes with a commercial style wand that is made of stainless steel.
A more noticeable feature is the portafilter. Both Gaggia and Rancilio use a standard 58mm portafilter for the baskets to ensure smooth and consistent coffee. Nonetheless, the one that comes with Silvia is more ergonomically designed. Thus, you are able to fill the portafilter with ground coffee and lock it in place with more ease.
There is one thing that the Gaggia has an edge over its competitor, which is the type of coffee you can use. To be specific, it is compatible with easy-serve espresso pods. Meanwhile, the Rancilio Silvia only takes pre-ground coffee; if you want to use ESE pods, you need to buy an adapter for it.
Gaggia offers more convenience by equipping its coffee maker with an on-demand hot water dispenser. Now you can get hot water anytime you want for whatever uses, whether it is to brew a cup of tea or to cook cup noodles. This feature makes the Gaggia Classic even more versatile. Unfortunately, the Rancilio fails to offer such a feature. But if you already have an on-demand hot water device at home, this should not be a deal-breaker.
Bad news: Gaggia Classic vs Rancilio Silvia do not come with a burr grinder.
The Rancilio should win this round due to high-quality features. The lack of a hot water dispenser is not a huge drawback with me.
Quick Rundown of Rancilio Silvia
Pros
Sleek and stylish overall design

Commercial style swivel wand

Ergonomic 58mm portafilter
Cons
>> Read Customer Reviews: Here <<
Quick Rundown of Gaggia Classic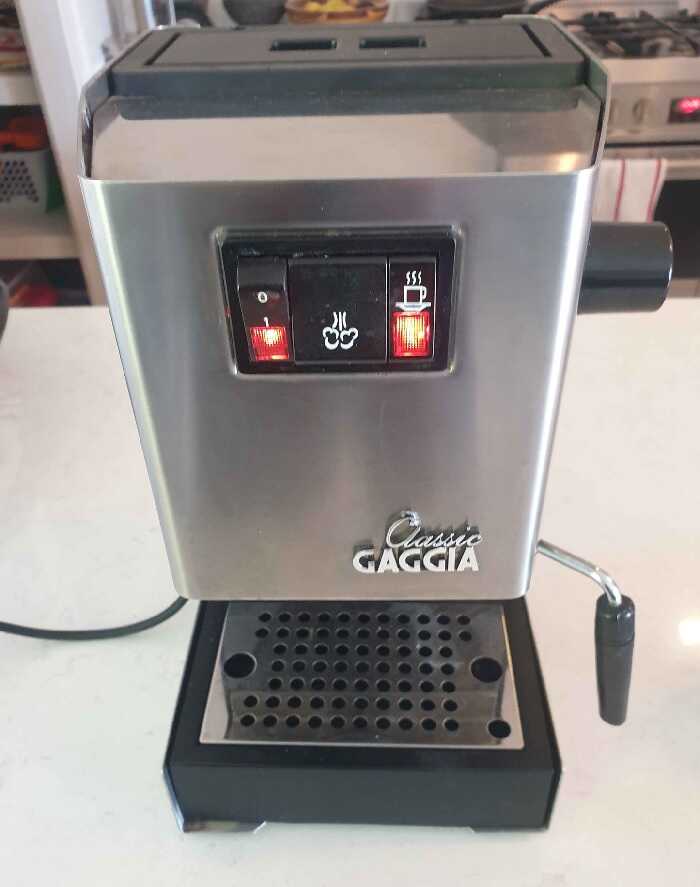 Pros
Lightweight and compact

Compatible with ESE pods

On-demand hot water dispenser
Cons
No burr grinder

Cheap frothing wand
>> Read Customer Reviews: Here <<
The Bottom Line
My comparison of Rancilio Silvia Vs Gaggia Classic has come to an end and Rancilio takes the win against its strong competitor. Nonetheless, which one wins is a subjective aspect. You can choose the Gaggia Classic if you want to enjoy ESE pods and on-demand hot water.
Thank you for reading. You can read my detailed comparison of Gaggia Classic Vs Breville Infuser here.
Hot Topic You May Love: