After writing some of the reviewing articles on robot vacuum cleaners, I've concluded that Roborock has given us the most suitable offerings. Therefore, I want to continue reviewing their notable products and comparing them to select the best machine.
This time, you and I will discover the advantages and disadvantages of Roborock S4 vs S5 Max robots. These two come up with multiple room mapping features, logical and time-saving paths, and auto carpet sensation. 
However, to give a broader view of the machines, I've come up with a comparison table. Check out the information before reading the article.
Image
Dimensions
13.78 x 13.78 x 3.80 inches
13.78 x 13.78 x 5.80 inches
Image
Dimensions
13.78 x 13.78 x 3.80 inches
Image
Dimensions
13.78 x 13.78 x 5.80 inches
Comparison between Roborock S4 vs S5 Max
Design
Do you expect to have a D-shape robot cleaner? Well, bad news, these two Roborock robot vacuums are just the standard circular machines. In order to cut the cost and expense of the products, Roborock prefers to give users a more reliable product than an expensive robot vacuum.
In terms of design and aesthetical value, Roborock S5 Max vs S4 vacuums have many similarities. They both equipped with a turret-mounted on the top's machine for laser technology to scan and plan cleaning paths. The LED clean, and dock buttons on the surface present a minimal yet straightforward look.
The two vacuums tip the same scale of 7.7 pounds, making them portable enough to pick up and carry around. However, you won't have to lay even a finger to guide the Roborock vacuums since they can be controlled entirely through the smartphone app.
If you're looking for a lighter gadget, you might want to consider the Shark IQ model.
Even though the two vacuums' diameter is the same, the Roborock S5 Max's height is more convenient to clean underneath the furniture. This is quite impressive since the S5 Max model carries itself a water tank for mopping feature, and it does not add in height at all. On the other hand, the S4 device, which has no water tank, claims a 5.8-inch height.
The S5 Max also provides more color options for buyers with white and black, while the Roborock S4 is applicable only in black matte shade. Obviously, black allows scratches to be invisible, but sometimes a lighter color will add a little touch to the home decor.
And due to this reason and other advantage points above, I will go for the Roborock S5 Max. 
Suction Power
Many people have come up to me asking about which suction strength level is suitable for their house. Naturally, my answer would be, "It depends on the type of trash or debris that your house has."
For example, for someone who has a baby and often has to deal with powder or food spills, a 1400-1800 Pa is enough. However, if you have pets or your home is mainly carpet floors, you might want to purchase a 2000-2500 Pa. 
Now, these two vacuums aren't provided with a 2500 Pa suction power but a 2000 Pa. They are robust and impressive enough to pick up heavy dirt and dredge pet hair deep inside the carpet fibers at ease. Both Roborock machines are suitable for any house type, including carpets and hardwood floors.
Even though both vacuums can adjust the suction power when they encounter carpet floor, the Roborock S4's climbing ability is worse than the S5 Max's. While facing a high-carpet floor on its cleaning path, the Roborock S4 will likely give up and avoid the obstacle.
We know that the robot vacuum cleaners have the same suction strength; regardless, the Roborock S5 Max is more compatible with carpet floors. You also should consider the type of dirt your house has before choosing the machine. As for me, I'm absolutely going for the S5 Max vacuums. 
Cleaning Performance 
Both Roborock vacuums present excellent cleaning capability, but I have to admit I'm more attracted to Roborock S5 Max's cleaning performance.
While the 420 ml dustbin of Roborock S4 vacuum can easily clean a 2700 sq ft house, theRoborock S5 Max's 460 ml dustbin surpasses the leaving limitation of up to 3230 sq ft. Isn't their cleaning abilities impressive?!
However, I didn't choose the Roborock S5 Max based on its large cleaning area (my house is not large, though) but its mopping feature. Even the top-of-the-line Roborock S6's mopping ability is nothing compare to the S5 Max. The gadget presses out water volumes, and its microfiber cloth picks up more ground dirt.
The mopping function has a disadvantage point, too. It might add more weight to the machine, preventing it from climbing over objects or carpets. Furthermore, if your house is many carpet floors, its water tank will likely wet your carpet. 
The Roborock S4 is a standard smart robot vacuum that performs very well on the cleaning basis. Still, for someone who expects to have something more than just a vacuum machine, the S5 MAx is a preferable choice.
Battery Life
As for the battery capacity and charging time, both vacuums show the same amount. They take approximately 3 to 4 hours to charge in the dock and drain quickly after 3 hours of use.  
The material for the battery remains the same for all Roborock models of 5200 mAh Lithium-Ion. In case you want to replace the old battery with a new one, the accessories are always available in the market.
The replacing battery procedure for the Roborock machine is such a breeze. Simply open all the screws, carefully pull the Pin connector, and install the new one to the robot. Remember to disconnect the battery plug before starting the process. 
In this round, we have a tie.
Noise
The difference between the two Roborock vacuums is not so noticeable, but the noise that Roborock S4 produces is louder than its counterpart. When running at its max speed, the S4 device will create roughly 68 decibels while the S5 Max is between 60-65 decibels.
I believe that both models are built with noise reduction material; however, they are still loud based on my experience. I would prefer to have a more silent running engine, which generates in the range of 55-60 decibels. This sound level will not disturb any sleeping cycle of house owners.
If I have to choose, the S5 Max is the one winning the game.
Quick Rundown of Roborock Robot Vacuum Cleaner S4
Sale
Roborock S45Max Robot Vacuum - Precision Navigation, Strong Suction, Ideal for Pet Hair & Most Floor Types
Revamped drivetrain and ultra-Precise Laser Navigation, as used in autonomous cars, makes it harder to trap robot vacuum, even in complex environments.
Comprehensive app control, including map saving, no-go zones, and power setting, give you total control of robot vacuum no matter where you are.
Intense 2000pa Suction, enough to lift AA batteries, easily picks dust off floors and can even drag trapped dirt from deep inside carpets.
Supersized 5200mAh LiPo battery, good for over 180 minutes of non-stop cleaning, is more than enough to clean most homes in one session.
It precisely maps an entire level of your home and can recognize up to 4-levels. Put it on the floor you need, press the Clean button, and it will figure out where it is and automatically apply any No-Go Zones and Invisible Wall you have in place.
Pros:
Excellent navigation

2000 Pa suction power

Four customizable floor plan maps
Cons:
Only one color option

No mopping option
>> Read Customer Reviews: Here <<
Quick Rundown of Roborock Robot Vacuum Cleaner S5 Max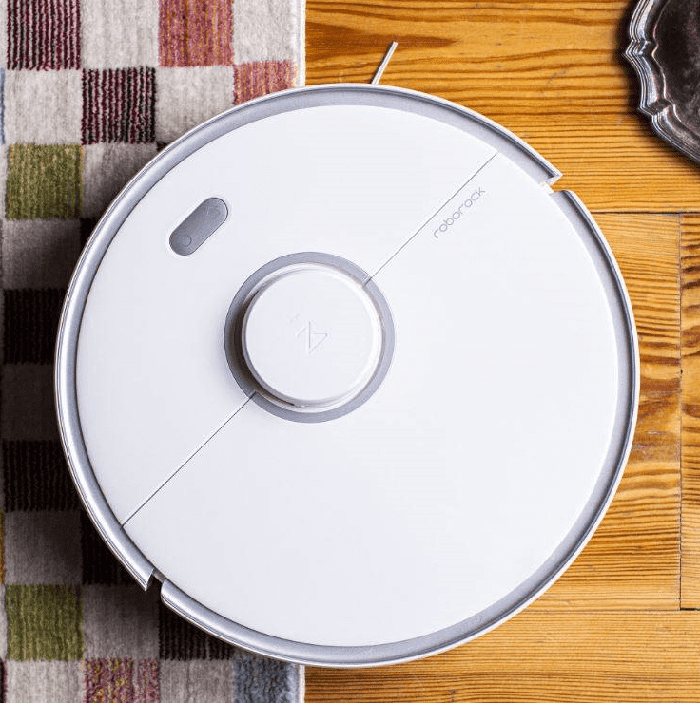 Roborock S5 MAX Robot Vacuum and Mop Cleaner, Self-Charging Robotic Vacuum, Lidar Navigation, Selective Room Cleaning, No-mop Zones, 2000Pa Powerful Suction, 180mins Runtime, Works with Alexa
Customizable Mopping: Set the right water flow, even your preferred water flow for each room in your home, to get exactly the cleaning intensity you want.
Effective Cleaning Every Time: Precision LiDAR navigation combined with adaptive route algorithms ensure your floor is cleaned thoroughly and efficiently every single time.
Serious Cleaning Power: Maximum suction power of 2000Pa suction easily lifts dirt from floors, and Carpet Boost ensures every carpet gets max power. 180 minutes of non-stop cleaning can cover large homes in one single clean.
Precision Mapping: Save up to 4-levels of maps, including individual rooms, No-Go Zones, No-Mop Zones, and Invisible Walls for total control of where and when your robot cleans.
App and Voice Control: Control every element of your robot wherever you are from the Roborock app. Start and stop cleanups and more with the power of your voice with Amazon Alexa support.
Pros:
Efficient mopping mode

Bigger dustbin

Quieter
Con:
>> Read Customer Reviews: Here <<
Conclusion
I've been reviewing the Roborock S4 for several articles, and it has always become the winner of my choice. However, when it encounters the S5 Max this time, I reckon my decision has changed.
Roborock S4 vs S5 Max's battle is coming to an end with a winner as Roborock S5 Max! It has to be this machine since the S5 has a larger dustbin size, more efficient vacuuming and mopping feature, and better soundproofing material.
Hot Topics You May Love: