Between the Roborock S5 Vs S5 Max, can you guess the improved version? Easy, right?
The S5 Max is an update to the original S5 robot vacuum cleaner. It boasts some improvements to work more smartly and efficiently.
Are you curious about these updates? Scroll down to know.
Image
Image
Image
Roborock S5 Vs S5 Max: Which Is Better?
Design
Where design is concerned, both Roborock S5 Vs S5 Max have the same circular design. The 3.8-inch thickness makes it easy for these robot cleaners to clean under the furniture. Apart from the typical black and white colors, the S5 is also available in rose gold. Unfortunately, its competitor does not offer such a color option.
There is no difference in the dimension, in which both robot vacuum cleaners measure at 3.8 x 13.7 x 13.8 inches and weigh about 7 lbs.
Power
These two options are both rated at 2000Pa, which is enough to vacuum and clean hardwood flooring as well as low pile carpeting.
What about mopping then?
This is the area where the Roborock S5 Max enjoys the biggest improvements. It is equipped with an updated mopping technology, flexible mopping scheduling, water level control function via the app. Also, the robot even allows you to customize the water level and suction power for each room.
More notably, the large water tank is what makes it more excellent at mopping than the S5 robot. I will discuss this aspect further in the water tank section.
Battery
The S5 Max robot uses the same 5200mAh Lithium-Ion battery as its predecessor, which runs up to 150 minutes. A full charge takes about 5 hours. Both options come with recharge and resume function and smart top-up feature, which is really convenient. When the robots run low on battery, they will return to the dock to recharge just enough to finish the cleaning cycle. Once charged enough, they will go back to cleaning automatically until your house is thoroughly cleaned. By doing so, it will save you a lot of time and effort.
Water Tank
In the S series, the Roborock S5 Max boasts the largest water tank – 290ml, almost doubling the water tank capacity of the S5 cleaner (150ml). Such a large reservoir ensures a good mopping performance from the robot.
Dustbin
The S5 turns the tables in this round, since its dustbin is slightly larger to that of the Max version (480ml VS 460ml). Still, the gap is so small, if not negligible.
Noise
The Roborock S5 Vs S5 Max both produce a noise level of 69dB when cleaning in balanced mode. 
Navigation
Navigation and mapping capabilities are also upgraded with the S5 Max.
Although both robots use LIDAR navigation technology, the Roborock S5 Max is designed with an adaptive route algorithm. Once your house is mapped, this software will create and choose the most time-saving route through your house. In other words, the S5 Max is capable of cleaning more quickly.
On average, the S5 Max can clean a single room within 28 minutes, 20% faster compared to the S5. This is all thanks to the adaptive route planning.
Additional Features and Accessories
Some new features introduced to the Roborock S5 Max are scheduled controls, selective room cleaning, and No-Mop zones. I will discuss one by one shortly.
The first feature – scheduled controls offer you maximum customization. It allows you to choose a room and adjust the mopping or vacuum settings for that room. You can also set the suitable suction power for vacuuming and water drip level for mopping. For example, the bathroom may need higher suction than the bedroom.
The next feature is the selective room cleaning. This comes in handy when you just want the robot vacuum cleaners to clean specific rooms in the house. To take it further, you can set the cleaning schedules for each room, for example, the living room be vacuumed at 5 pm.
Last but not least, the Roborock S5 Max comes with the No-Mop zones function. As its name might suggest, once enabled, this function stops the robot from entering the areas you draw.
There is something more to concern, and it is related to the app compatibility. You know, Roborock introduced its own application to control its robot vacuum cleaners. But unfortunately, the S5 is not compatible with the Roborock app, but the Mi Home app developed by Xiaomi. Make sure you download the Mi Home app if you own an original Roborock S5. In contrast, the S5 Max is compatible with both, so no worries.
You can also control these robots using voice commands via Google Assistant or Alexa.
Quick Rundown on Roborock S5
Roborock Robot Vacuum and Mop, Robotic Vacuum Cleaner with Lidar Navigation, 2000Pa Strong Suction, Wi-Fi Connected, No-go Zones, Multi-Floor Mapping, Selective Room Cleaning, Ideal for Home with Pets
LiDAR Navigation can maps your house, plans route and schedules. It can cross over things lower than 2cm, clean without omission and self-recharge, and avoid falling down the stairs.
Simultaneously vacuuming and mopping: Vacuuming system is designed to draw all the dust into the dust bin with nothing left. Mopping system leaves no water streak and water stain. Work once, thorough clean.
2000Pa strong suction and multi-mode system: Carpet, Quiet, Mopping, Balanced, Turbo & Max mode, switching among different modes flexibly to meet request of different floor types. A large battery supports your robot runs continuously for up to 3 hours.
Smart APP Control: Use the Roborock App for Scheduling, Map saving, Setting No-go zones and No-mop zones, Real-time map and Customization. Compatible with Android, IOS, support Alexa voice control.
Pros
Large 480ml dustbin

Smart top-up function

2000Pa suction power
Cons
Not compatible with Roborock app

Small water reservoir
>> Read Customer Reviews: Here <<
Quick Rundown on Roborock S5 Max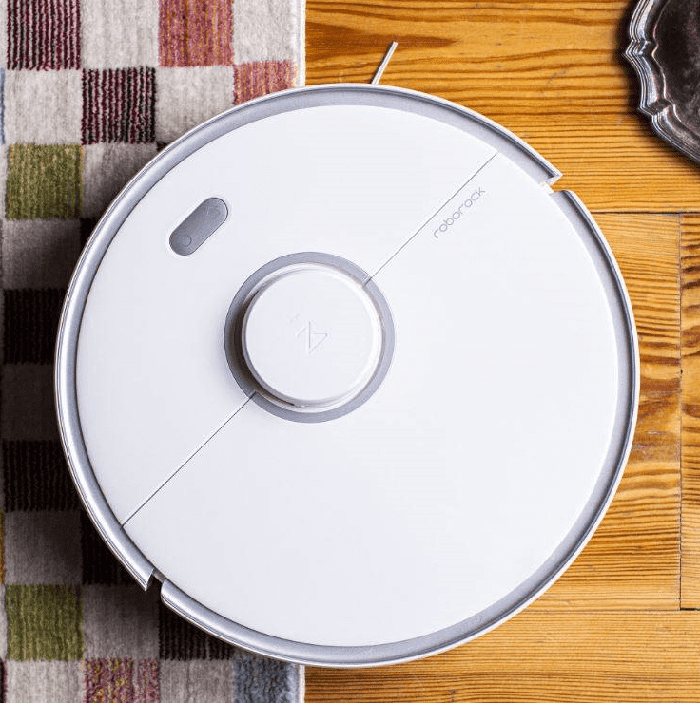 roborock S5 MAX Robot Vacuum and Mop Cleaner, Self-Charging Robotic Vacuum, Lidar Navigation, Selective Room Cleaning, No-mop Zones, 2000Pa Powerful Suction, 180mins Runtime, Works with Alexa
Customizable Mopping: Set the right water flow, even your preferred water flow for each room in your home, to get exactly the cleaning intensity you want.
Effective Cleaning Every Time: Precision LiDAR navigation combined with adaptive route algorithms ensure your floor is cleaned thoroughly and efficiently every single time.
Serious Cleaning Power: Maximum suction power of 2000Pa suction easily lifts dirt from floors, and Carpet Boost ensures every carpet gets max power. 180 minutes of non-stop cleaning can cover large homes in one single clean.
Precision Mapping: Save up to 4-levels of maps, including individual rooms, No-Go Zones, No-Mop Zones, and Invisible Walls for total control of where and when your robot cleans.
App and Voice Control: Control every element of your robot wherever you are from the Roborock app. Start and stop cleanups and more with the power of your voice with Amazon Alexa support.
Pros
Large water reservoir

Adaptive route algorithm

Many advanced features
Cons
>> Read Customer Reviews: Here <<
The Bottom Line
It is clear which one wins between the Roborock S5 Vs S5 Max. Since the S5 Max is an updated version, it offers a more excellent cleaning performance with many advanced features. But if you only want to save money, a basic robot vacuum cleaner such as the original S5 is fine. It does a great job at vacuuming.
Thank you for reading.
The Related Article
Comparison Articles