Roborock S6 MAxV vs S5 Max cleaners are two robot vacuums that gain great favors from worldwide customers. With excellent navigation and mopping features, I believe these models will be the most suitable for different houses' types.
After careful consideration, I've come to the conclusion that the Roborock S6 MaxV outshines its competitor. Do you want to know why? Let's have a look at the comparison table below!
Image
Best for
Best price for the quality
Dimensions
13.78 x 13.78 x 3.8 inches
Image
Best for
Best price for the quality
Image
Dimensions
13.78 x 13.78 x 3.8 inches
Roborock S6 MaxV vs S5 Max: Why Is Roborock S6 MaxV Better Than S5 Max? 
Design
The design of the S6 MaxV and S5 Max robots is traditionally minimalistic and functional for the manufacturer. Both include a lidar turret on the lid's top, side gears, and a side brush with two arms peep out. Their material is practical matte plastic, on which dust accumulations are invisible. 
While the dimensions of Roborock S6 MaxV are classic with 13.8 in diameter and 4.3 inches in height, its competitor offers a more compact and lower size. Despite having the turret mounted on top, its height has only 3.8 inches. It is easier for a miniature vacuum cleaner like S5 Max robots to crawl under furniture and clean up the rooms' darkest corners. 
Roborock S6 MaxV also offers a smaller weight. Despite the large number of built-in electronics, it tips the scale of 5 pounds only, while its competitor is 2.7 pounds heavier.
As for the Roborock S5 Max, there are two buttons on the top panel of the body: returning to the dock and on/off modes. The S6 MaxV provides the same button controls and one additional setting for spot cleaning. However, you most likely will not have to use them since you can control the device through a mobile application.
Roborock S5 Max vs S6 MaxV robots' construction has little to no difference, and there is no advantage design in any of the two. Therefore, this round will be considered as a tie.
Suction Power
I have only one piece of advice. Get the Roborock S6 MaxV immediately, or you will regret it!
We all love a robust engine like Roomba S9 that can suck every debris and stubborn dirt on the ground. Roborock S6 MaxV cleaners luckily come with the same 2500 Pa level of suction like the notable iRobot Roomba. It can easily lift heavy debris off from hardwood floors and dredge them up from deep inside the carpet fibers.
The S5 Max robots, with a slightly weaker engine, offer a 2000 Pa suction power. This number is not small since it can even lift an AAA battery. Still, it's weaker in comparison with the powerful suction of its competitor.
Cleaning Performance 
The quality of S5 Max cleaning has pleasantly surprised me. If you ignore the noise, this robot with 460 ml dustbin capacity almost rips the parquet from the floor, not to mention dust and debris. 
When talking about navigation features, the Roborock S5 Max is the only machine that corrects its path depending on the room's size and obstacles' location. In addition, it can store up to 4 unique room maps in memory.
You may already know that wet cleaning has always been a weak point of robotic vacuum cleaners. But worry not; this Roborock S5 Max is indeed performing excellent mopping function. They offer a larger water tank capacity of 280 ml, which will remove 2100 square feet of room at 1500rpm. It does not leak water but adjust the liquid amount based on the type of floors it's passing through.   
What about the Roborock S6 MaxV vacuum cleaners? The vacuuming performance is quite impressive and outstanding. It has a mopping feature with a larger built-in tank of 297 ml, but their wet cleaning is not efficient as the S5 Max's.
In return, the machine is suitable for vacuuming multi-story buildings with a total area of ​​up to 2150 sq feet. If you want to limit the cleaning area, the feature for no-mop or no-go zones can be adjusted in the mobile app.
So which one to choose for the cleaning ability? I would go for the S6 MaxV model. I noticed that the Roborock S6 MaxV cleans up better around the chairs' legs and also collects debris closer to the dock base. It shows a slightly better quality of dry cleaning than the S5 Max.
Battery Life
Thanks to the advanced technology, users won't have to charge the device manually. They can simply command the action through a smartphone app. If you're looking for a vacuum cleaner, you should consider its runtimes more than the charging time. 
Why? Because frequently charging will damage the machines in the long run. Instead of going for a one that charges fast, go for the gadget that lasts long. And without disappointing their customers, the Roborock S5 Max vs S6 MaxV can last up to 180 minutes of continuous use.
While the S6 MaxV requires only 2-2.5 hours for charging, the 5200 mAh battery of the S5 Max takes longer to move from 0% to 100%.  I believe all of us love the machine that has longer runtimes and less charging duration. Therefore, the Roborock S6 MaxV is the winner for this round.
Noise
When talking about the quiet vacuum cleaners, I highly recommend the machine S6 MaxV robots. 
Even though the noise factor depends on many external and internal elements, the maximum sound the S6 MaxV model makes is 58 decibels. The noise-absorbing material that Roborock company equip for the machine has thoroughly soaked up the sound.
In contrast, the S5 Max's noise ranges between 60-65 decibels, proving it has less efficient soundproofing material. To be honest, this sound level is not very noisy. Comparing to other market models, the S5 Max robots can be considered as quiet vacuum engines.
Quick Rundown of Roborock Robot Vacuum Cleaner S6 MaxV
Sale
Roborock S6 MaxV Robot Vacuum Cleaner with ReactiveAI and Intelligent Mopping, No-mop Zones, Lidar Navigation, 2500Pa Strong Suction, Multi-Level Mapping, Robotic Vacuum and Mop
ReactiveAI: Powered by twin cameras, ReactiveAI allows MaxV to recognize and avoid everyday objects and unknown obstacles*. S6 MaxV is "Easily the smartest robot vac ever made" by T3.
25% More Suction and Genius Level Mopping: A maximum suction power of 2500Pa** means deeper cleaning and click in the 297ml SnapMop system to unlock a suite of advanced mopping features.
Precision Navigation: LiDAR navigation and advanced algorithms enable accurate navigation and automatic room recognition.
App and Voice Control: Set schedules, clean specific rooms, set water flow, and more from an app. Start cleanups, change modes, and more with Alexa, Siri or Google Home.
Advanced Route Management: Multi-level mapping systems support up to four floors, with up to 10 No-Go Zones, 10 No-Mop Zones, and 10 Invisible Barriers on each level.
Pros:
Short charging time

Quiet engine

Large electric water tank

2500 Pa suction power
Con:
Does not avoid carpets in mop zones
>> Read Customer Reviews: Here <<
Quick Rundown of Roborock Robot Vacuum Cleaner S5 Max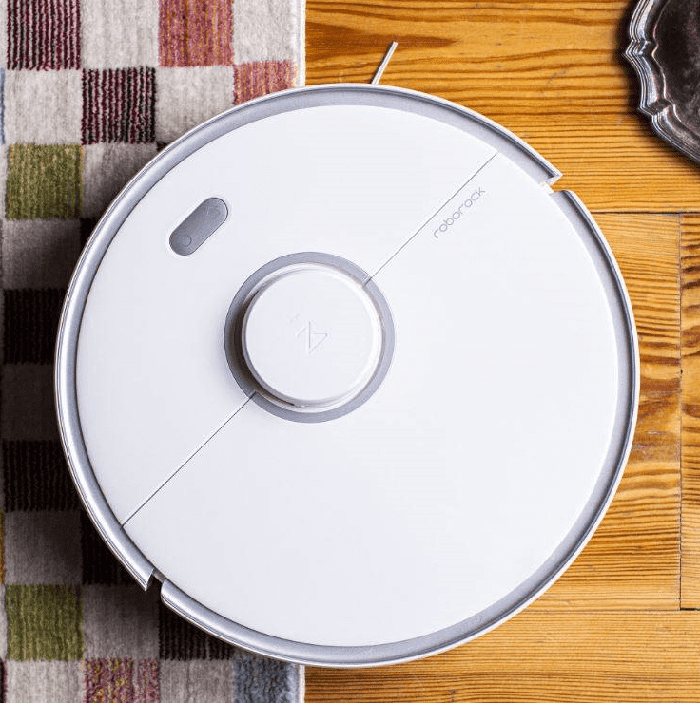 Sale
Pros:
Premium mopping capabilities

Efficient navigation and mapping

Effective hardwood cleaning
Con:
>> Read Customer Reviews: Here <<
Conclusion
That's the detailed comparisons of Roborock S6 MaxV vs S5 Max vacuum cleaners; what should we say at the end? n.
If I were you, I would choose the Roborock S6 MaxV cleaners. It is a powerful robot vacuum cleaner with more advanced cleaning and suction power. But if you want to have a robot with a better navigation system, the S5 Max might be an option for consideration.
Hot Topics You May Love: