Nowadays, Roborock vacuum cleaner is one of the most welcomed iRobot device brands in the market that can turn vacuuming and mopping work into such joyful activities. Among all of its notable products, Roborock S6 vs S5 Max are the two latest and greatest offerings.
These 2-in-1 robot vacuums provide users with other advanced functions and enable precise water management for the mopping features. Apart from that, they both come with multiple floor mapping, powerful suction engine, Alexa and Google Assistant voice control, and especially – automatic carpet sensation.
Before getting immersed in the article, I've prepared this table of comparison for a quick information grasp. Let's have a look!
Image
Dimensions
13.78 x 13.78 x 3.80 inches
Image
Image
Dimensions
13.78 x 13.78 x 3.80 inches
Comparison between Roborock S6 vs S5 Max
Design
No more high-end and expensive D-shaped vacuum cleaner, Roborock S5 Max vs S6 powerful vacuums are the two standard circular cleaner machines that are easy to use.
Both models look quite the same, with a turret mounted on top to navigate and a black matte finish as the primary color. While the Roborock S6 adds a little sleek silhouette touch in design by coating the turret a silver shade, the S5 Max device still sticks to the original black color. 
You might think these turrets will add up the machine's heights; thus, prevent them from sliding under narrow paths between the floor and house' furniture. But worry not! They both share the same dimensions of 13.78 x 13.78 x 3.80 inches, which can make unreachable floors spotless easier than ever! Instead of adding height to the machines, the turrets with a spinning sensor and 14 types of sensors will help you clean your house smoothly and effectively.
Roborock S6 vs S5 Max tip the scales at 7.9 pounds and 7.7 pounds, respectively. They are portable enough to be carried around but keep in mind that these are the weights without a filled water tank. As you all know, both robot vacuums come with mopping features, and their capacities are quite large. It's 180 ml for an S6 vacuum cleaner and 290 ml for S5 Max.
The design of the vacuum cleaner's top is quite simple – only a power and a reset button are presented. Whenever these roborock vacuums are activated, these buttons will shine with LED lights, and you can based on color to determine its current state.
In terms of construction, both machines have many identical points. However, I will offer one point to Roborock S6 for the smooth cut in design and the silver turret touch. It also gains my favor more than the black matte of S5 Max.
Suction Power
While not having the highest suction engine, both vacuum cleaners give us an impressive and outstanding performance with 2000 Pa suction power. With this level of perfection, any of these two can easily lift heavy dirt (weighs as much as an AAA battery) off from hardwood floors and dredge it up from deep inside the carpet fibers.
Apart from that, all Roborock robot vacuum cleaners are designed with an automatic carpet boost feature, which can adjust the suction power based on the type of floor. The achievable height for two devices to climb up is 0.8 inches. With this setting, both models of Roborock won't miss any objects when their scales are in the possible range.
Since both Roborock devices can perform well with a 2000 Pa level of suction, this round is a tie.
Cleaning Performance 
Putting both machines to the vacuuming and mopping tests, we find out that S5 Max is more suitable for houses with hardwood while S6 is more to the carpet side. Both present excellent cleaning capability, here is the result.
As for the vacuuming, the 460ml of S5 Max dust bin can clean non-stop for a room of 3230 square feet, while its counterpart's cleaning area is limited to 2600 square feet. These numbers are quite remarkable, though I would expect more from the 480 ml dustbin of Roborock S6.
When it comes to vacuum coffee on the ground, the S6 and S5 Max pick up 99.2% and 100%, respectively. The S5 Max excelled on hardwood to pick any type of dirt such as litter or pet hair with 100%. So that you know, the average of other robot vacuum cleaners is only 86%.
However, the S5 Max struggles more on the low pile carpet. It cleans 82.5% of mixed debris, while Roborock S6's result is a full score of 100%.
As for the mopping feature, the cleaning area of both vacuum cleaners is 1610 square feet for S6 and 2600 square feet for the S5 Max model. The mopping capability of the S5 Max even surpasses the top-of-the-line Roborock S6. It presses out more water volumes and picks up more ground in dirt.
Though both Roborock vacuum cleaners allow users to control the water dampness on the floor, the S5 Max model handles moping features better than Roborock S6. The microfiber mopping cloth of S5 Max also picks more dust on the ground and sometimes even enough pressure to remove some stain.
All of this might be due to the water tank capacity I've mentioned above. The water tank of S5 is 1.6 times larger than its competitor's capacity. But what about their battery lives?
Battery Life
Thank goodness you won't have to charge frequently like a Roomba i7 smart vacuum cleaner does when their running times are up to 3 hours. However, S5 Max has one disadvantage in charging time. After continuous use, the 5200 mAh Lithium-ion of S5 will take up to 3-4 hours to charge completely.
On the flip side, with the same battery life and material, S6 needs 150 minutes (2.5 hours) after it's drained.
Since these advanced robot vacuum cleaners' draining time is the same, I will use the charging time to determine the winner for this round. It takes too long for an S5 to refill. So, the winner is our iconic Roborock S6!
Noise
Noise depends on many factors such as suction power, floor type or dirt, etc. But overall, the two models' noise ranges are the same, which is between 60-65 decibels.
Keep in mind that this is just based on estimation since I sometimes experience loud noise of up to 67 decibels. Even for that, the two robot vacuum cleaners are equipped with noise control that makes them extra quiet for users.
It's a tie (again) for this round. But look, the final ratio is..!
Quick Rundown of Roborock Robot Vacuum Cleaner S6
Sale
roborock S6 Robot Vacuum, Robotic Vacuum Cleaner and Mop with Adaptive Routing,Multi-Floor Mapping, Selective Room Cleaning, Super Strong Suction, and Extra Long Battery Life, Works with Alexa(Black)
Astonishingly efficient: Using adaptive routing with edge optimized cleaning, S6 gives you comprehensive room cleaning fast.
Multi-floor Mapping: Save multiple maps, along with No-go Zones for each level, all recognized automatically by the robot.
Convenient Selective Room Cleaning: Choose which rooms to be clean, and schedule cleaning for specific rooms.
Powerful clean and Easy mopping:Intense suction, cleans deep into carpets and cracks in the floor. Get your floors gleaming with a quick mop.
Quiet and convenient: With a cleaning volume of just 67db (equivalent to a typical conversation) in Balanced mode, you can clean any time day or night without disruption.
Pros:
5200 mAh battery capacity

2000 Pa suction power

Short charging time
Cons:
Standard round shape

Water tank often gets leaked
>> Read Customer Reviews: Here <<
Quick Rundown of Roborock Robot Vacuum Cleaner S5 Max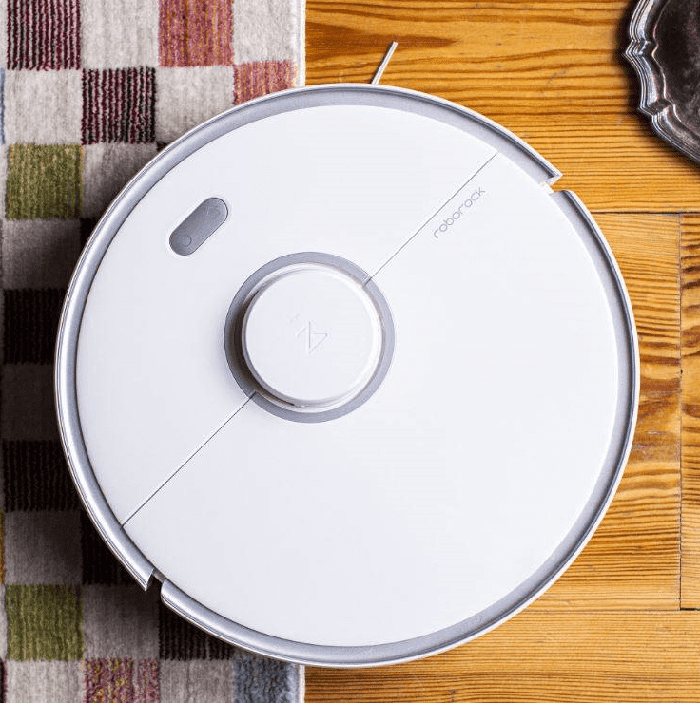 Roborock S5 MAX Robot Vacuum and Mop Cleaner, Self-Charging Robotic Vacuum, Lidar Navigation, Selective Room Cleaning, No-mop Zones, 2000Pa Powerful Suction, 180mins Runtime, Works with Alexa
Customizable Mopping: Set the right water flow, even your preferred water flow for each room in your home, to get exactly the cleaning intensity you want.
Effective Cleaning Every Time: Precision LiDAR navigation combined with adaptive route algorithms ensure your floor is cleaned thoroughly and efficiently every single time.
Serious Cleaning Power: Maximum suction power of 2000Pa suction easily lifts dirt from floors, and Carpet Boost ensures every carpet gets max power. 180 minutes of non-stop cleaning can cover large homes in one single clean.
Precision Mapping: Save up to 4-levels of maps, including individual rooms, No-Go Zones, No-Mop Zones, and Invisible Walls for total control of where and when your robot cleans.
App and Voice Control: Control every element of your robot wherever you are from the Roborock app. Start and stop cleanups and more with the power of your voice with Amazon Alexa support.
Pros:
Efficient mopping mode

Wi-Fi connection and voice control

Effective hardwood cleaning
Con:
>> Read Customer Reviews: Here <<
Conclusion
Choosing a robotic vacuum cleaner is not easy at all for those who haven't owned one before. Especially when standing between these two Roborock S6 vs S5 Max, the decision seems more challenging than ever.
But you know what? Based on my evaluation, the ratio for this battle is 3:2 for Roborock S6. Even though the Roborock S5 Max has many attractive features for mopping and water output settings, I will still go for the iconic S6 for its efficient battery charging, design, and excellent cleaning on high pile carpets.
"
"
Hot Topics You May Love: