Looking for a comparison between Vitamix 5300 Vs E310?
You have landed on the right page.
In this article, you can see how the two blenders differ from each other in three aspects, namely design, capacity, and features. Also, I give advice on which one you should buy at the end, so make sure you read it.
Without further ado, let's get started.
Differences Between Vitamix 5300 Vs E310
Design and Convenience
The designs of Vitamix blenders are quite simple, which make it easy to operate, especially with beginners. The Vitamix 5300 and E310 are no exception. Looking from outside, they consist of a motor base, a container, and a control panel at the front. I love that the E310's panel is larger and more ergonomically designed with big buttons. You may find it more convenient to navigate and adjust compared to working with the Explorian 
The specifications of Vitamix 5300 Vs E310 are quite alike. To be specific, the 5300 measures at 17.25 x 8.75 x 7.25 inches and weighs 11.95 lbs. The E310 option is a bit more lightweight, about 10.5 lbs. Its dimensions are 11 x 8 x 18 inches respectively.
You may be disappointed to find out that the 5300 is only available in black. Meanwhile, its competitor has two versions of black and red. The E310 is a great choice for those who want to spice up the kitchen with bright colors.
The Vitamix E310 earns a point in this round due to its ergonomic control panel.
Capacity
The 5300 takes the win in this section with its 64 oz pitcher, as opposed to the 48 oz capacity the Vitamix E310 offers. If you often prepare food for many people, you may want to opt for the 5300 unit.
Capacity aside, both pitchers are of excellent quality. They have low profile designs with a wide base coupled with a short body, which fits snugly under your kitchen cabinets.
Scroll down to know the results of the last round. You may be surprised!
Features and Accessories
The motor is an important component that determines the efficiency of a certain blender. And the 5300 continues to win due to its powerful 2.2 HP motor. Its competitor has a slightly inferior motor, which runs at 2 HP maximum. Not only the motor but also the housing of the 5300 is greatly improved. Its housing keeps the machine cool during operation, as well as reduces the noise level. Thus, the Vitamix 5300 is able to run for a long time without overheating and makes little noise.
Nonetheless, it is not to say that the E310 boasts a low-quality motor and housing. All Vitamix blenders are built to last with powerful motors. The 5300's motor is just a bit more sophisticated.
With hardened stainless steel blades, both products can finely chop and blend any ingredients, whether they are soft or hard. Feel free to make the recipes you want, from smoothies, desserts, dough, batter, baby food, dips and spread, to nut butter and many more. You can even make hot soup without a stove once you own a Vitamix blender.
I love that the 5300 comes with an extended 6 ft cord length, which is 2.5 ft longer than that of E310. If you have few power outlets in your kitchen, you should choose the 5300.
Like all Vitamix blenders, these two blenders offer several speed levels from 1 to 10, which are suitable for different ingredients. You can set the speed via turning the knob at the control panel. On top of that, there is a pulse feature to activate the fast chopping action of the blade. This will save time when you need to prepare food quickly.
If you buy either 5300 or E310, there is no need to worry about maintenance. Both blenders are designed with self-cleaning programs that make cleaning a breeze. Simply fill the container with water and dish soap, let the machine run at the lowest speed, and rinse it again manually with warm water. That is really convenient.
To further improve your satisfaction with the 5300, Vitamix backed it with a full 7-year warranty. Meanwhile, you get a 5-year warranty when you buy the E310. 
Of course, if you want your blenders to last long, make sure you take good care of it.
When unboxing the package of Vitamix blenders, you will get a motor base, a pitcher, a tamper, a cookbook, and a manual guide. Check the guide carefully before you start blending the ingredients with the products.
Quick Rundown of Vitamix 5300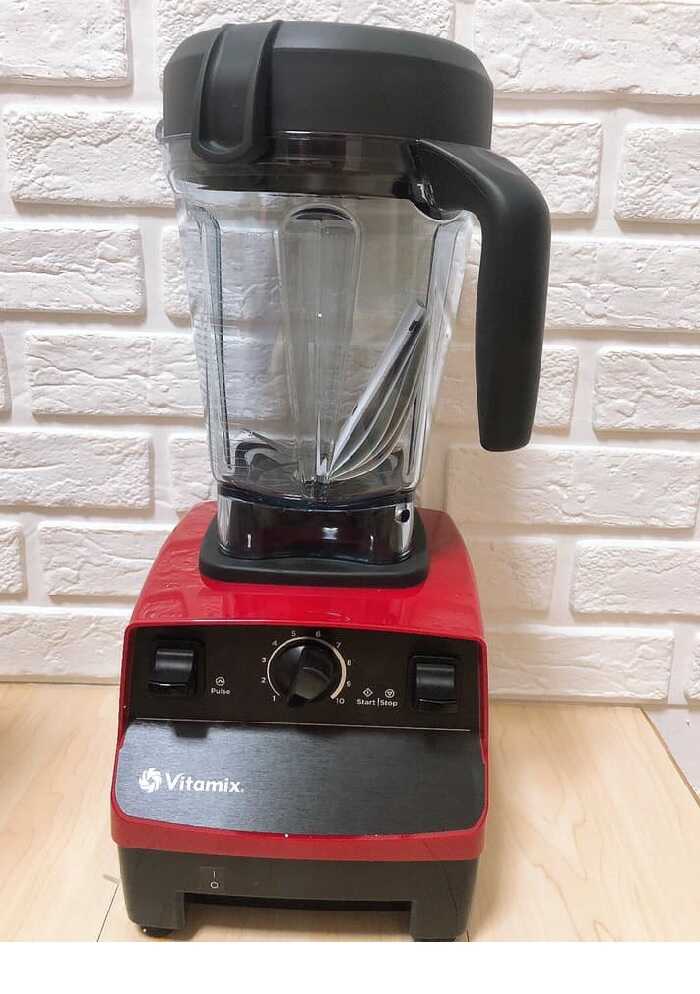 Pros
Minimal yet sleek overall design

Large 64 oz pitcher

Extended 6.4 ft cord length
Cons
>> Read Customer Reviews: Here <<
Quick Rundown of Vitamix E310
Pros
Ergonomically designed control panel

Self-cleaning program

Red and black colors
Cons
>> Read Customer Reviews: Here <<
Frequently Asked Questions
Q: Can I extend the warranty period of the Vitamix E310?
A: The answer is yes. You can always extend the warranty for 3 years by paying an extra amount of money.
Q: Is it possible to use the 64 oz container with the Vitamix E310?
A: The 64 oz container is compatible with the E310, so it is possible.
Q: Can I use the 5300 blender to grind coffee beans?
A: As said above, the Vitamix 5300 blender comes with hardened stainless steel blades that can grind any tough ingredients. So of course, it can grind coffee beans finely.
The Bottom Line
Now do you find it easy to choose between Vitamix 5300 Vs E310? Everything is clear. The 5300 is the ultimate winner with a large 64 oz container as well as a powerful motor. But if you do not mind the small container, you can opt for the E310 to save a few bucks.
Check out my comparison of Vitamix E320 Vs E310 right here. Thank you!
Hot Topics You May Love: