Both Vitamix 5300 Vs E320 are best-selling blenders from the famous brand Vitamix. They are on the same level of performance, so many people have no idea what to pick.
No worries; I got your back. I will point out the main differences that set the E320 and 5300 blenders apart, from which you can figure out the more suitable one for your needs.
Read on.
Image
Dimension
8.75 x 7.25 x 17.25 inches
Color
White, stainless steel, platinum, red
Image
Dimension
8.75 x 7.25 x 17.25 inches
Color
White, stainless steel, platinum, red
Image
Differences Between Vitamix 5300 Vs E320
Design and Convenience
Both blenders have a simple yet sleek design that consists of a solid motor base, a low-profile pitcher, and a control panel at the front. I love the E320's panel since it is more ergonomically designed with a wide panel and large buttons. Trust me, you will find it more convenient to operate the E320 compared to the 5300.
How about the dimensions?
The Vitamix E320 measures at 11 x 8 x 18 inches while weighing 13 pounds. Meanwhile, its competitor has a dimension of 8.75 x 7.25 x 17.25 inches along with a weight of 12 pounds. You can see that there are few differences in the specifications between Vitamix E320 Vs 5300.
It is a pity that the two blenders are available in only two basic colors of black and red. I prefer to have more options such as white and slate.
Speaking of the winner, it should be the Vitamix E320  due to its ergonomic control panel.
Capacity
The Vitamix 5300 Vs E320 both have a capacity of 64 oz, which is enough to blend a large amount of ingredients at a time.
While both pitchers have the same capacity, their designs are slightly different. To be specific, the 5300's container is wider and shorter, making it easy to house the blades and ingredients. Also, you will find it easy to store it under the kitchen cabinets. Meanwhile, the pitcher of the Vitamix E320 measures 18 inches high, which is a bit hard to store given standard cabinets. Make sure you check the dimensions carefully before making the final decision.
Once again, the 5300 takes the win against the E320. What about the last round?
Scroll down to know.
Features and Accessories
The main difference is in the motor of each blending machine. The Vitamix E320 is equipped with an Explorian motor, while that of 5300 is next-gen. Although both motors run at 2.2 HP maximum, the next-gen makes 40% less noise compared to the Explorian series. The quiet motor is a handy feature, especially if there are little kids in your family.
Next on the list are the blades. The Vitamix E320 comes with a 3-inch stainless steel blade, while its competitor has a 4-inch. Typically, the 4-inch blade is sharper than the 3-inch. In other words, the E320 can crush and blend ingredients more efficiently compared to the 5300.
Such sturdy blades allow the blenders to make smoothies and dessert from any tough ingredients. You can even make hot soup from any veggies you like without a stove. Other foods and drinks that people often blend include dough, batter, baby food, dips and spreads, nut butter, and many more.
The cord length is the last factor I look into, and Vitamix 5300 has an edge here. It boasts a 6 ft cord, which is 2.5 ft longer than that of E320. If you have few power outlets around the kitchen, you may want to choose the 5300 model.
That is all about differences. Now I will go through the similar features so that you have a thorough understanding of both products.
To prevent heating issues, Vitamix equipped two devices with a protection system, including thermal sensors and cooling fans. Such a system keeps the blenders cool and automatically shuts off when they run too hot.
Like all Vitamix blenders, these two come with variable speed levels ranging from the lowest 1 to the highest 10. You can set the suitable speed by turning the knob on the control panel at the front. In addition, the pulse feature comes in handy when you are pressed for time as it activates the fast chopping action of the blades.
Unfortunately, neither blenders offer preset buttons as the Vitamix Ascent 3500 and 2500 do.
Regarding maintenance, the two blenders are equipped with self-cleaning programs. Simply fill the container with water and dish soap, let the blades run at speed 1 for a couple of minutes, and you are good to go. Do not forget to rinse them again with warm water and a sponge. Easy, right?
Backed with the same 7-year warranty, the two blenders promise to give you an efficient and long-lasting service. With proper care and maintenance, they can even last longer than the warranty cycle.
What is in the package of each product?
When unboxing the Vitamix blenders, you can see a motor base, a low-profile container, a low-profile tamper, a cookbook, as well as a user guide. Make sure you read the manual carefully before you start using the blender.
Quick Rundown of Vitamix 5300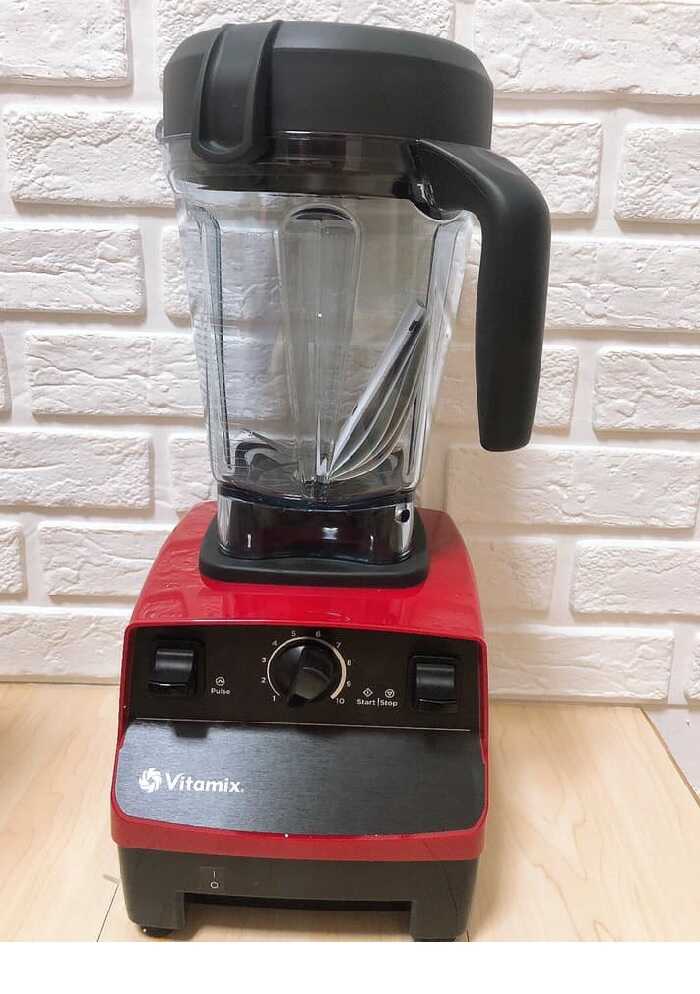 Sale
Vitamix 5300 Blender, Black
2.3 HP motor: 120 Voltage: 50/60 Hz: 11.5 Amps:
The Vitamix 5300 offers power and convenience, with a faster, yet quieter, motor and a low-profile, 64-ounce Low-Profile container that fits easily under most cabinets.. Great High-Performance Motor-The powerful 2.3 HP motor propels blades through tough ingredients to create the highest-quality blends
Dimensions: 17.25 x 8.75 x 7.25 in. 7-Year Full Warranty
Pros
Sleek and stylish overall design

Low-profile pitcher

4-inch razor-sharp steel blades
Cons
>> Read Customer Reviews: Here <<
Quick Rundown of Vitamix E320
Sale
Vitamix E320 Explorian Blender Black, 64 oz
E320 Machine with 2.2 Peak HP Motor
64 oz Low Profile BPA-Free Tritan Container
10 Variable Speeds + Pulse Feature
7 Year Warranty
Included components: Motor base Low-Profile 64 oz BPA-Free container Cookbook Owner's Manual
Pros
Ergonomically designed control panel

Powerful 2.2 HP motor

Variable speed and pulse feature
Cons
>> Read Customer Reviews: Here <<
The Bottom Line
My comparison of Vitamix 5300 Vs E320 has come to an end. The winner is not so obvious as each blender has its own strengths. For example, the E320 appeals to customers with an ergonomic control panel Meanwhile, its competitor wins due to the low-profile pitcher coupled with sharp 4-inch blades. What to pick is entirely up to you.
Want to compare the Vitamix 5300 Vs E320? I have also written an article about these two blenders. You can read it here.
Thank you for reading until the end.
The Related Article
Comparison Articles