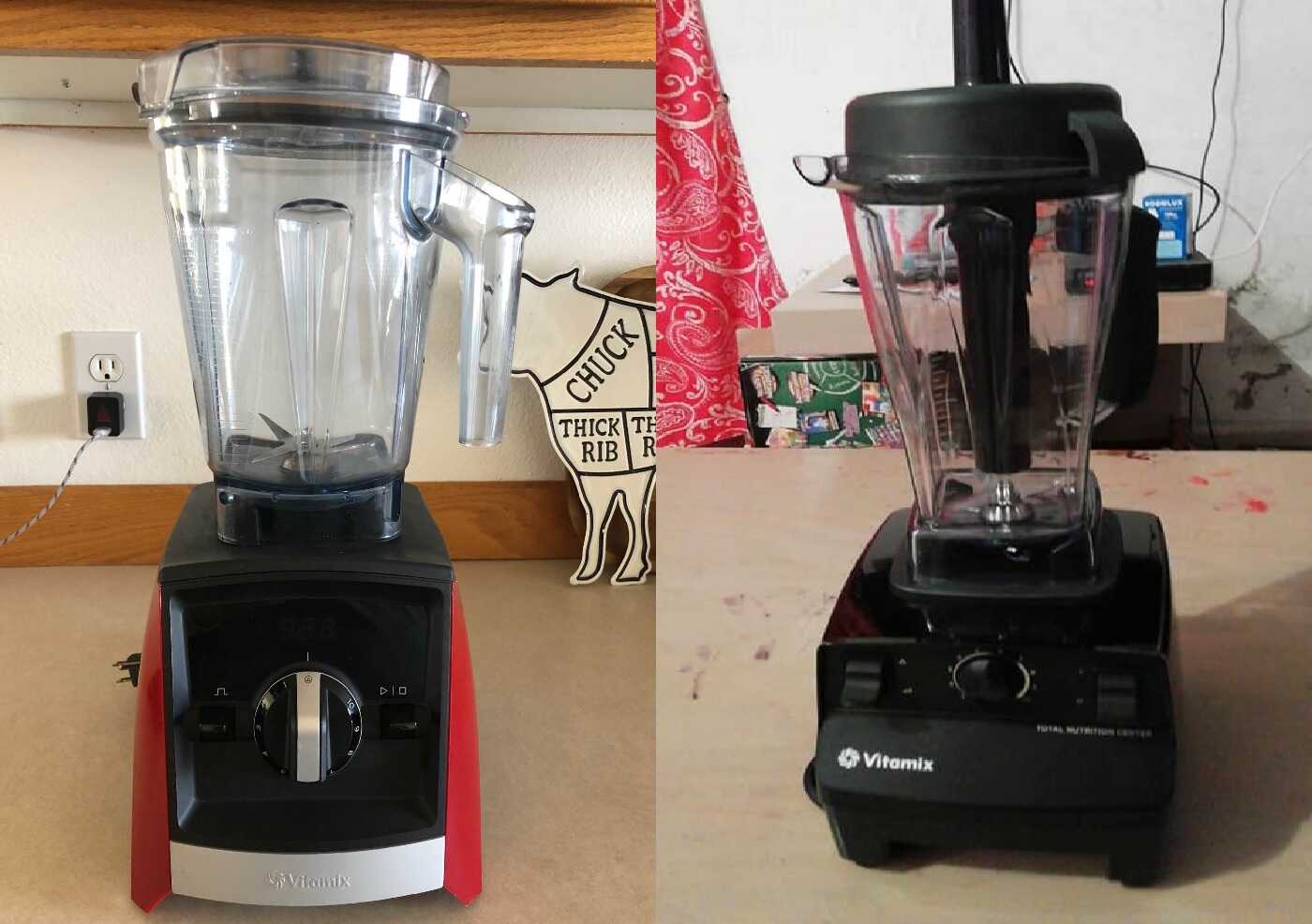 Despite coming from different series, the Vitamix A2300 Vs V1200 are on the same level of power and performance. That is why they are often compared to each other.
Are you wondering which one deserves to win?
The answer depends on many factors. Read on to know what they are.
Image
Color
Black, red, white, and slate
Black, red, white, and slate
Image
Color
Black, red, white, and slate
Image
Color
Black, red, white, and slate
Differences Between Vitamix A2300 Vs V1200
Design and Convenience
The Venturist 1200 is somewhat similar to the Vitamix G-series models rather than Ascent blenders. To be specific, you can see that the V1200 comes with bigger and bolder knobs and switches than those of A2300. Also, it lacks the stainless steel plate on the front and the distinctive curved bevel found on both sides of Ascent products. Perhaps the only thing Vitamix A2300 Vs V1200 have in common is the shape of the control panel.
If you want something more sleek and attractive, my advice is to choose the Vitamix A2300.
How about the dimensions?
The V1200 measures at 10.5 x 8 x 17 inches while weighing about 12 pounds. Meanwhile, its competitor requires a countertop space of 11 x 8 x 17 inches with the same weight of 12 pounds. There are not many differences in the dimensions as in the overall design.
Capacity
Like all the Ascent devices, the Venturist 1200 includes the smart containers that can communicate with the motor base thanks to the SELF DETECT technology. Such a smart system allows the machine to adjust the speed level automatically. You do not need to set the speed manually as you have to with older Vitamix blenders.
The A2300 and V1200 bundle consists of the same 64 oz containers. Sometimes you also get an 8 oz blending bowl as well as a 20-ounce blending cup when buying the Venturist. But in my opinion, these add-ons are the least useful amongst available Vitamix blenders. If you want to buy one more container for versatility, I would highly recommend the 48 oz jar.
Features and Accessories
Both Vitamix V1200 and A2300 run on a 2.2-peak HP motor, but what sets them apart is the sound dampening technology. Without a container, the Venturist motor produces around 84 dbA while its competitor generates a sound of 78 dbA only. But when you attach the containers and blend the ingredients, the difference may be minor.
The biggest difference between Vitamix V1200 Vs A2300 lies in the digital timer.
The V1200 comes with a digital timer display that can be programmed to count down and count up as you want. On the other hand, the Ascent 2300 timer is designed to count up only. Of course, having a programmable digital timer offers more convenience. Thus, the Venturist 1200 earns a point in this round.
That is all about differences. Other features are the classic that all Vitamix blenders are well-known for.
For example, the two products offer 10 speed levels so that you can make smooth blends with different ingredients. You can set the speed manually by turning the dial on the control panel. In addition, there is the Pulse function to enable quick chopping action, which allows the machine to blend the recipe more quickly and effectively.
All Smart System blenders are backed with a full 10-year warranty; the A2300 and V1200 are no exception. You can have peace of mind when buying either of them.
Quick Rundown of Vitamix A2300
Sale
Vitamix A2300 Ascent Series Smart Blender, Professional-Grade, 64 oz. Low-Profile Container, Black
You're in Control: Variable Speed Control and Pulse feature let you manually fine-tune the texture of any recipe
Built-In Wireless Connectivity: The motor base will automatically adjust the maximum blending times for the container size you've chosen. Add a range of compatible container sizes, building a customized blending system designed to fit your needs.
Pair with the Vitamix Perfect Blend AppUnlock your blender's full potential with 17 programs and 500+ recipes with the iOS + Android app. Electrical Ratings: 120 Volts, 50-60 Hz, 12 Amps
A built-in digital timer removes the guesswork with recipes you process manually, helping you achieve the perfect texture every time. Cord- 4 feet
Low-Profile 64-ounce Container: Perfect for family meals and entertaining, while fitting comfortably under most kitchen cabinets.
Pros
Sleek and stylish overall design

64 oz smart container

10-year warranty
Cons
>> Read Customer Reviews: Here <<
Quick Rundown of Vitamix V1200
Vitamix Venturist V1200, Professional-Grade, 64 oz. Container, Black (Renewed)
Features: explore how easy it is to make healthy, whole-food recipes At home. From appetizers to dessert, The 64-ounce container is ideal for blending medium to large batches for family meals or entertaining.
You're in control: The variable speed control lets you fine-tune every texture—from smooth purées to Chunky salsas everything in between.
Pulse feature: with the pulse feature, layer coarse chops over smooth purées for heartier recipes, such as Chunky pasta sauce or Thick vegetable soups.
Built-in wireless connectivity: The motor base will automatically adjust the maximum blending times for the container Size you've chosen.
Digital timer: a built-in digital timer helps you avoid over-processing your blends, so you can achieve the perfect texture every time.
Pros
Big and bold dials and switches

Programmable digital timer

64 oz smart container
Cons
>> Read Customer Reviews: Here <<
The Bottom Line
The Vitamix A2300 Vs V1200 still have much in common although they come from different series. I got some advice for those who are feeling confused between them. If you want a sleek and stylish blender, go for the Ascent model. In case you need a programmable timer and do not mind the look, I recommend the V1200. 
Thank you for reading. Make sure you check out my latest post about Vitamix 7500 Vs Ascent A2500 right here.
Hot Topics You May Love: