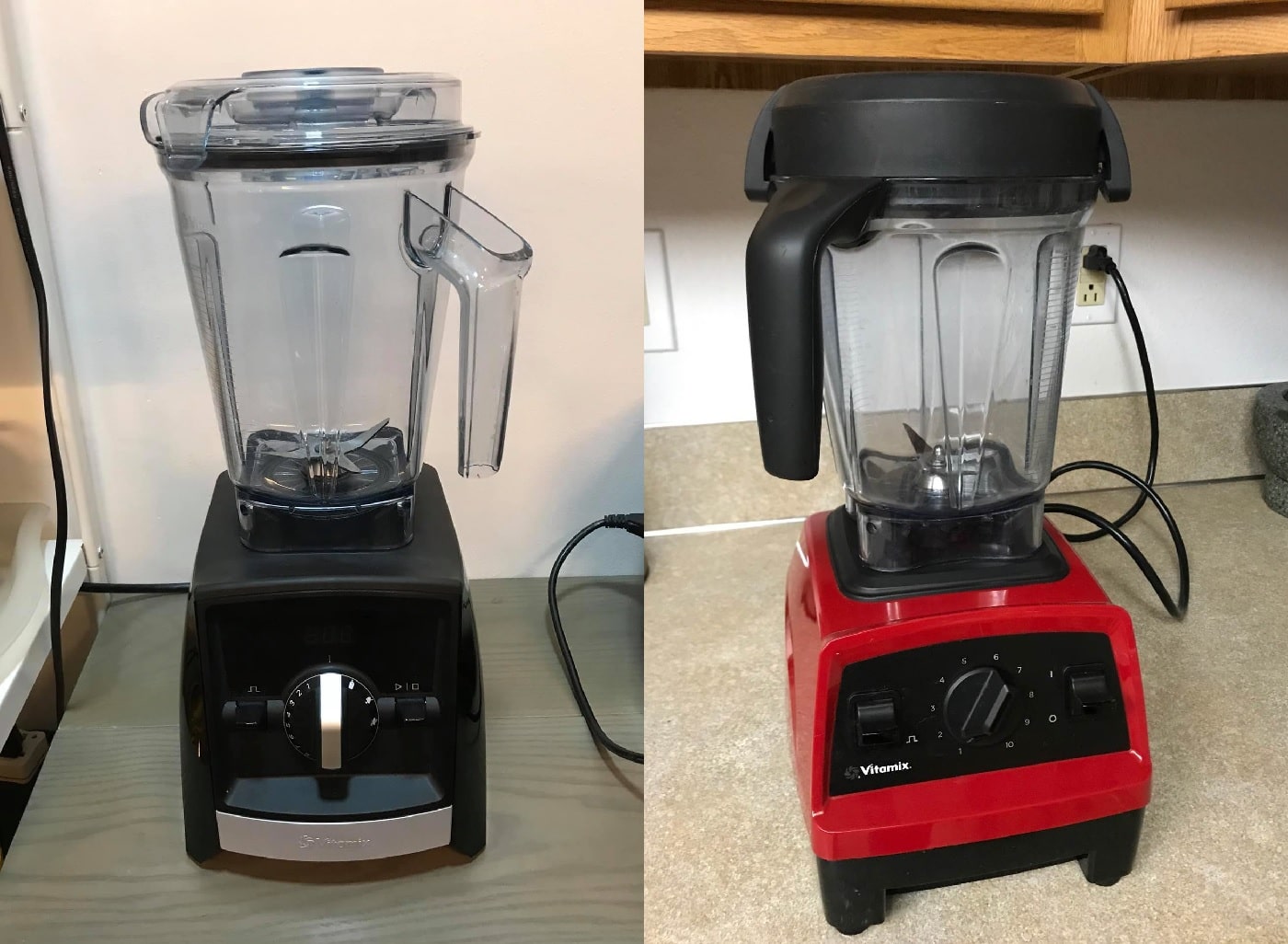 Actually, Vitamix A2500 Vs Explorian are not difficult to choose between. The two series target different segments of customers, so once you know your needs well, you can pick your fighter effortlessly.
In short, the Ascent blenders are meant for demanding users who want extra convenience, while the Explorian series suit entry level best.
Read on for more details.
Image
Color
Black, red, white, and slate
Image
Color
Black, red, white, and slate
Differences Between Vitamix A2500 Vs Explorian
Design and Convenience
If you may not know, the Explorian series consist of two models, namely E310 and E320.
Design-wise, the two blenders are quite different from each other. The Explorian motor base is in an all-black scheme, while the A2500 boasts gray details that add sleekness to the whole thing.
On the control panel, you can see that both products have a dial and two switches to adjust the settings. But with the Ascent model, there is an added digital timer that counts down until the machine finishes blending the recipe. This is an added perk that you do not get with the Explorian series.
About the dimensions, the Vitamix A2500 measures at 11 x 8 x 17 inches, while its competitor requires a countertop space of 11 x 8 x 18 inches. Each product weighs about 12 pounds, which is relatively lightweight.
Before you buy any blenders, make sure it fits your kitchen countertop.
Capacity
When it comes to capacity, the result depends on which Explorian model you are comparing with the Ascent. This is because the two Explorian products come with different containers. While the E310 has a 48 oz pitcher, the E320 features one that holds up to 64 oz.
The Ascent 2300 includes a low-profile 64 oz container, which works with SELF-DETECT technology. When you attach the pitcher to the base, the blender will recognize it and automatically adjust the suitable speed level. Thus, you do not need to set the speed manually. Such a feature saves you much hassles, right?
Unfortunately, the Explorian series do not offer it.
Features and Accessories
Despite coming from two different series, the Vitamix A2500 Vs Explorian have many features in common.
The first shared feature is the motor base. Both Ascent and Explorian blenders come with a 2.2-peak HP motor that can crush any tough ingredients with ease. The motors can run for a few minutes without overheating thanks to the thermal protection system.
Like all Vitamix blenders, these products offer variable speed and pulse function, allowing you to blend more quickly and effectively.
I have mentioned two differences between Vitamix Explorian Vs A2500 above, which is the digital timer and the smart container. There are two more to go, namely the Vitamix app and the preset buttons. They all belong to the Ascent model.
The A2500 is compatible with the Vitamix app, so you can control the blenders remotely using smart devices such as cellphones and tablets. What you can do is to turn on the machine or set the speed. Plus, the app suggests you many recipes to blend.
To add to the appeal, the 2500 is equipped with three preset buttons for hot soups, smoothies and frozen desserts. When you want to blend one out of three recipes, you can do it within a touch of a button. Isn't it amazing?
It is clear that the Ascent model takes the win in this round with many advancements.
Quick Rundown of Vitamix A2500
Vitamix A2500 Ascent Series Smart Blender, Professional-Grade, 64 oz. Low-Profile Container, Black
Program settings: three program settings for smoothies, hot Soup, and frozen desserts, ensure walk-away convenience and consistent results.
You're in control: variable speed control and pulse feature let you fine-tune the texture of any recipe.
Built-in wireless connectivity: the motor base is able to read the container size you?ve chosen and automatically adjust program settings and maximum blending times accordingly.
Digital timer: a built-in digital timer removes the guesswork with recipes you process manually, helping you achieve the perfect texture every time. Electrical Ratings- 120 V, 50-60 Hz, 12 Amps
Pair with any self-detect containers: add a range of compatible container sizes, building a customized blending system designed to fit your needs.Cord: 4 ft. Use - Household
Pros
Sleek and stylish design

SELF-DETECT 64 oz containers

Built-in digital timer display

Three preset buttons
Cons
>> Read Customer Reviews: Here <<
Quick Rundown of Vitamix Explorian
No products found.
Pros
Lightweight and compact

Powerful 2.2-peak HP motor

Variable speed and pulse feature
Cons
No digital timer

No preset buttons
>> Read Customer Reviews: Here <<
The Bottom Line
You can see that Vitamix A2500 Vs Explorian is not a tight competition. The two series are designed for different purposes, so they have different features. If you are looking for a premium blender that offers extra convenience, choose the A2500. But in case you just want a basic entry level machine, the Explorian series is worth your consideration.
Thank you for reading, and stay tuned for my new post about Vitamix A2500 Vs E320.
The Related Article
Comparison Articles