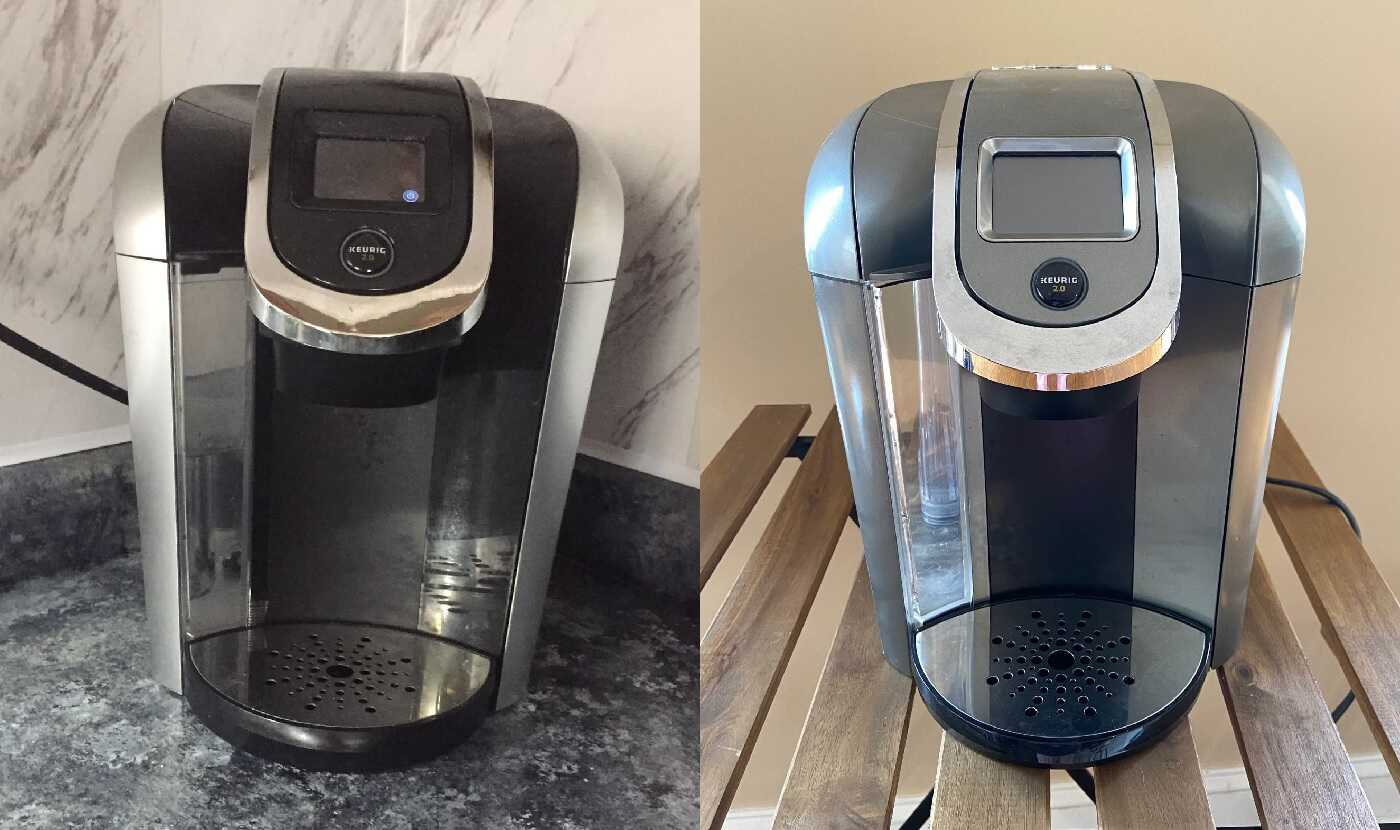 Keurig has always been one of the most popular coffee machine manufacturers in America, which isn't surprising given the variety of highly competitive machines available such as Keurig K550 vs K575. Choosing a coffee machine depends on the ease of use, the vast variety of drinks you can prepare, and other advanced features.
Overall, I believe K575 is worth your price more than its counterpart for its extra ability to control temperature. You can dive into the article and discover other advantageous features of both products.
Image
Image
Image
Differences Between Keurig K550 vs K575
You don't see much difference in the comparison table, do you? Worry not; here is what sets them apart.
Design & Convenience
Even though both our reviewed Keurigs share a similar design with plastic material, removable water tank, and drip strays, I will give the K575 a point for its lightweight and compact design.
Keurig K550 and K575 have a simple design with smooth edges, and clean lines of sleek platinum finish make them appear more expensive than they are. The display is large and clear, but it doesn't overpower the rest of the construction. 
You might see a slight difference in color when the K575 has lighter grey than its competitor. Even though both gadgets appear to be very neutral in style, K550 may not be appropriate for all kitchens for their sizes. 
The Keurig K550 stands 18.3 inches tall when fully opened. It is quite large in width and depth and heavier than the other model. As a result, you'll need adequate counter space in your home to accommodate it. 
What makes these two brewers stand out from other products in the same range is the huge colorful touch screens that allow users to adjust the temperature and strength. They also have several customization possibilities and choices for the color of the water tank's illumination.
When something goes wrong with the machine, the display screen will warn by messages and give you brewing instructions. Even if you're a novice brewer, you should be able to use either machine with ease.
Wattages and Capacity
Normally, single-serve coffee machines use between 600-1200 watts for fast boiling and brewing. Both gadgets of Keurig generate up to 1470 wattages that can brew a full carafe in under 3 minutes and a K-pod for 1 minute.
The comparison of wattages and capacity between Keurig K575 vs K550 seems to be a tie since both machines include an 80-oz water reservoir. You don't have to keep refilling the tank every time you prepare a new cup of coffee since an 80-oz tank can brew up to 10 cups or more before it needs to be refilled.
As for the brewing sizes, the two Keurig gadgets offer up to 11 sizes, varying from 4 to 30 oz. So if you have a big family or want to search for a high-performance coffee machine for office use, the Keurig K550 and K575 would be very suitable.
Additional Features 
The special features of K575 are described here in my other articles of Keurig K525 vs K575, in which K550 also shares those listing features. However, the K575 has more control over the temperature than its competitor.
The accessories that each coffee machine comes with are probably the most significant distinction between the two. The K550 comes with a K-Carafe pitcher that can store up to four cups of coffee at once, as well as a reusable coffee filter. When you buy a K575, you don't get one of these.
But the Keurig K575 is newer than the K550 when the water filter is incorporated into the Keurig K575. 
It's fantastic that Keurig offers a water filter with both models, as it's critical for customers to experience the benefits of filtered water if they desire it.
Quick Rundown of K550
Keurig K550 Coffee Maker Single Serve 2.0 Brewing System with Top Needle Cleaning Maintenance Accessory and My K-Cup Reusable Coffee Filter, Platinum
Revolutionary Keurig 2.0 Brewing Technology, Hundreds of varieties from the brands you love
K550 Includes: Keurig Carafe, 6 K-Cup Pods and 4 K-Carafe Pods, Water Filter Handle and Cartridge
NOTE: Brew a single cup with a K-Cup pod and 4-cup carafe with a K-Carafe pod.
80 oz. Water Reservoir, Large Color Touch Display, Strength Control, Customizable Settings, Programmable Clock
Auto Brew, Customizable Night Light in Water Reservoir, Hot Water On Demand
Pros:
Colored display touch screen

Hot water on demand

Include more accessories as K- carafe pitcher
Cons:
Discontinued product

Buy built-in water filter separately
>> Read Customer Reviews: Here <<
Quick Rundown of Keurig K575
Keurig K575 Coffee Maker, Single Serve K-Cup Pod Coffee Brewer, Programmable Brewer, 80 ounces, Platinum
Large 80 ounce water reservoir: Allows you to brew 10 plus cups more before having to refill, saving you time and simplifying your morning routine; The water reservoir is removable, making it easy to refill whenever you need to, and on the k575, you can choose from several different nightlight colors to illuminate your kitchen at night
Multiple k cup pod brew sizes: (4, 6, 8, 10, 12 ounce); brews a carafe (22, 26, or 30 ounce) using k carafe pods, to give you more coffee when you need it. (carafe sold separately)
Strength control: A strength control setting allows you to brew a bolder cup using any k cup pod brew size; Plus, five temperature settings allow you to enjoy your favorite beverage at your desired temperature; Hot water on demand: Press the hot water on demand button and select your desired brew size in order to dispense hot water
Extra large color touch screen: A digital clock makes it easy to brew a fresh, great tasting cup in under a minute; Plus, program your brewer to turn on or off automatically at set times, so that it is ready to go when you want it, and turns off to conserve energy
Pros:
Lightweight 

Newer model compared to the K550

More control on temperature settings

Can adjust the coffee strength

Built-in water filter
Con:
>> Read Customer Reviews: Here <<
Conclusion
When two coffee maker models are identical, it's difficult to choose between them. But with my comparison of Keurig K550 vs K575, you can pretty much find the optimized gadget for family usage. Personally, I favor the K575 because of its practical design, large water tank, and built-in water filter.
K575 is a good choice if you need additional temperature settings that K550 lacks. The K575 coffee maker is an improved version of the K550, and there is no better choice than the latest model, which is more efficient and reliable.